Stocks continue to walk the tight rope above a deep canyon.  The wire shakes, footing appears to be lost, yet the market is able to maintain its balance and move forward.
The key support levels remain $IWM $120 $QQQ $110 and $SPY 208.  Like Friday, today those levels were broke, but in now classic 2015 fashion a late day rally closed each above those support prices.  Another tight wire catastrophe averted.
What lies ahead?  Will support give way, or is the market showing once again the same resiliency it's shown throughout this historic bull market?
For one the $SPY put in another middle of the range day.  We've seen this far too often in 2015.  Stocks close off the lows or off the highs and usually smack in the middle of the days range.
Again these are the support levels to watch, with the $IWM being the one that will likely lead the way - with a sharp rally or a collapse through support.
The VIX started to give way late in the session.  We've seen this story before.  On Friday the VIX gave way and moved into negative territory at the close.  We didn't get that big of a smack down today, but considering all the 'fear' the VIX didn't elicit a tremendous amount of fear today.  It remains below 14.
Crude dropped to fresh lows for the year, and rests at its lowest level since the financial crisis.  This remain one to watch as long term support is fracking... I mean cracking.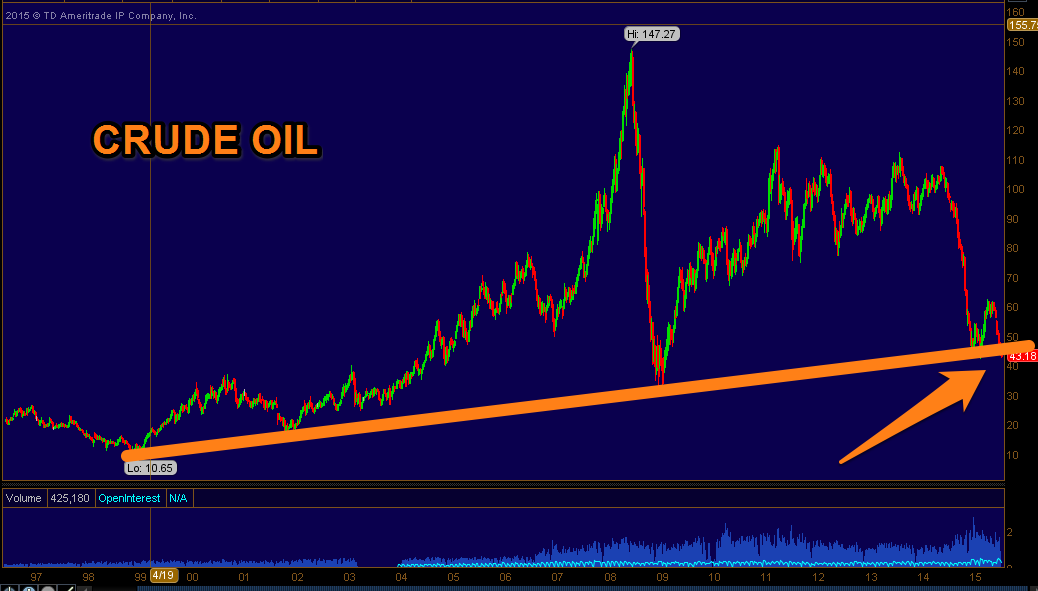 and $XLE - despite the pull back in crude, energy was bought hand over fist after its opening gap lower.  $XLE closed in positive territory.  So while the largest company in the world drops 5%, have no fear - energy is here.  I'm still not convinced a low is in for the year, but the money is doing the talking today... and the money was buying each and every dip.
How about them Apples?  This time yesterday, after $AAPL had rallied 4% I had the gonads to say $AAPL was going to pull back to last weeks lows.  At the time it sounded crazy. Yesterday I was saying what a difference a week can make.... today it's down to -  what a difference 24 hours can make.
This is what I was saying (ICYMI)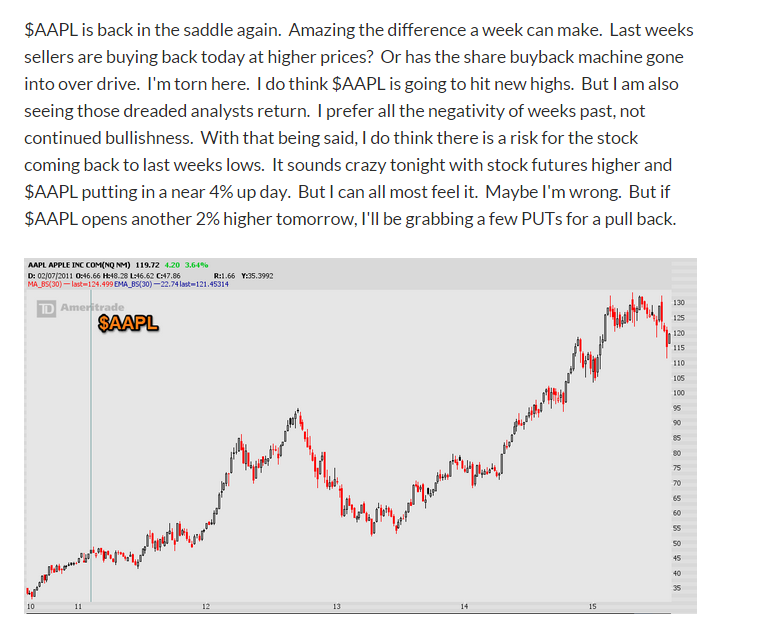 Where art thou $AAPL.  Last Wednesday $AAPL had a sell down to the lows for the week right out of the gate and then rallied $5.   Are we going to see the same thing tomorrow?  Another 2-3% wipeout after the opening bell and then a short squeeze to $117+?  It's possible.  That would also put in a double bottom for the stock.  I just may buy this dip tomorrow.  Stay tuned.
I like $GMCR for a short term rally here.  I am in a few calls for that move.  It got clobbered today as well, but has a nice recovery into the close.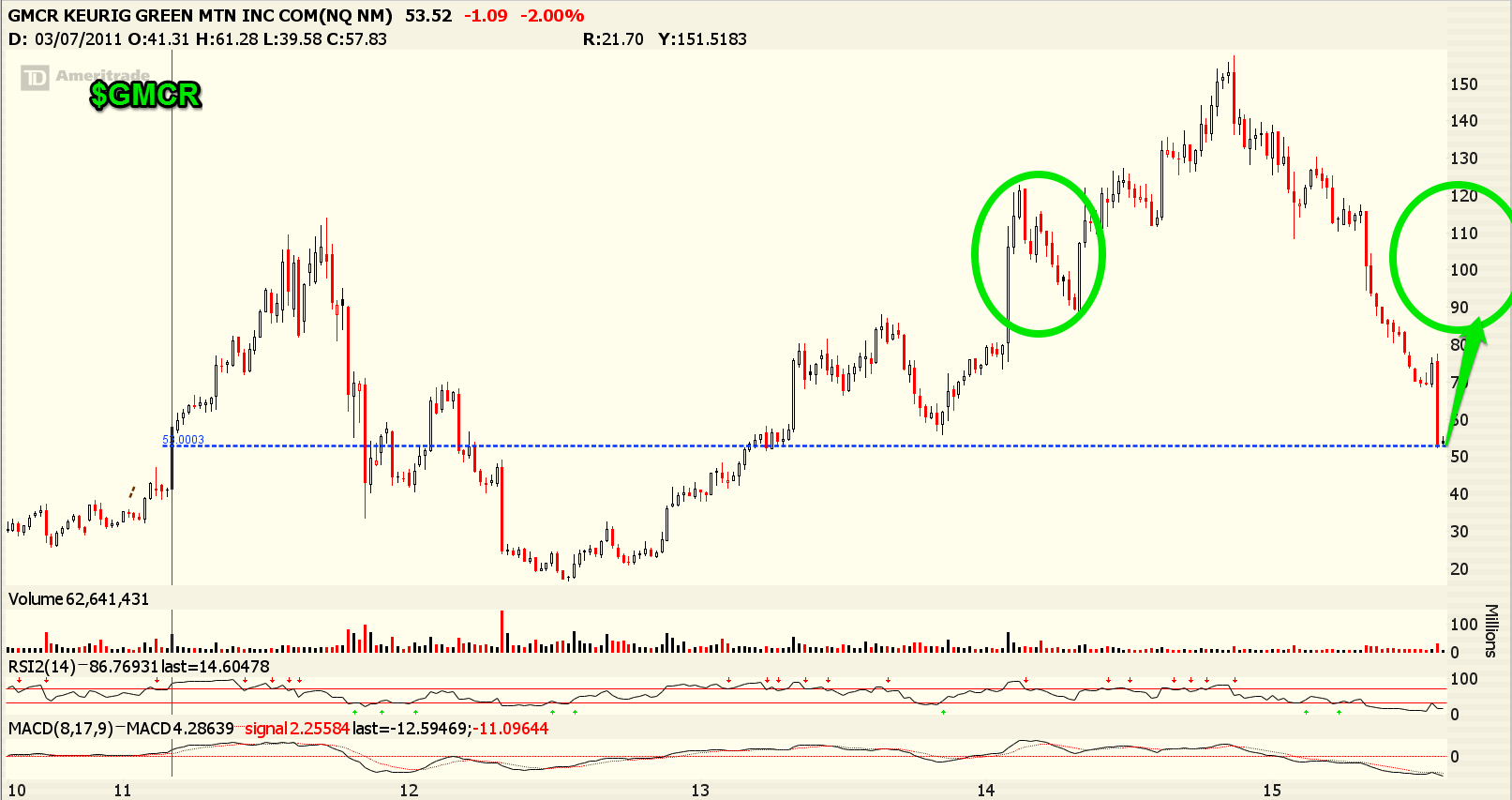 and finally $GPRO.  I covered it in my market video today as well.  I entered the puts for a pull back yesterday.  And a pull back we got.  An almost 10% collapse in the name.
After today's swift sell off we could see a bounce tomorrow.  Also the long term picture for $GPRO remains one pointed higher.
We have $CSCO earnings tomorrow - here is a breakdown.
and finally S&P500 futures are setting up for a sharp move.  That inverted head and shoulders pattern is still in play, and if support can hold we may break out in a big way to the upside.
See you in the chat room early tomorrow.