Thursday Morning Reads
News:
Futures:
 Open Interest Changes:
Charts:
Earnings This Week: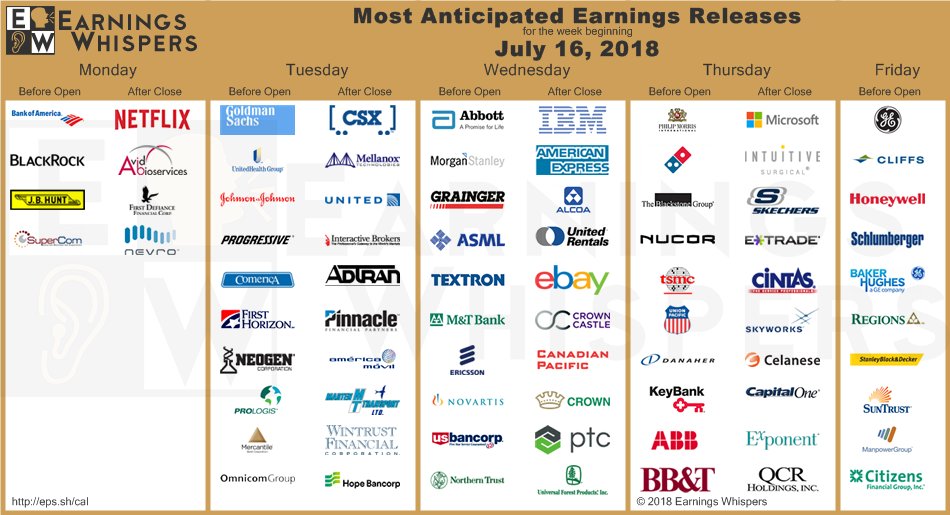 SeekingAlpha:
Amazon reached a $900B market value for the first time on Wednesday, nipping at Apple's (NASDAQ:AAPL) heels as Wall Street's most valuable. The news comes after the company announced it sold more than $100M in products during its annual Prime Day sale. Shares are up over 57% so far this year, bringing Amazon's (NASDAQ:AMZN) increase to over 123,000% since it listed on the Nasdaq in 1997.
Economy
Britain's new Brexit secretary, Dominic Raab, is heading for a tough negotiating debut in Brussels today, with the EU side preparing to raise the pressure over deadlocked talks on the Northern Ireland border. The bloc's priority surrounds a potential backstop agreement and concerns that recent U.K. legislative amendments contradict past negotiating commitments made by Britain.
The EU will consider introducing tariffs on coal, pharmaceuticals and chemical products from the U.S. if President Trump imposes restrictions on European cars, Germany's Wirtschaftswoche magazine reports. The potential trade measures will be decided based on the outcome of a meeting next week in Washington between European Commission President Jean-Claude Juncker and President Trump.
China's foreign ministry has blasted Larry Kudlow's "shocking" and "bogus" accusations that said lower-ranking Chinese officials wanted a trade deal, but President Xi refused to make changes to China's technology transfer and other policies. Meanwhile, China's foreign exchange regulator said it was well-equipped to keep currency markets steady amid intensifying trade frictions, and would use "counter-cyclical" measures to deal with instability.
President Trump said the U.S. may hammer out a trade deal with Mexico, and then do a separate one with Canada later, sowing fresh doubts about the future of the NAFTA. The warming relationship and progress with Mexico could prod Canada on some areas of disagreement, according to political strategists. The administration is looking for a win on trade, since talks with China have stalled.
The so-called Cal3 measure - also known as Proposition 9 - which seeks to split California into three states, has been removed from the ballot in November following a ruling from the state's Supreme Court. Opponents argued that the initiative posed a "revision" of the state constitution, as opposed to an "amendment," and the justices need more time to review and decide the merits of the case.
Plunging drilling costs have sparked an explosion of production in Texas, and is making the state a global oil superpower. According to HSBC, The Permian Basin and Eagle Ford oilfields are expected to produce 5.6M barrels per day by 2019, topping the 4.8M bpd output of Iraq and 3M bpd of Iran. That would make Texas the world's No. 3 oil producer, behind only Russia and Saudi Arabia.
Stocks
The U.S. Justice Department has proposed an expedited schedule for an appeal of a judge's ruling that allowed AT&T (NYSE:T) to buy movie and TV show maker Time Warner. It argues that any delay in deciding the case "will make it increasingly difficult to unwind the merger." Final briefs are due in the appeal on Oct. 18, with oral arguments "as soon as practicable."
Marking its first commercial deal in Africa, Alphabet's (GOOG, GOOGL) Loon has sealed a contract with Telkom Kenya to deploy its system of balloons that beam high-speed Internet over rural and suburban populations. They float at 60,000 feet above sea level, well above air traffic, wildlife, and weather events. Kenya hopes the technology can help achieve full Internet coverage for its population.
Policy change... Facebook (NASDAQ:FB) will begin removing from its platform false information that is intended to incite violence and other physical harm, while passive false items will be de-emphasized in users' News Feeds. We shouldn't be "in the business of having people at Facebook who are deciding what is true and what isn't," Mark Zuckerberg declared, but clarified where "divisive information" was maliciously spread the company had a responsibility to step in.
Cisco shares climbed almost 4% in extended trading after Amazon Web Services (AMZN) said it's not planning to start selling network switches. That counters a story from last week that said AWS was looking to enter the market. "During a recent call between Cisco (NASDAQ:CSCO) CEO Chuck Robbins and AWS CEO Andy Jassy, Andy confirmed that AWS is not actively building a commercial network switch," MarketWatch reported.
The FCC has voted unanimously to refer Sinclair Broadcast Group's (NASDAQ:SBGI) $3.9B acquisition of Tribune Media (NYSE:TRCO) to an administrative law judge, a blow to the companies' chances of winning approval. The decision comes despite Sinclair's announcement to drop plans to divest three TV stations currently owned by Tribune after the FCC suggested the company would still control the networks.
While it's not the first marijuana company to list on Wall Street, Tilray will become the first cannabis cultivator to raise capital via a Nasdaq listing. Shares priced at $17 late Wednesday, above an indicated range of $14 to $16, raising $153M and giving the company a market value of $1.56B. The stock will begin trading this morning under the ticker symbol "TLRY."
Shares in Papa John's closed up 4% on Wednesday amid reports that founder John Schnatter held merger talks with Wendy's (NYSE:WEN) before the recent flap over a racial slur cooled off the discussions. Schnatter still sits on the board and owns 29% of Papa John's (NASDAQ:PZZA), the world's third-largest pizza-delivery company behind Domino's (NYSE:DPZ) and Pizza Hut (NYSE:YUM).
Unilever said it will make up some lost ground in the second half after a strike in Brazil over rising fuel prices held back sales growth. CEO Paul Polman also shook off criticism after Unilever's (NYSE:UN) Q2 sales growth came in below expectations. "When we had a lot of pricing (power), analysts were worried about us not having volume. Now we have four quarters in a row of continuous volume expansion (and) some analysts are worried about our pricing power. I just wonder if they are always worried."
Wednesday's Key Earnings
Abbott Laboratories (NYSE:
ABT
) 
+3.1%
 beating estimates.
Alcoa (NYSE:
AA
) 
-4%
 AH cutting its adjusted EBITDA forecast.
American Express (NYSE:
AXP
) 
-2.8%
 AH as revenue fell short.
eBay (NASDAQ:
EBAY
) 
-5.6%
 AH after lowering guidance.
Ericsson (NASDAQ:
ERIC
) 
+8.2%
 turning an operating profit.
IBM (NYSE:
IBM
) 
+3.1%
 AH as margins climbed higher.
Kinder Morgan (NYSE:
KMI
) 
+0.5%
 AH following mixed results.
Morgan Stanley (NYSE:
MS
) 
+2.8%
 on strong investment banking.
Novartis (NYSE:
NVS
) 
+2.9%
 topping expectations.
U.S. Bancorp (NYSE:
USB
) 
-1.1%
 falling short on revenues.