Thursday Morning Reads
News:
Reads:
Charts:
Premium:
Futures:
Earnings: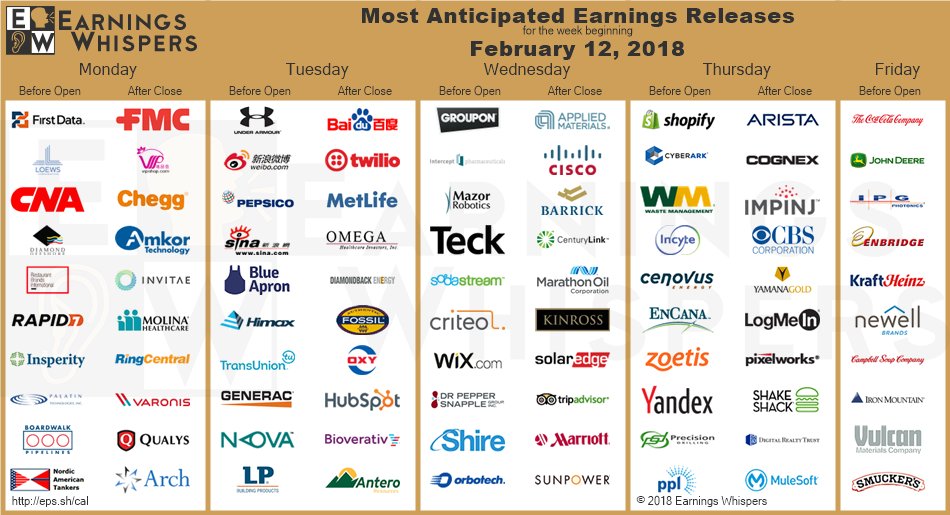 Yesterdays Unusual Option Action:
Seekingalpha:
U.S. stock index futures are pointing to a solid open, with DJIA futures up 262 points, or 1.1% to 25,124, brushing off increases to U.S. inflation that put fears in the market last week. While investors seem to be pointing to robust fundamentals, some analysts caution that rising consumer prices could produce more volatility this year. Government bond yields are still continuing their march higher, with the 10-year Treasury note yield edging up to 2.93%.
Economy
President Trump is calling for a $0.25 hike to the federal gas tax in order to pay for the White House infrastructure plan that will upgrade U.S. roads, bridges and other public works. The government has not raised the gas tax since 1993, under the Clinton administration. The current federal levy is 18.4 cents a gallon on retail gasoline and 24.4 cents for a gallon of diesel.
South Africans have woken to a nation without Jacob Zuma as president for the first time in nine years after he reluctantly heeded orders by the ruling ANC party to step down. Acting President Cyril Ramaphosa will now be charged with getting the economy back on track, after public debt tripled, growth stagnated and sovereign debt was downgraded to junk under Zuma's rule.
In a 75-minute telephone conversation, Shinzo Abe and President Trump agreed that there will be "no meaningful dialogue" with North Korea unless the country agrees to "complete, verifiable and irreversible denuclearization." Japan also reported another suspected illegal ship-to-ship transfer involving a U.N. blacklisted North Korean vessel and a Belize-registered tanker "Wan Heng 11."
Stocks
Following big gains yesterday, gun stocks are up again in premarket trade amid renewed calls for reform following a mass shooting at a high school in Parkland, Florida. At least 17 people were killed when 19-year-old Nikolas Cruz, a student formerly expelled from the school, opened fire with an AR-15 and multiple magazines. The attack is said to be the 18th school shooting in the U.S. since the start of 2018. Related tickers: AOBC +1.9%, RGR +4%, OLN +2.4%.
Overnight earnings: Airbus (OTCPK:EADSY) shares soared almost 10% in Paris overnight after profits climbed on record deliveries despite a €1.3B writedown on its A400M military transport plane. Nestle's (OTCPK:NSRGY) earnings missed estimates as it highlighted the "challenging" North American market, while opening the door to a L'Oreal stake sale as growth slumped.
Amazon will create 2,000 permanent contract positions this year in France, its largest market in Europe after Britain and Germany. That will bring its total number of local staff to 7,500 after investing over €2B in France since 2010. Separately, CNBC has disclosed that the tech giant partnered with BofA (NYSE:BAC) on Amazon Lending, a program that provides loans for small businesses that sell on Amazon.com (NASDAQ:AMZN).
Besides beating earnings expectations, Cisco (NASDAQ:CSCO) said it would be the latest tech giant to bring home huge sums of overseas cash due to the new U.S. tax law. The company will repatriate $67B of its foreign holdings to the U.S. this quarter, in one of the largest repatriation plans yet revealed, and plans to spend much of the cash on share buybacks and dividends.
Top U.S. life insurance industry executives will speak today at the 2018 Bank of America Merrill Lynch insurance conference. Traders are awaiting updates on the anticipated impact of rising interest rates on investment portfolios and whether a declining U.S. life expectancy could affect insurers. Executives include MetLife (NYSE:MET) CEO Steve Kandarian and Axis Capital (NYSE:AXS) CEO Albert Benchimol.
It's not just rockets... Fresh off the successful launch this month of the Falcon Heavy, SpaceX (Private:SPACE) has won an endorsement from FCC Chairman Ajit Pai to build a broadband network using satellites. The "technology can help reach Americans who live in rural or hard-to-serve places where fiber optic cables and cell towers do not reach," he declared. A pair of the experimental SpaceX satellites is set to launch Saturday in California.
Qualcomm met with Broadcom yesterday to discuss the latter's revised $121B bid. While neither side commented on what transpired, sources told Reuters that Broadcom's (NASDAQ:AVGO) executives left the two-hour meeting with the impression that their Qualcomm (NASDAQ:QCOM) counterparts "listened to them but did not engage." It's the first time the chipmakers have discussed what would be the technology sector's largest ever acquisition.
13-F filings: Warren Buffett's Berkshire Hathaway (BRK.A, BRK.B) reported a new fourth quarter stake in Teva (NYSE:TEVA), which soared almost 11% AH on Wednesday, and bought more shares of Apple (NASDAQ:AAPL), which surpassed Wells Fargo (NYSE:WFC) as its largest common stock investment. Dan Loeb's Third Point took a 2M share stake in Netflix (NASDAQ:NFLX), while David Einhorn's Greenlight Capital showed several new big retailer holdings in J.C. Penney (NYSE:JCP), Nordstrom (NYSE:JWN), Kohl's (NYSE:KSS) and Under Armour (NYSE:UAA).
Once the unthinkable - that Chrome would block online ads, Google's (GOOG, GOOGL) lifeblood - will become a reality today. The new feature stops short of traditional browser extensions, which typically ban all ads, but the move carries plenty of importance because Google's browser dominates the web on both desktop and mobile. According to analytics firm StatCounter, Chrome is used to view about 56% of web pages.