After a morning pull back, the market clawed back and found itself at session highs when the closing bell rang.  This remains a resilient market,  I still see so many expecting it to come crumbling down.  Yet each dip is met with buyers, which is something that has worked for over six years.
Despite the early weakness and late day strength, stocks were basically flat.  All things considered it was a decent digestion day of recent market action.
S&P 500 futures stopped at resistance, a level it couldn't break overnight.  Perhaps the 3rd time will be the charm?
The inverted head and shoulders this week should continue to resolve itself tomorrow with a move up to the neck line.
This is how it started on Monday:
and here we are today:
The VIX is back to the key 12 level.  It's been a tremendous smack down, one we've seen far too often the last 6+ years.  This zone has been an area of concern, however I think this time around the break under 12 will come, and may stay below that level for quite some time.  That would imply further upside for stocks despite garlic breath of the market, GDP, rate rampage, China, or whatever excuse comes out.
One stock that I think will lead, and certainly the market needs this stock to lead if it wants to push significantly higher is $AAPL.
The stock, as noted last night, continues to hold on to support in the 2015 consolidation channel.  Recent muted price action likely will not last long, and a break to the upside of the channel is a probable outcome.  The recent action in $AAPL has taken a lot of the uber bullishness out of the stock.  No one loved $AAPL at the lows in May 2013.  At the start of 2015, at record highs, everyone loved it.  But since the recent action has cooled, I've seen more sour on it over the last few months.
Bonds were selling off overnight, but found buyers before the opening bell.  $TLT rallied some .7% and remains at critical resistance.
I still think this rolls over and heads to $100 later this year.  For now this kiss of resistance... get a room already.  At some point in the short term its going to have an ugly break up.
$SSYS $DDD and all 3D stocks took a big hit today as well as $WFM, leading the 10%+ losers.
Gold, gold miners, gold blogs, gold earnings, gold necklaces.... gold everything was lower today.  We must be nearing a short term bottom if everyone is talking about how a smoldering pile of dog poop has more value in your portfolio than gold.  No one was saying that at the top.  Actually the best time to buy Gold the last 10 years according to the financial media and gold pro's was precisely at the top.
JB has been all over this gold decline for many years now, and has endured numerous negative commentary in response to his insight.  
Here is the Gold ETF $GLD.
Earning reports tonight have seen $LNKD rally and then fade into the red.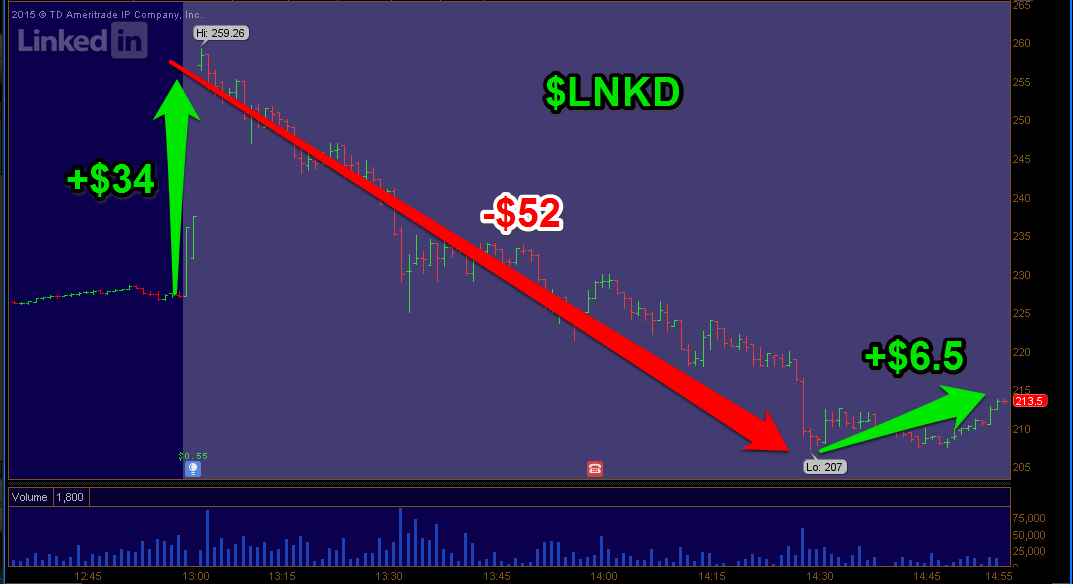 $EXPE soar some $10 higher, dragging $PCLN up with it.
It's been a nice week to be buying the dip.  On Monday late day dip buyers were rewarded with what has been a very nice rally.  This morning's dip buyers were rewarded as well.
Let's see what tomorrow brings.  We've had quite a few dips in big names this week.  $YELP, $TWTR, $FB... and $AAPL is still trying to find its legs.  To think the market has performed reasonably well in the face of some surprisingly nasty action is a good sign.  Also to think that we've worked our way higher from Monday's lows without the participation of $AAPL.
Have a great evening and stay tuned for the Option Action Recap later this evening.