Last Friday stocks fell and continued to fall after the closing bell.  A terrorist attack in Paris had investors selling stocks first and asking questions later.  A week later the market had finished answering those questions with its best rally of 2015.  The fear inducing terrorist attacks ended up being a tremendous buying opportunity, as most of the fear headlines have been since the the March 2009 lows.
As I noted as the week began, the $SPY was at a point that marked previous buying opportunities.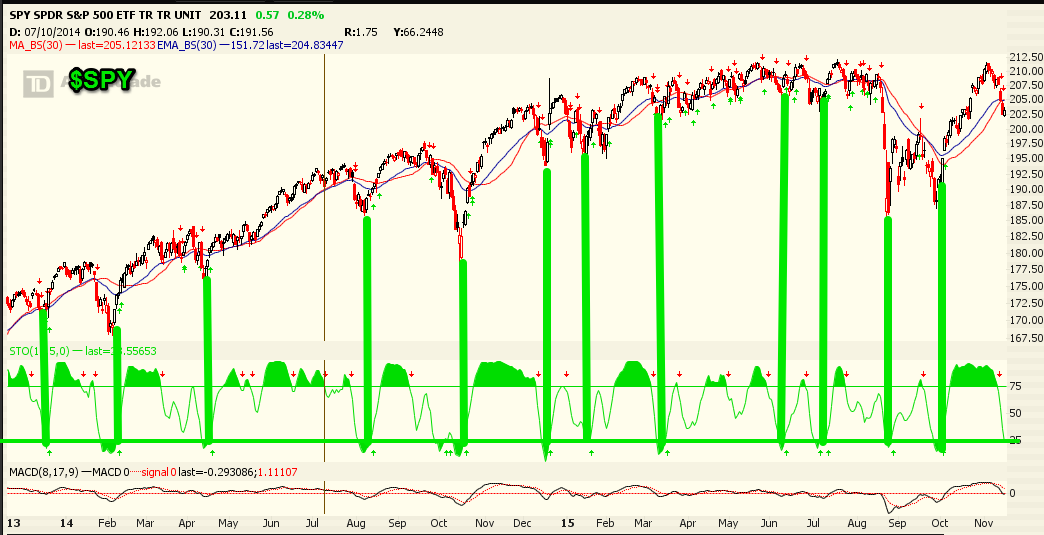 It wasn't easy as buying right out of the gate.  Stocks looked weak early on Monday.  $NFLX was at $104, $AMZN $622 $FB $101.  However those prices didn't last long and the fear of a sell-off morphed into the fear of missing out on the next rally.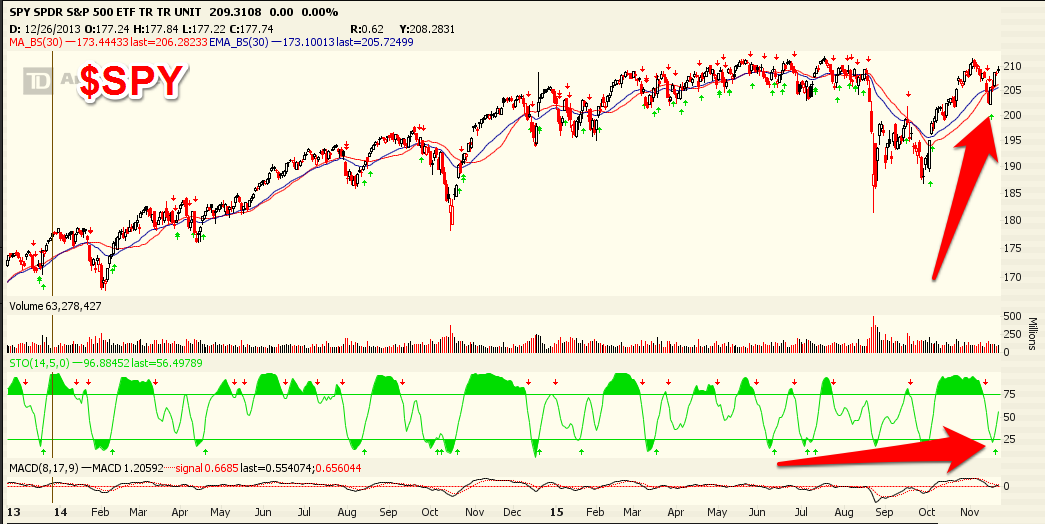 $NFLX $114 calls went from $.10 on Monday to over $10 on Friday.  $AMZN calls also put in a similar 1,000% move off the Monday lows.  Those buying the Monday dip set themselves up for an incredible week,  with the headliner being the $CMG collapse at the end of Friday's trading session.
JB at optionmillionaires was already looking for some significant downside for Chiptole heading into the week - seeing a move under $550 coming.  Little did he know how right he was going to be, but it would require waiting until late in the trading session on Friday when the CDC released news that sparked a massive sell-off.
The massive collapse of $CMG turned some stock options back to life in a big way.
Why is it dangerous to sell uncovered options?  Case in point.  The $580 options were dumped down to $.02 before rallying to $45 EACH!
To put that into perspective.  10 contracts at $.02 would have cost $20 + commission, making the late day rally one that potentially could have turned $20 into $45,000.
$VRX rallied $20 off its lows this past week also handing out some impressive gains for those trading for this move.
After waiting for confirmation that a bottom was in, those $.35 calls offered a great risk/reward on a short squeeze.  And Squeeze $VRX did up to over $90 a share turning $.35 options into $10 options.
$AMZN was busy doling out its late week gains again.  Last Friday it was $AMZN for downside.  The $AMZN $660's at $1.11 ended up going over $15 each.
This Friday it was a trade for upside with the $667.50 calls at $.50 that ended up going for a nice gain.
Also $MSFT $53.50 calls at $.12 went over $.75.  $TWTR, $GPRO, $FEYE, $SSYS, $URBN, $GOOGL all provided some amazing trade potential.   $GS $IBM were two of the trades that did not work out at the week ended.
Most of early 2015 was fraught with slow grinding consolidation.  It was a tough environment to be trading stock options.   However  the August crash put some pep back in the step of the market.  Volaitlit is up.  Stocks are moving with the wind at their backs some days, and free falling off a cliff on other days.  In short we are  seeing some rather impressive moves to the downside and the upside.  Friday has been especially fruitful recently.
There were some incredible earnings trades, and post earnings trades.  $URBN fell like a stone post earnings, but came back to reclaim its losses and then some.
The $20 calls were $.30 the day after earnings.  Those went over $3.00 on Friday.  $HD beat on its earnings report offering gains throughout the week for the CALL options.
On Friday the stock rallied to a new all time record high turning $.02 options into $1.00 options.
2015 came in like a lamb, with volatility nearing its lowest levels in years.  It's setting up to go out like a lion as prices collapse and soar offering some tremendous potential.
On the flip side there is tremendoud risk trading stock options.  But one good thing about trading stock options is you can manage your risk.  When you buy a put or a call contract the amount you invest in that trade is the maximum you can lose.
This week one trader lost his entire $37,000 account value, but since he was short he also owes over $100,000.  Shorting a stock carries considerably more risk than buying a put or call contract.
Check out this article when you get a chance
Buying PUT or CALL contracts = Known Risk
Going Short a stock or selling an uncovered option = Infinite risk
It's a great time to be learning how to trade stock options.  Join the community and live chat room today.
Register now and get access to our beginner webinars and stock options 101 videos.
Have a great weekend