The market continues to make record highs on a daily basis in 2018.  This morning the Nasdaq, Dow, and S&P500, after closing at new record highs, are set to open at even higher prices.  The buy the DIP environment since the lows in 2009 has morphed into buy the RIP.  Is this the euphoric stage of this bull market?  Or just acceptance that the Central Banks have opened the Pandora's box, and a decline in asset prices equates to a failure of their policies.
Sentiment has become very bullish:
Stocktwits has 80% bullish  20% bearish for $SPY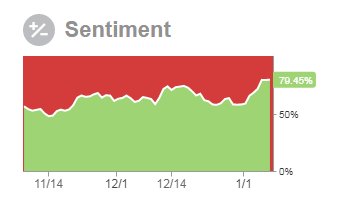 and 82% bullish 18% bearish for $QQQ
why does the stock market keep moving to record highs each day?
Is it the interest rates?
Supply and Demand?
Yes and Yes, both of which come from easy money policies of the Central Banks.
10 years of nearly zero percent interest rates have fueled a massive debt binge.
Now consumers are backing up the truck as well.  Yesterday we learned that consumers took on more debt, a brand new record.
Americans' outstanding credit card debt hit a new record in November, highlighting a more confident U.S. consumer but also flashing a warning signal of potential trouble down the road.

Revolving credit, mostly credit cards, increased by $11.2 billion to $1.023 trillion, the Federal Reserve said Monday. That nudged the figure past the $1.021 trillion highwater mark reached in April 2008, just before the housing and credit bubbles burst. Over the past year, revolving credit has surged by $55.1 billion, or 5.7%, according to the Fed and Contingent Macro Research.
Debt is wonderful for the economy.  The cheaper the better.  Even better is when interest rates stay abnormally low, as they have the last 10 years.   Consumer debt continue to soar.
Assuming rates stay low and that growing debt remains serviceable this economy will continue to grow.  However when/if the debt load gets too large and/or interest rates rise and affect the serviceability of this massive debt..... it will be the time for more can kicking from the Central Banks.  They've shown they will do anything to prevent reality.
I've half joked previously that the next recession could actually see stock prices head even higher as Central Banks flood the markets with liquidity and interest rates move negative forcing even more capital into risky assets.  An inverted market crash!!!
Do the constant record highs cloud our judgement of the risks in the stock market?  Or have the Central Banks gamed the markets to the point where the risk is gone?
The fear is gone.  And the Central Banks, with asset prices higher than they've ever been before, are still changing the diaper on this 9 year old bull market.  The shit may never hit the fan again....