Mondays Market Prepper
Reads:
News:
Premium:
Charts:
Earnings this week: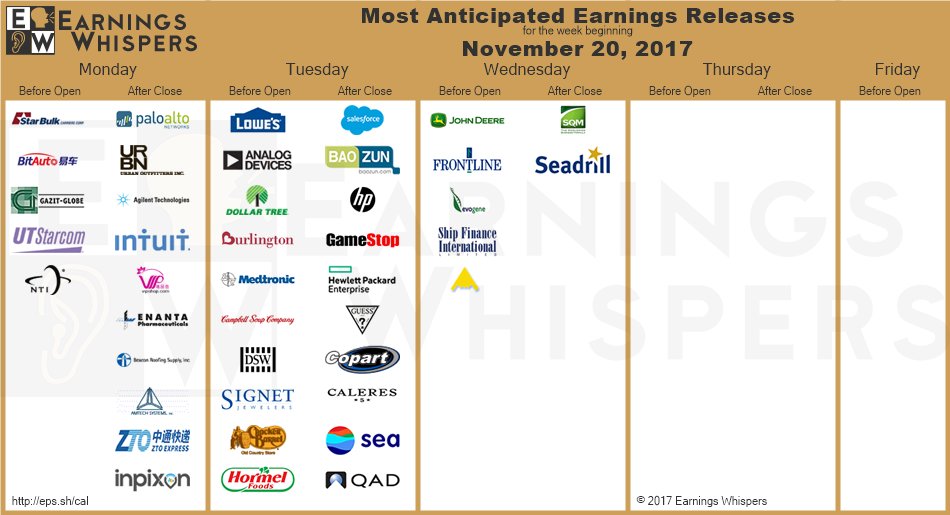 Unusual Option Action:
Seekingalpha:
After nearly a decade, two presidential decisions, lawsuits and environmental protests, TransCanada (NYSE:TRP) will learn today whether it will receive the final state permit needed from Nebraska to build the Keystone XL pipeline. The proposed 1,179-mile, $8B project will link Canada's oil sands to U.S. refineries and comes days after TransCanada's existing Keystone system spilled 5,000 barrels in South Dakota.
Economy
The current round of NAFTA talks is "progressing with civility" and "without fireworks," according to participants, as the Office of the U.S. Trade Representative issued new objectives for renegotiating the pact. It wants to pry open Canada's protected dairy market and remove a process in which foreign firms can sue governments for discrimination or expropriation, as well as limit liability for U.S. Internet giants.
The U.K. will submit proposals on how to settle its Brexit divorce bill before an EU summit next month and is expected to negotiate hard, Chancellor of the Exchequer Philip Hammond declared Sunday. He was speaking three days before he sets out Britain's budget plan, where he will have to find room within tight fiscal constraints at the same time as negotiating the country's exit from the EU.
The euro dropped as much as 0.7% to $1.1720 overnight after Germany's Angela Merkel failed to form a three-way coalition government, thrusting Europe's biggest economy into political uncertainty. The Free Democrats unexpectedly pulled out of more than four weeks of negotiations, citing irreconcilable differences related to immigration, climate change, Europe and taxation.
Chinese equities have reversed losses that came after regulators unveiled fresh initiatives to curb risk in the asset management industry. The sweeping regulations, which will affect some $15T of financial products, will prohibit asset managers from promising investors a guaranteed rate of return and require them to set aside 10% of the management fees they collect for provisioning purposes.
Saudi Arabia and the Arab League held an emergency meeting in Cairo on Sunday, where they discussed confronting Iran and classified Lebanese Shi'ite ally Hezbollah as a terrorist organization. While it condemned Tehran's interference in destabilizing the region, the Arab League won't declare war against Iran at the moment, said Secretary General Ahmed Aboul Gheit.
President Robert Mugabe has been dismissed as leader of Zimbabwe's ruling ZANU-PF party following a de facto military coup. He'll be replaced by the vice president he previously sacked, Emmerson Mnangagwa, who will focus on rebuilding ties with the outside world and stabilizing an economy in free fall. Mugabe's removal is also likely to send similar political shockwaves across Africa.
"2017 is shaping up to be the first year of the expansion in which growth surprises to the upside," Goldman Sachs said in a new research report. "We expect 2018 to deliver more of the same." The firm also sees the likelihood of four U.S. interest rate hikes next year, an 80% chance that tax reform gets done in early 2018 and raised it growth outlook for the U.S. economy to 2.5%.
Amid a strong economy and solid consumer confidence, AAA expects Americans to get on the road and trek through airports over the Thanksgiving holiday weekend in the largest numbers in 12 years. Auto travel is expected to jump by 3.2% and air travel by 5% over the five-day period. That's an overall increase of 3.3% compared to 2016.
Stocks
Shares in Toshiba tumbled almost 6% overnight after the embattled company's board approved a ¥600B ($5.3B) share offering. The step would avoid a delisting from the Tokyo Stock Exchange if the planned sale of its chip unit is delayed. Toshiba's (OTCPK:TOSYY) finances are in a precarious state owing to a multi-billion dollar writedown on its now bankrupt U.S. nuclear unit, Westinghouse.
Qualcomm is set to win "imminent" Japanese antitrust clearance for its $38B bid for NXP Semiconductors (NASDAQ:NXPI) and gain Europe's approval by the end of the year with slight tweaks to its concessions, Reuters reports. Winning the green light would take Qualcomm (NASDAQ:QCOM) a major step forward to closing the deal and reinforce its fight against an unsolicited $103B takeover bid from Broadcom (NASDAQ:AVGO).
With activity in the semiconductor sector picking up, Marvell Technology (NASDAQ:MRVL) is near a deal to buy chipmaker Cavium (NASDAQ:CAVM) for about $6B in cash and stock, WSJ reports. The agreement, which will allow Marvell to diversify away from its traditional storage devices business following an agreement with Starboard Value last year, is likely to be announced today.
Part of a wider push into offline retail, Alibaba (NYSE:BABA) will invest $2.9B for a major stake in China's top hypermart operator, Sun Art Retail Group (OTCPK:SURRY). "Physical stores serve an indispensable role during the consumer journey, and should be enhanced through data-driven technology and personalized services in the digital economy," Alibaba CEO Daniel Zhang said in the statement.
Justice League opened to an estimated $96M in the U.S. and Canada this weekend, well below Time Warner's (NYSE:TWX) hopes and less than any DC superhero movie since the 2011 flop Green Lantern. Due to a combination of big ambitions and obstacles in production, the studio is reported to have spent nearly $300M to make the movie, which doesn't include marketing expenses.
Verizon is close to a new deal with the NFL for digital streaming rights that would give it the ability to deliver game broadcasts to internet-connected TVs and tablets, Bloomberg reports. The deal expands on a previous contract, which limited the carrier to streaming on screens 7 inches or smaller, meaning Verizon (NYSE:VZ) now will be able to give subscribers access to games on all devices.
Chicago plans to sue U.S. Steel (NYSE:X) for alleged violations of federal law after the company released more than the permitted daily amount of chromium into Lake Michigan in October and April. The move will follow an earlier notice of intent to sue U.S. Steel sent on Nov. 13 by the Surfrider Foundation, represented by the Abrams Environmental Law Clinic at the University of Chicago.
A housecleaning at General Electric's board will remove many long-term associates of former CEO Jeff Immelt and create a group that is more aligned with John Flannery's strategy to streamline the industrial giant. According to WSJ, the unusual shakeout will claim half of GE's 18 directors and add three new ones to form a 12-member board.
Honda is recalling 900,000 Odyssey minivans after receiving 46 injury reports related to a problem that causes second-row seats to tip forward. The recall, announced Saturday, includes vehicle models from 2011 to 2017. Of the affected Honda (NYSE:HMC) minivans, 800,000 were sold in the United States.
Avolon has firmed up an order for 75 Boeing (NYSE:BA) airplanes and may order 20 more. The confirmed part of the agreement would be worth $8.7B at list values, though analysts say buyers typically get discounts of at least 50% for significant orders. Including the possible extra purchase of 20 jets, Avolon's (NYSE:AVOL) total deal would be worth $11B.
In an analysis to be released today, the White House will say the true cost of the opioid drug epidemic in 2015 was $504B, more than six times larger than the most recent estimate. Most of that was attributed to healthcare and criminal justice spending, along with lost productivity. President Trump last month declared opioid abuse a national public health emergency.
The Senate Finance Committee has decided that a provision that would change tax rules on certain securities sales shouldn't apply to mutual fund companies, but would still apply to individual investors, WSJ reports. The clause would've prevented fund firms from minimizing taxes when they sell part of a position, insisting that they sell their oldest shares first.
The European Commission is poised to discuss financial settlements - likely to cost billions of euros combined - with UBS, RBS, HSBC, JPMorgan (NYSE:JPM), Citigroup (NYSE:C), Barclays (NYSE:BCS) and two other banks for allegedly rigging the forex market, FT reports. The four-year EU probe follows investigations by American, British and Swiss officials, which have fined global banks more than $10B for such offenses.
Last weekend's plunge to about $5,500K is very much old news, with bitcoin rising yesterday to more than $8,100 before pulling back a hair. At the time of writing, the cryptocurrency changed hands at $8,062. LedgerX has also announced the first-ever trade of bitcoin calls struck more than one year out, with a call struck at $10K and expiring on Dec. 28, 2018, trading at $2,250.25.
Today's Markets 
In Asia
, Japan 
-0.6%
. Hong Kong 
+0.2%
. China 
+0.3%
. India 
+0.1%
.
In Europe
, at midday, London 
+0.1%
. Paris 
+0.4%
. Frankfurt 
+0.3%
.
Futures at 6:20
, Dow flat. S&P flat. Nasdaq flat. Crude 
-0.4%
 to $56.47. Gold 
-0.4%
 to $1291.40. Bitcoin 
+0.4%
 to $8062.
Ten-year Treasury Yield
 -1 bps to 2.34%
Today's Economic Calendar
10:00 Leading Indicators