Another day of non-stop Greece love.  This morning on Marketwatch.com the first eight headlines were about Greece. We are officially one Greek headline away from an olive adorned nude champagne glass photo in the New Yorker.  We love Greece! It's #GREEBOLA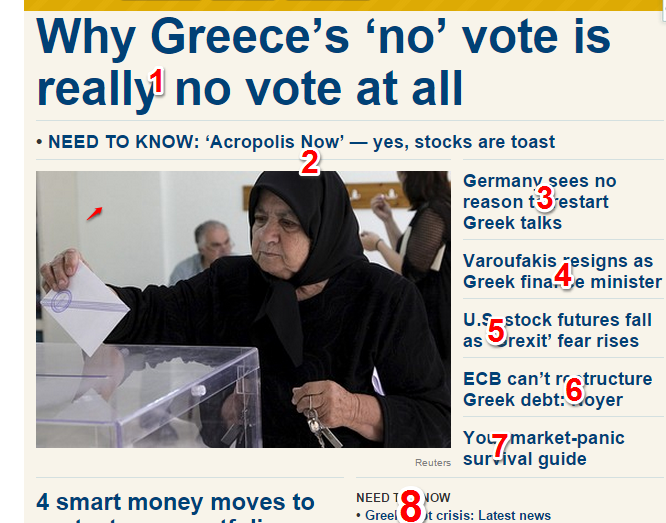 I think this whole Greece debacle is just a cover up for a healthy, buyable, stock market pull back.  I am quite the conspiracy theorist.  I also think when stocks fall there are more sellers than buyers,  but why push my luck.  I'll stick with the facts from here on out.
Here's one solid factoid - The S&P 500 managed to close smack in the middle of the days range.  Wow.  We've seen this before.  If the intra-day action was a prime time sitcom, it wouldn't have made it past the Pilot.
Here's another factoid - the market, for the first time in 10 sessions, closed higher than its opening price.  How about them Apples?  Is the mouth agape yet?
If it wasn't for Greece 2015 would be pretty boring.  I thank you Greece.  For your sacrifice on the behalf of the news networks and market participants. You are so Greekarious, or gregarious.... ahhhhhh.....
The start of this week was almost a mirror image to last weeks gap down.  The session looked ready to dump to the lows when the market swiftly reversed course and broke free from what looked like the grasp of last weeks weakness, averting a potential drubbing and close at the lows.  Could this time really be different for stocks?
Bonds came back strong amid the 'safe' haven trade.  I still think the trend is broken and $TLT is setting up for a move back under $100.  It's not going to happen overnight.  But I think it will provide ample profit opportunity on the way down.
$TWTR  do I dare bring this one up again?  The stock rests amid long term support.  Is it an earnings report that sends it?  Are we going to see a buyout attempt?  A rumor?  Icahn?  I think something is going to send it, and it will start the rally back over $50 a share.  If the rocker Tom Petty was an option trader, he'd be saying - The Waiting is the Hardest Part... and I would wholeheartedly agree.
$BIDU I shared this chart in the morning.  I entered some calls today and much like my entry of $WYNN calls last week, my decision was not looking good at the Monday close.  My $WYNN calls went on to post some 1,000%+ move in two days and while I don't think $BIDU will do the same, I do think the stock is setting up for higher prices.
and finally $DDD.  If there was a spot this stock would rally from, this would be it.  I am in a few $18.50 weekly calls just for that.  A nice recovery rally.
Finally:
I think this entire #Greebola will resolve with stocks at fresh record highs.  The mere fact that stocks are just 3% off their record highs amid this fear mongering back drop.
EXTREME FEAR  in 2015 = 3% Pull back.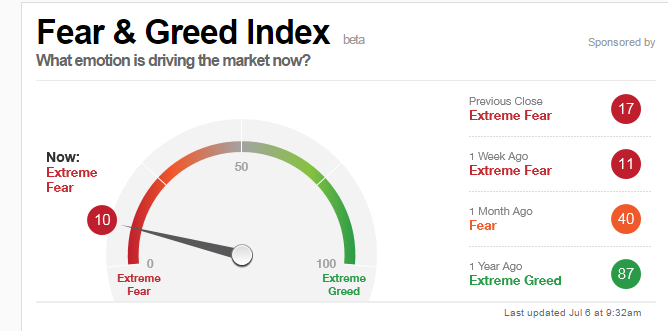 Call it what you will.  Give this market pull back any excuse that you like.  It's been healthy.  It's been constructive and Greece or no Greece  it will ultimately will lead us to new record high stock prices.