Monday Morning Reads, News, and Charts
Reads:
News:
Charts:
Premium:
From the weekend:
1. Humana (HUM) is in advanced talks to buy Kindred Healthcare (KND) in partnership with private firms Welsh, Carson, Anderson & Stowe and TPG, according to Reuters. 2. Oracle (ORCL) announced that it has entered into an agreement with Aconex, a leading cloud-based solution that manages team collaboration for construction projects. The transaction is valued at approximately $1.2B, net of Aconex cash. 3. Netflix (NFLX) success and its high valuation is forcing the rest of the TV work to scramble, Alex Eule wrote in this week's edition of Barron's. In the wake of Disney's (DIS) 21st Century Fox (FOXA; FOX) purchase, investors should expect more consolidation to come, he added. Given that FOX RSN business looks very similar to MSG Networks (MSGN) and with Disney's deal spurring a new wave of RSN interest, 208 could be the year that MSG gets sold, Barron's says. Other potential attractive targets include AMC (AMCX) and Viacom (VIAB), Eule contended. 4. Disney and Lucasfilm's "Star Wars: The Last Jedi" opened to a near-record $220M in North America, the second-best showing behind "Star Wars: The Force Awakens." Internationally, the movie took in $230M from 54 markets. "The Last Jedi" received an A CinemaScore and got a 93% from Rotten Tomatoes. 5. Spark Therapeutics (ONCE), Alaska Air (ALK) saw positive mentions in Barron's, while Exxon (XOM) was mentioned cautiously
Fridays  Unusual Option Action
Earnings This Week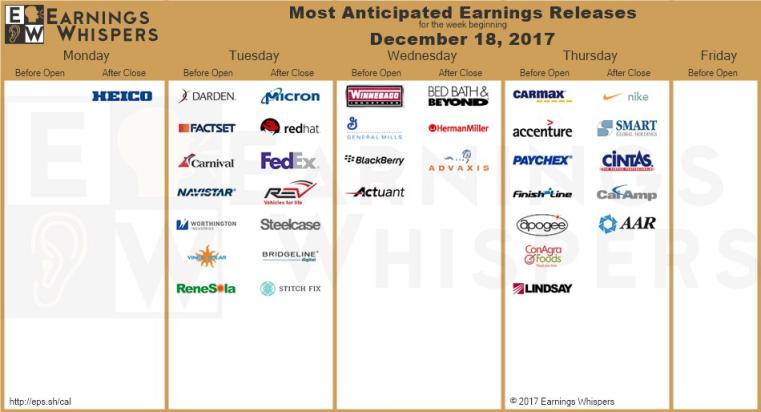 Seekingalpha:
Top Republicans Senator John Cornyn and Representative Kevin Bradysaid on Sunday morning talk shows that they were confident their tax overhaul would become law by the end of the week. Democrats remain united against the legislation, which is deeply unpopular with American voters, criticizing it as benefiting corporations and the wealthy while hurting the poor and middle class.
Economy
Oil prices are climbing early Monday as one of the largest Nigerian oil unions launched a nationwide strike amid stalled negotiations with government agencies. The price rise also follows last week's news that the North Sea Forties pipeline has been shut down for repairs, as well as a Baker Hughes report that drilling rigs were down slightly last week.
President Trump will accuse China, America's largest trade partner, of "economic aggression" when his administration rolls out its national security strategy on Monday, the FT reported Friday. However, a White House official told CNBC that the report is "not accurate... and the phrase is not specifically linked to China." Since taking office, Trump has said he doesn't blame Beijing for its U.S. trade surplus and has declined to label China a currency manipulator.
Stocks
Disney's Star Wars: The Last Jedi brought in $220M over the weekend across 4,232 North American theaters to mark the second-highest opening movie weekend in history, according to Variety. Comscore reports that the latest Star Wars installment generated $450M in the 55 territories where it debuted. The huge weekend helped Disney (NYSE:DIS) cross over the $2B box office mark in the U.S. for the third straight year and keep its significant market share lead.
A new CME Bitcoin futures contract, under ticker "BTC," began trading over the weekend. Each BTC contract represents five bitcoins, in contrast to the one-bitcoin Cboe vehicle, ticker symbol "XBT," launched last week. After surging earlier in the week and rallying further earlier in the weekend, Bitcoin dipped following BTC's launch, then took back some ground.
Reuters reported over the weekend that Humana (NYSE:HUM) is in advanced talks, together with two private equity firms, to acquire Kindred Healthcare (NYSE:KND). According to The Wall Street Journal, the company could fetch $750M or $9 per share. Friday's close was $8.60. The Louisville, KY-based company is the largest home healthcare provider and hospice operator in the U.S.
Spectrum Pharmaceuticals (NASDAQ:SPPI) announced Sunday evening that its board of directors had fired CEO Rajesh C. Shrotriya, MD "without cause," effective immediately. The board has replaced him with Joseph W. Turgeon, formerly chief operating officer, and Thomas J. Riga has assumed the COO role. The board stated that it believes "now is the right time to effect these leadership changes... as the Company enters its next chapter."
After a months-long lobbying effort, The Coalition for American Insurance won inclusion in the coming tax bill of tougher tax treatment for those who move headquarters to low or tax-free jurisdictions. The lobbying group included Berkshire Hathaway (BRK.A, BRK.B), Hartford Financial (NYSE:HIG), and Travelers (NYSE:TRV). The Association of Bermuda Insurers & Reinsurers says the new "punitive" taxes threaten reinsurance business in which offshore players take on a chunk of the catastrophe risk of P&C insurers.
The Drug Enforcement Administration is disappointed with DOJ's deal with McKesson in an opioid distribution case, The Washington Post reported over the weekend. A team at the DEA was ready to move on McKesson (NYSE:MCK) since they could prove that the drug wholesaler failed to report suspicious orders of opioids to certain drugstores despite repeated warnings. Instead, a deal was struck under which McKesson will retain all of its DEA registrations, temporarily suspend controlled substance shipments at four distribution centers and pay a $150M fine.
MetLife on Friday said it's trying to locate and pay a small portion (5% or less) of 600K retirees who are owed money, but have relocated or otherwise can't be reached. Average benefits are thought to be less than $150 per month. MetLife (NYSE:MET) says the process of finding and paying is expected to result in a strengthening of reserves which could be "material" to results.
Le Parisien is reporting that France has accused Amazon of abusing its dominant market position with some vendors, per Reuters. A spokesman for a consumer fraud watchdog said Amazon (NASDAQ:AMZN) "imposes unbalanced relations to its vendors," according to the paper, and the French government is seeking a 10-million-euro fine. Amazon shares were up slightly in premarket trading.
Today's Markets 
In Asia
, Japan 
+1.6%
. Hong Kong 
+0.7%
. China 
+0.5%
. India 
+0.4%
.
In Europe
, at midday, London 
+0.4%
. Paris 
+1.2%
. Frankfurt 
+1.5%
.
Futures at 6:20
, Dow 
+0.5%
. S&P 
+0.3%
. Nasdaq 
+0.6%
. Crude 
+0.5%
 to $57.63. Gold 
+0.3%
 to $1261.30. Bitcoin 
-0.1%
 to 18,920.
Ten-year Treasury Yield
 +2 bp to 2.37%
Today's Economic Calendar
10:00 NAHB Housing Market Index