Monday Morning Reads
Reads:
News:
Futures:
S&P500 Futures:
 Open Interest Changes:
Charts:
 Earnings: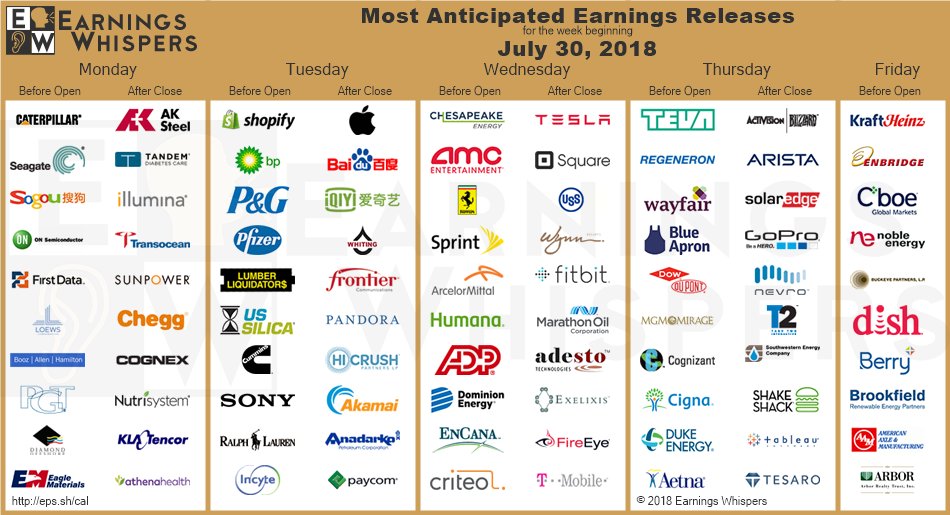 SeekingAlpha:
Away from the earnings deluge, a huge week lies ahead for central banks before traders in the northern hemisphere leave their desks for August summer vacation. In the coming days, monetary policy meetings will take place across the U.S., Japan, the U.K., Brazil and India. While the BOJ will be eyed for tweaks to its massive asset-buying program and the BOE is expected to raise rates for the first time since November, the U.S. Fed is unlikely to deliver any surprises.
Economy
"I don't think this is a one- or two-year phenomenon. I think we definitely are in a period of four or five years of sustained 3% growth at least," Treasury Secretary Steven Mnuchin told Fox News Sunday. The U.S. economy accelerated in the second quarter, according to figures released Friday, with GDP growth expanding at a 4.1% clip to record its fastest pace since 2014.
Agriculture ministers from the G20 countries criticized protectionism in a joint statement on Saturday, and vowed to reform WTO rules, but did not detail what steps they would take to improve the food trade system. Agricultural markets have been rocked by recent tensions, with U.S. farmers expected to take an estimated $11B hit due to China's retaliatory tariffs. The Trump administration has said it would pay up to $12B to help them weather the trade war.
"I would be willing to 'shut down' government if the Democrats do not give us the votes for Border Security, which includes the Wall! Must get rid of Lottery, Catch & Release etc. and finally go to system of Immigration based on MERIT!" President Trump wrote on Twitter. The announcement comes days after he met with House Speaker Paul Ryan and Senate Majority Leader Mitch McConnell to discuss the fall legislative agenda.
The death toll from a Northern California wildfire has risen to six as more than 38,000 people remain under evacuation orders in and around the city of Redding, about 160 miles north of Sacramento. Since erupting last Monday, the Carr Fire has already charred almost 90,000 acres of drought-parched vegetation and is only 5% contained, according to the California Department of Forestry and Fire Protection.
"True energy independence is finally within our grasp... with America becoming a net natural gas exporter," according to U.S. Secretary of Energy Rick Perry. "For too long, Russia has enjoyed near-monopoly status as the main supplier of natural gas to our European allies... Simply stated, the U.S. wants to help our partners increase their energy security by increasing the diversity, not only of their supply, but of their suppliers as well."
Iran's currency hit a historic low of 100,000 rials to the dollar over the weekend. The collapse, which has seen the currency lose half its value in just four months, was encouraged by a deepening economic crisis and the imminent return of full U.S. sanctions. The penalties will be reimposed in two stages on Aug. 6 and Nov. 4, forcing many foreign firms to sever business ties with Tehran.
President Tayyip Erdogan said Turkey will stand its ground, according to broadcaster Haberturk, after President Trump threatened to slap sanctions on Ankara if it doesn't free an American pastor accused of supporting a coup. The friendship between Turkey and the U.S. is on the line in this dispute, he added, stating the latter "should not forget that they will lose a sincere partner."
In what would be its 13th IMF bailout, Pakistan is reportedly drawing up plans to seek up to $12B - its largest ever rescue from the fund - with senior finance officials set to present the option to Imran Khan soon after he takes office. Any loan from the IMF, which many believe is necessary to resolve the country's escalating foreign reserves crisis, would see the IMF impose restrictions on public spending.
China has offered Britain talks on a post-Brexit free trade deal as it remains mired in an increasingly bitter trade war with Washington. The overture came as British Foreign Secretary Jeremy Hunt met China's State Councillor Wang Yi in Beijing, marking his first major overseas trip since he replaced Boris Johnson.
Meanwhile, U.K. ministers are dusting off an emergency playbook as part of preparations should Britain crash out of the EU without a deal, the Sunday Times reports. Helicopters and army trucks would be used to ferry supplies to deliver food, medicines and fuel in the event of shortages. Other blueprints have also been drawn up for the armed forces to assist civilian authorities.
Stocks
The board at CBS will discuss an investigation today into allegations of sexual harassment against CEO Leslie Moonves. The pressure comes as he and the company spar with controlling shareholder National Amusements and its president, Shari Redstone, over her desire to recombine CBS with its sister company Viacom (NYSE:VIA). If Moonves doesn't survive the crisis, it could increase the chances of a merger.
There's more details out on the planning by Walmart (NYSE:WMT) to launch a streaming service, which would be separate from the company's Vudu business. The project is expected to get a green light by upper management by late summer or early fall, sources told the WSJ, and seeks to challenge Netflix (NASDAQ:NFLX) and Amazon (NASDAQ:AMZN) by offering programming that targets Middle America.
Pushing further into the Internet of Things, SoftBank-owned (OTCPK:SFTBY) ARM Holdings (OTCPK:ARMHF) is finalizing a deal for a U.S.-based data analytics company called Treasure Data. It follows last month's acquisition of Stream Technologies, a firm that improves connectivity for IoT devices. The latest purchase, worth a reported $600M, would be one of the largest in ARM's history.
IBM has launched a new blockchain platform called LedgerConnect, with nine financial institutions, including Barclays (NYSE:BCS) and Citi (NYSE:C), so far involved in the proof of concept. IBM hopes it will become a one-stop shop for the financial services industry to create blockchain applications, including know-your-customer processes, derivatives post-trade processing, and reconciliation and market data.
Looking to expand in the U.S. after the U.S. Supreme Court paved the way to legalize sports betting, GVC Holdings (OTCPK:GMVHF) has agreed on a joint venture with U.S. hotel and casino operator MGM Resorts (NYSE:MGM). Both companies will initially invest $100M each in the business, which will set up an online betting platform ahead of the upcoming American football season.
Reporting first-half earnings below market expectations, Heineken (OTCQX:HEINY) has cut its full-year guidance amid operational challenges in Brazil. The world's second largest beer maker now expects operating margins to decline by 20 basis points, compared with a previous forecast of a 25 basis point increase, sending shares down 5.6% in Amsterdam - the most in almost three years.
Tech firms (and particularly social media) should be held liable for "harmful and misleading" material spread on their platforms, according to U.K. media committee chairman Damian Collins, and should pay a levy to enable regulation. "Companies like Facebook (NASDAQ:FB) made it easy for developers to scrape user data and to deploy it in other campaigns without their knowledge or consent," he wrote. The full report is due in the fall.
Latest Brexit blow... Deutsche Bank (NYSE:DB) has now moved almost half its euro clearing activities from London to Frankfurt. While Germany's largest lender does not disclose its volumes, it's one of the five largest clearers of interest derivatives. London Stock Exchange Group has already warned that as many as 100K jobs could leave London if it loses its status as the euro clearing hub.
BMW is raising prices on its U.S.-made X5 and X6 SUV models by 4%-7% in China to cope with the additional cost of tariffs on American car imports into the world's biggest auto market. "BMW (OTCPK:BMWYY) stands for free (trade) but can't stand still without taking actions to respond to the market changes," according to a spokeswoman. Amid escalating trade tensions, Beijing slapped an additional 25% levy on U.S.-made cars as of July 6, resulting in a 40% import duty on all cars imported from the U.S.
Today's Markets 
In Asia
, Japan 
-0.7%
. Hong Kong 
-0.3%
. China 
-0.2%
. India 
+0.4%
.
In Europe
, at midday, London 
-0.2%
. Paris 
-0.3%
. Frankfurt 
-0.2%
.
Futures at 6:20
, Dow flat. S&P 
-0.1%
. Nasdaq 
-0.2%
. Crude 
+1.3%
 to $69.57. Gold 
+0.6%
 to $1230.60. Bitcoin 
-0.8%
 to $8144.
Ten-year Treasury Yield
 +1 bps to 2.97%
Today's Economic Calendar
10:00 Pending Home Sales
10:30 Dallas Fed Manufacturing Survey
3:00 PM Farm Prices