Monday Morning Reads
Reads:
News:
Charts:
Premium:
Futures:
Options:
UOA:
Earnings: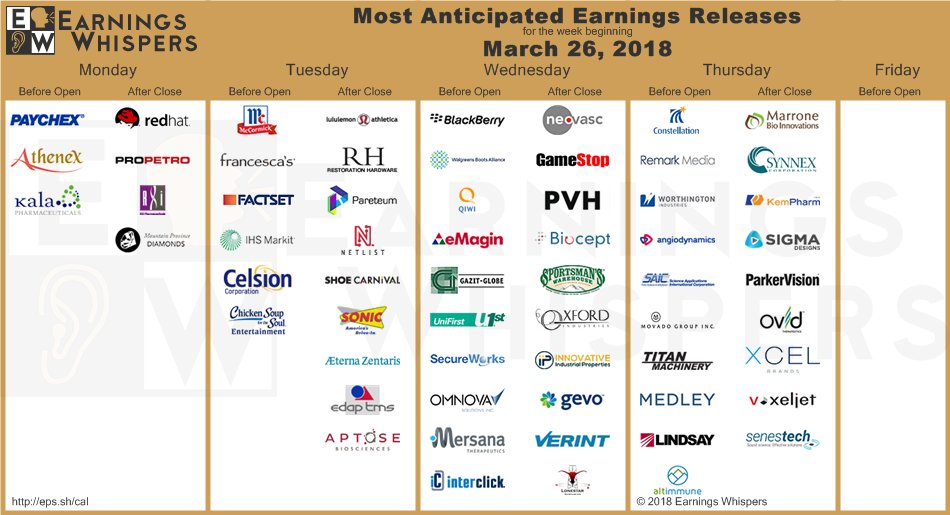 SeekingAlpha:
U.S. stock index futures are pointing to sharp gains on reports that the Trump administration sent a letter to Chinese economic overseer Liu He setting out specific requests to help slash China's trade surplus with the U.S. They include seeking a tariff cut on U.S. automobiles, more Chinese purchases of U.S. semiconductors and greater access to China's financial sector by American companies. Treasury Secretary Steven Mnuchin is also weighing a trip to Beijing, with China willing to hold talks over their trade differences.
Economy
South Korea is next to escape President Trump's metal tariffs after revising its six-year-old bilateral trade deal with the U.S. It will see Seoul double its import quota for American-made cars and reduce the amount of steel it sends into the United States. South Korea will also allow the U.S. to keep its 25% tariffs on pickup trucks in place for 20 more years.
High debt levels for Chinese state-owned companies, local governments and households are "still a challenge," Yi Gang said in his first first public speech since becoming China's central bank chief, but expressed confidence that Beijing can prevent potential dangers. "History has proved that areas that are more open are more competitive, and areas that are less open are less competitive and see risks accumulating."
Shanghai crude futures roared into action overnight, with Glencore (OTCPK:GLNCY) bagging the first trade and PetroChina (NYSE:PTR) and Sinopec (NYSE:SNP) expected to provide a significant amount of liquidity in the long term. Despite being the world's biggest and fastest growing oil consumer, Asia has not yet had a crude benchmark, which could potentially mark the dawn of a new rival to dominant Brent and WTI.
It's not the first time the Kingdom was the target of missile strikes from neighboring Yemen, but it's the first time there's been a fatality on Saudi soil. Houthi rebels fired a barrage of ballistic missiles targeting Saudi Arabia late Sunday - and while seven were shot down - fragments of one missile over Riyadh killed one person and wounded two.
Egyptians are heading to the polls in a three-day presidential election as the economy emerges as one of the top concerns in the minds of some 60M voters. Abdel Fattah al-Sisi is expected to score an easy victory, winning his second term following a first four-year mandate. Critics are dubbing the vote a charade, however, after several candidates withdrew apparently under pressure.
President Trump is poised to take his most aggressive actions yet against Russia, likely announcing the expulsion of dozens of diplomats today in response to the poisoning of a former Russian spy in the U.K. According to Bloomberg, Trump is prepared to act but first wants to be sure European allies, like Lithuania, Latvia, Estonia and the Czech Republic, will take similar steps against Moscow.
San Francisco Fed President John Williams is the leading candidate to become the next president of the New York Fed, succeeding William Dudley when he steps down this summer, WSJ reports. The position has a permanent vote on the rate-setting FOMC and serves as its vice chair. The New York Fed also regulates some of the nation's largest banks and acts as the Fed's window onto Wall Street.
Stocks
Pressure ramp up? "This certain situation is so dire and has become so large that probably some well-crafted regulation is necessary," Apple's (NASDAQ:AAPL) Tim Cook said after being asked about Facebook's (NASDAQ:FB) Cambridge Analytica scandal. "The ability of anyone to know what you've been browsing about for years, who your contacts are, who their contacts are, things you like and dislike and every intimate detail of your life - from my own point of view it shouldn't exist."
Meanwhile, Android cellphone users have noticed that Facebook (FB) has saved a virtual trove of their personal call data that extends back years, according to Ars Technica. That information includes call logs containing names, phone numbers and the length of each call made. Facebook said the feature was a past opt-in as part of its friend recommendation algorithm, but this reportedly contradicts the experience of several users.
The European Union holds "grave suspicions" about the dominance of Google (GOOG, GOOGL) and has not ruled out breaking it up, according to the bloc's antitrust chief Margrethe Vestager. The EU slapped Google with a record €2.4B fine last June for giving its own comparison shopping service an illegal advantage in search results, while related investigations into the Play Store and AdSense are ongoing.
Toshiba has yet to receive the green light from all regulators for the sale of its prized $18B memory chip business - part of plans to plug a financial hole left by the bankruptcy of its U.S. nuclear unit - but it still aims to sell it as early as possible. Toshiba (OTCPK:TOSYY) had faced a March 23 deadline to win antitrust clearance to sell the business by March 31, but China has not yet given its approval.
The latest milestone for Black Panther: becoming North America's top-grossing superhero movie of all time. With $16.7M in its sixth weekend and a new domestic total of $630.9M, the Disney (NYSE:DIS) film has passed the $623.4M drawn by fellow Marvel title The Avengers and became the fifth-highest grossing domestic title of all time, behind The Force Awakens, Avatar, Titanic and Jurassic World.
"The streaming services are all charging $9.99 and everyone has the same music," Apple Music's (AAPL) Jimmy Iovine told the BBC. "Sooner or later, something's got to give," indicating more original content and the possibility of becoming a virtual record label. Iovine also said it was inevitable that Apple would phase out the iTunes download store, as streaming services surpass the older digital format.
Hundreds of thousands of young people and their supporters gathered in rallies in Washington and across the nation on Saturday to demand tighter gun laws. The student-led March for Our Lives aimed to ride momentum for activism that began in February after 17 people were killed at Marjory Stoneman Douglas High School in Parkland, Florida. Related tickers: AOBC, RGR, OLN, SPWH, VSTO, AAXN, DGLY
America's oldest gunmaker has filed for Chapter 11 bankruptcy protection after reporting negative operating cash flow as of March 25 of $7.4M. Like other gun manufacturers, Remington Outdoor saw sharp sales declines following the 2016 presidential election, as customers apparently saw less urgency to stockpile firearms under President Trump.
Following years of shrinking its U.S. retail banking franchise to focus on affluent customers and a handful of big cities, Citigroup (NYSE:C) is ready to become a national player once again. This time, however, it doesn't plan on gobbling up rivals or opening new branches, WSJ reports, but will instead add a full suite of banking, credit card, lending and investment tools for all mobile app users.
Boeing delivered its first 787-10 Dreamliner to Singapore Airlines on Sunday, rounding out a family of lightweight jets on which the U.S. planemaker is betting its future. The Boeing (NYSE:BA) aircraft, which sells for $326M at list prices, has a range of 6,430 nautical miles and seats around 330 passengers, 40 more than the 787-9 and 88 more than the 787-8.
Uber has agreed to sell its Southeast Asian business to bigger regional rival Grab, marking the company's second retreat from Asia. The U.S. ride hailing giant in return gets a 27.5% stake, while UBER's CEO will join the board of the Singapore-based firm. The ceasefire marks a victory for Grab as well as SoftBank (OTCPK:SFTBY), the biggest shareholder in both companies.
Tesla has been instructed to "slow down" on car deliveries in Norway this quarter in response to woes the company has experienced delivering their vehicles. "It is clear that we are exceeding the local logistics capacity due to batch build and delivery," Tesla's (NASDAQ:TSLA) Elon Musk wrote on Twitter. "Customer happiness & safety matter more than a few extra cars this quarter."