Monday Morning Reads
Reads:
News:
Charts:
Premium:
Futures:
Earnings: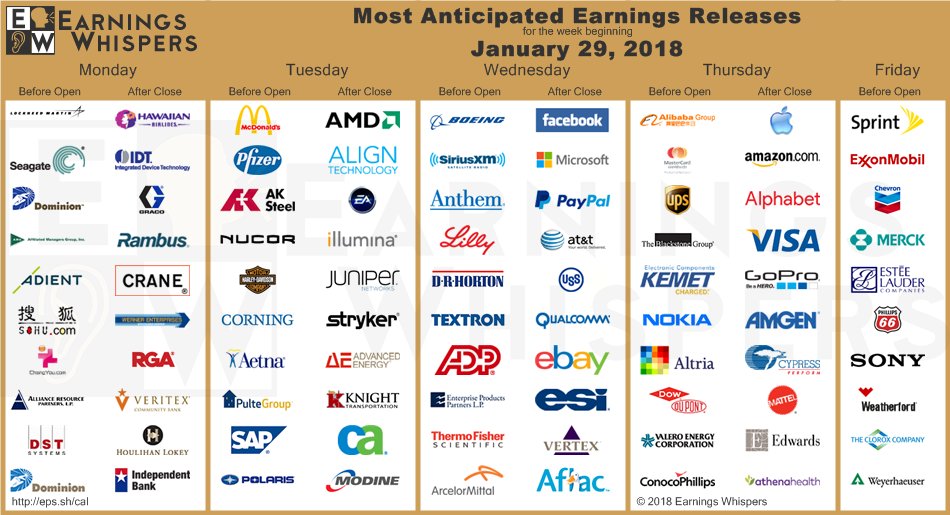 Unusual Option Action:
Seekingalpha:
While stock index futures are down slightly to start the week, the market could continue its record-setting run with the S&P 500 already on track for a 7.2% gain in January. More than a fifth of the S&P 500 companies will release earnings this week, ranging from tech's heaviest hitters to healthcare and big oil. If positive, January would be the 10th month of gains for the Dow and S&P, the best consecutive monthly winning streak since 1959.
Economy
Chinese markets slipped into negative territory overnight after Fan Hengshan, vice secretary general of the National Development and Reform Commission, wrote an op-ed that black swan or grey rhino high-impact events were likely to take place this year. The warning from the country's top economic planner comes as the first official Belt and Road bonds were issued on the Shanghai Exchange.
"I've had a lot of problems with European Union, and it may morph into something very big from that standpoint, from a trade standpoint," President Trump told British broadcaster ITV. "We cannot get our product in. And yet they send their product to us - no taxes, very little taxes. It's very unfair to the U.S. And I think it will turn out to be very much to their detriment."
Failing to garner a majority of votes, incumbent Cypriot President Nicos Anastasiades was the top finisher in Sunday's first round of presidential elections, but will face leftist-backed Stavros Malas in a runoff on Feb. 4. Anastasiades is credited with leading the country's economy back to growth after it nearly collapsed in 2013 and for leading talks to bring the divided island closer than it has been in more than four decades.
Mexico and Canada have rejected a proposal by the Trump administration to remake a corporate arbitration system that's a key part of NAFTA, WSJreports. The investor-state dispute settlement, or ISDS, is widely backed by multinational businesses because it allows them to avoid lengthy court battles and potentially discriminatory behavior abroad if treated unfairly by an action of another NAFTA government.
Stocks
National security officials in the Trump administration are looking at options where the U.S. government could take over part of the country's mobile network as a way of guarding against "dominant malicious actor" China. The report from Axios describes two options: The U.S. government pays for and builds the single network - an unprecedented nationalization of private infrastructure - or an alternative where U.S. wireless providers build their own 5G networks, which would be less commercially disruptive to the industry. Related tickers: AMT, AVGO, CCI, CHTR, CMCSA, CSCO, ERIC, EQIX, IBM, IDCC, IDTI, INTC, JNPR, GLW, NOK, QCOM, RHT, SWKS, S, T, TMUS, TWLO, VMW, VZ, WIFI, XLNX, ZAYO
In initial disclosures about security flaws discovered in its processors, Intel (NASDAQ:INTC) notified a small group of customers, including Chinese companies like Lenovo (OTCPK:LNVGY) and Alibaba (NYSE:BABA), but left out the U.S. government, sources told WSJ. The decision raises concerns as it potentially could have allowed information about the chip vulnerabilities, dubbed Spectre and Meltdown, to fall into the hands of the Chinese government before being publicly divulged.
Facebook has published its privacy principles for the first time, rolling out educational videos to help users manage their data and control who has access to their information. It comes as Facebook (NASDAQ:FB) prepares for the EU's General Data Protection Regulation, which enters into force on May 25 and will mark the biggest overhaul of personal data privacy rules since the birth of the internet.
Songwriters just claimed a major victory in the fight for better pay from streaming giants as the U.S. Copyright Royalty Board bumped up streaming revenue rates over the next five years to at least 15.1%, from a previous 10.5%. The 43.8% pay raise is the "biggest increase in CRB history," according to the National Music Publishers' Association, and will affect many companies including Alphabet (GOOG, GOOGL), Amazon (NASDAQ:AMZN), Apple (NASDAQ:AAPL), Spotify (Private:MUSIC), and Pandora (NYSE:P).
This year's flu outbreak is more severe than any other since the 2009 swine flu pandemic and its intensity is still increasing. "We often see different parts of the country 'light up' at different times, but for the past 3 weeks, the entire country has been experiencing lots of flu, all at the same time," said Dr. Dan Jernigan, the director of the CDC's Influenza Division. Schools in at least 11 states have also closed as the worst flu epidemic in nearly a decade intensifies. Flu vaccine manufacturers: SNY, GSK
Trumping an offer from Novo Nordisk (NYSE:NVO), Sanofi (NYSE:SNY) has agreed to buy biotech company Ablynx (NASDAQ:ABLX) for €3.9B, marking the French drugmaker's second big takeover this month after acquiring Bioverativ (NASDAQ:BIVV). "With Ablynx, we continue to expand our late-stage pipeline and strengthening our platform for growth in rare blood disorders," said Sanofi CEO Olivier Brandicourt. ABLX +17.5% premarket.
Following sexual misconduct allegations, Steve Wynn has resigned as finance chairman of the Republican National Committee. He's denied the accusations, calling them "preposterous," and said they were instigated by his ex-wife to seek advantage in their divorce lawsuit. The billionaire is also CEO of Las Vegas-based Wynn Resorts (NASDAQ:WYNN), whose shares lost over 10% of their value following the news on Friday. WYNN -1.8% premarket.
Despite posting its third consecutive annual loss in 2017, Deutsche Bank (NYSE:DB) is hiking annual bonus payments to more than €1B, Frankfurter Allgemeine Sonntagszeitung reports. Total bonus payments dropped from €2.4B in 2015 to around €500M in 2016 after a multi-billion dollar legal fine for the sale of toxic debt. The move comes amid concern another year of low bonuses could prompt investment bankers to defect to more generous competitors.
Japan's Financial Services Agency has ordered improvements to Tokyo-based Coincheck, which on Friday suspended trading in all cryptocurrencies except bitcoin after hackers stole ¥58B ($534M) of NEM coins. Coincheck said on Sunday it would return about 90% with internal funds, though it has yet to figure out how or when. The heist reverberated through crypto markets around the world, spurring calls for more regulation.
The first cases of "jackpotting" - a sophisticated hack that forces ATMs to spit out huge volumes of cash - have been identified in the U.S., according to Krebs on Security. Diebold Nixdorf (NYSE:DBD) and NCR Corp. (NYSE:NCR), two of the world's largest ATM makers, have warned cyber criminals targeting U.S. cash machines, but did not identify any victims or say how much money had been lost.
After a three-year crisis marked by massive losses, writedowns and controversial accounting, Noble Group (OTCPK:NOBGY) has reached an in-principle deal to restructure $3.5B in debt, Bloomberg reports. The agreement will save the troubled commodity trader from bankruptcy at the cost of handing control to creditors, but will need approval from all parties involved, including shareholders, in a process that could take as long as five months.
A blow to recovery hopes? Ford's (NYSE:F) China chief Jason Luo has resigned after leading the U.S. automaker's Chinese operations for roughly five months. He was taken on to help the firm improve ties with local joint-venture partners and be nimbler in responding to local consumer demands. Ford's sales in China slipped 6% in 2017 compared with a 3% increase for the industry overall.
Google has made its first ride-hailing investment in Asia by pumping money into Go-Jek, an Indonesian startup that's already secured investments from Chinese technology giants Tencent (OTCPK:TCEHY) and JD.com (NASDAQ:JD). Local rivals GRAB and UBER are backed by Japan's SoftBank (OTCPK:SFTBY). Google's blog didn't specify how much the tech giant is investing, but two sources told Reuters that Google (GOOG, GOOGL) was investing about $100M.
Similarly, Alibaba and Foxconn (OTC:FXCOF) have co-led a 2.2B yuan ($348M) funding round into Chinese electric-vehicle manufacturer Xiaopeng Motors, marking Alibaba's (BABA) first big investment in a carmaker. Executives from the two companies said the move will allow them to tap into the intersection of the internet, AI and traditional manufacturing. Xiaopeng is among the startups striving to become China's Tesla (NASDAQ:TSLA).
Today's Markets 
In Asia
, Japan flat. Hong Kong 
-0.6%
. China 
-1%
. India 
+0.7%
.
In Europe
, at midday, London 
-0.2%
. Paris 
+0.1%
. Frankfurt 
-0.1%
.
Futures at 6:20
, Dow 
-0.2%
. S&P 
-0.3%
. Nasdaq 
-0.4%
. Crude flat at $66.12. Gold 
-0.4%
 to $1346.40. Bitcoin 
-4.1%
 to $11213.
Ten-year Treasury Yield
Today's Economic Calendar
8:30 Personal Income and Outlays
10:30 Dallas Fed Manufacturing Survey