Manic, Panic, Frantic - you could use that to describe some of the buying we saw last week.  Friday's late day spike off the session lows to ultimately close the market at the high of the day, epitomized the week.  A week where the powers that be kept the bears involved just enough to make trading for downside worth their while.
It worked early last week.  $EXPE puts bought one day surged over 700% the next.  $CMG puts worked well as the stock fell over 5% turning $1 options into $22 options.
As I've pointed out even before the year started, 2015 will be, and already has been, a nice market for individual names.
It's Monday, and if this week is anything like the previous three, expect manic buying and selling to continue.  Where is the market headed this week?
To give you a better idea - Here is the morning watchlist
Its becoming clearer by the trading day that the market is going to ignore all of the bad economic data.  What is becoming clearer by the month is the market loves the first half of the month and has a broad disdain for the end of the month.  A great chart perspective of that by northy
As we start the last half of October its entirely appropriate that S&P500 futures are trading .4% lower.
Perhaps this month will break the trend?
The VIX has been the tell throughout this rally from the August lows.  It continues to head lower.  The 'fear' index continues to price in a market of lower volatility.
To be clear, the VIX was not ripping higher weeks before the market collapsed in August.  However there were signs: broken support, several days of heavy selling.  Thus far in October its been the opposite.  The great "FOMO" seems to be ruling the day - the Fear of Missing Out.  I'd argue its more about squeezing the shorts.  We've seen the weaker names leading the way higher.  Perhaps that will change as the weeks progress, but I think the foundation  for higher stock prices has cracks that will not easily be covered up.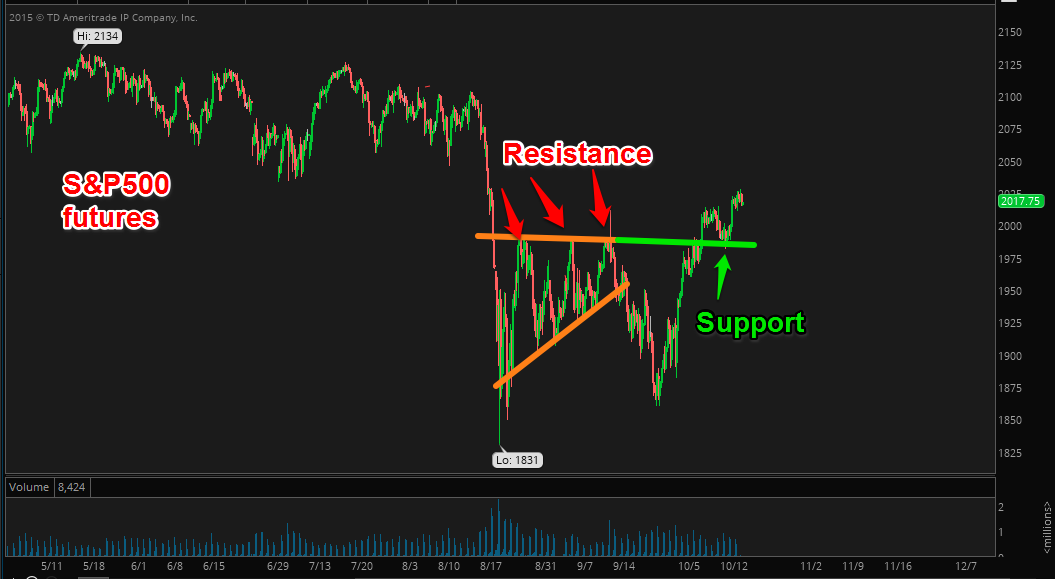 We have former resistance now acting as support.  This will be key going forward.
The 2011 gameplan continues to work out.  History does not always repeat itself, but it can come pretty darn close.
The opening bell is less than 10 minutes away.
We have a host of earnings reports coming out this week including $AMZN:
We'll have more of those playbooks as the week progresses.
See you in the chat room.