How can you recap the market today without mentioning GOOGLE?  The stock spent almost all of 2015 mired in a tight range, clinging to $550 like a baby clings to its mother.  And then this week Mom let it go and its up over $670 after the bell.  A huge earnings move.
The chart was setting up and today it broke in a big way.
Here we are one week removed from #Greebola and the Nasdaq is up at record highs.  Greece and China, according to the financial media and every bearish columnist writing on this side of the Gamma Quadrant, was supposed to send stocks lower.  Instead its done what every other sell off the last 6 years has done.. created a tremendous buy the dip opportunity.
Some of today's live audio from the chat room
Unusual Option Scans / Stock Scans
The $SPY is up to a key juncture:
Let's see what tomorrow brings.   It's monthly opex.  Google is soaring, and tech should, in theory, see a strong day.  A break out of this 2015 consolidation would put sights to the $220 $SPY level.
What a reward it would be, to suffer through this consolidation, if the market does indeed finally break out.
The VIX remains in beat down mode.  The 20 level of last week looks to get cut in half.  It's been dumped quicker than a cup of moldy Greek Yogurt.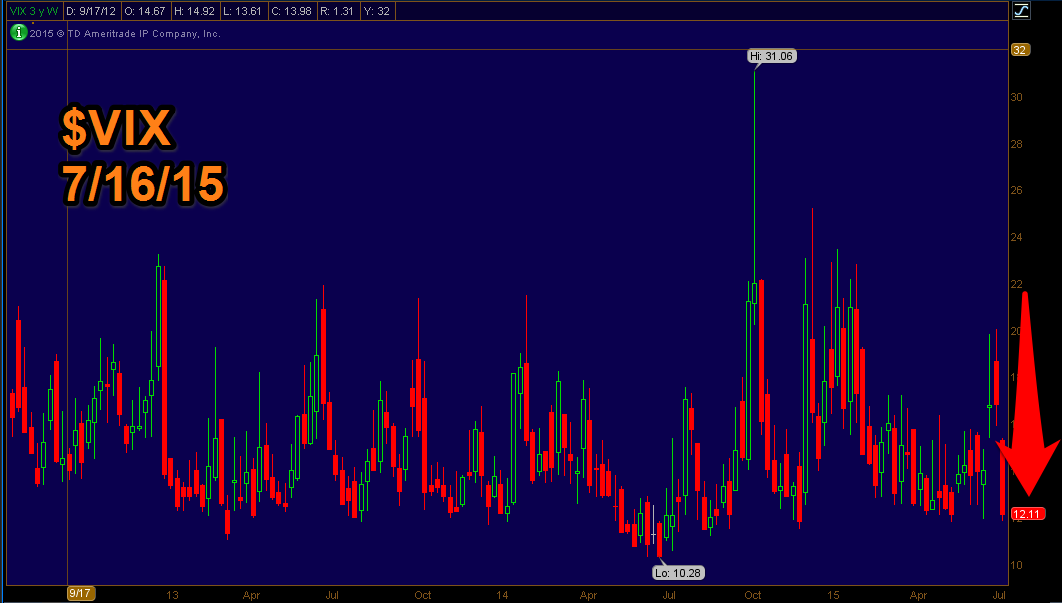 $TLT got a bid today as bonds were in demand, despite the rally for the stock market.  I still think this is headed lower, but lets keep in mind that it will bounce along the way back to $100.
The Nasdaq is having one of its best weeks in years.  Futures are up some .4% after the bell as GOOGLE soars.  We are in new uncharted waters.  New Highs.
It will be an interesting day tomorrow.  Quite a few in the chat room have GOOGL calls and stand to turn a nasty profit tomorrow.  One trader stands to turn $240 into over $10k if GOOGL opens where it is right now.  Wow.
Monthly OPEX.  Earnings gappers.  It's the summer.  Option action... its fantastic.  See you in the chat room tomorrow.
And hey... if your not in the chat room, become a member today,  sign up, and send an email to optionmillionaires @gmail.com for tomorrows special GOOGLE Trial to celebrate its massive move and the profits its going to bring down on many traders.   Good night!