Friday Morning Reads
Reads:
News:
Futures:
Some of the Top  Open Interest Changes for Today: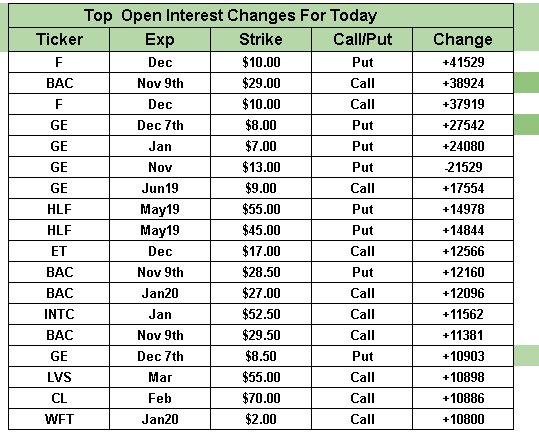 Premium:
Charts:
Seekingalpha:
Oil fell below the $60 level overnight, a day after slipping into a bear market. That means U.S. crude is now down by around 20% since early October as rising supply and concerns of an economic slowdown pressure prices. Fresh U.S. sanctions are unlikely to cut as much oil out of the market as initially expected with Washington granting temporary exemptions to Iran's biggest buyers. American production has also reached a new record high of 11.6M bbl/day.
Economy
Saudi Arabia's top government-funded think tank is studying the possible effects on oil markets of a breakup of OPEC, WSJ reports, an interesting research effort for the nation that has dominated the oil cartel for nearly 60 years. Senior Saudi officials see the study as a high-priority economic policy inquiry, but it does not reflect an active debate inside the government over whether to leave OPEC in the near term.
Seeking protection against possible new U.S. sanctions, Russian energy majors are heaping pressure on Western oil buyers to use euros instead of dollars for payments, as well as penalty clauses in contracts. Russia supplies over 10% of global oil, so severe sanctions could affect crude prices. Global oil majors further rely on Russia to feed their refineries, especially in Europe and Asia, so they cannot just walk away from annual contract negotiations.
U.S. equities look poised to slip again at the open, continuing a global market retreat after the Fed appeared to remain on track to raise to its key rate next month. Some traders had hoped that the sharp stock selloff during what has been called "Red October" might have encouraged the central bank to take a more dovish approach, but a statement confirmed expectations of "further gradual increases" in the prime lending rate.
Speaking with lawmakers at Ireland's Parliament, ECB President Mario Draghi urged eurozone governments to pay down their national debts and strengthen the currency bloc amid a dispute over Italy's budget and potential shocks such as Brexit. Despite those economic risks, he expects the central bank - "subject to incoming data confirming our medium-term inflation outlook - to end net asset purchases at the end of the year."
Slackening demand and a trade war with the U.S. weighed on China's factory inflation in October, while consumer price inflation held steady at 2.5%, ending a rising streak for four consecutive months. Even as the world's two biggest economies butt heads over trade, their top diplomats and defense chiefs will gather today for security talks in Washington. The meeting was canceled last month amid new South China Sea tensions and U.S. arms sales to Taiwan.
Cabinet ministers from the United States, Mexico and Canada will sign a new trade agreement at the G20 summit in Buenos Aires on Nov. 30, but it has yet to be determined whether the presidents and prime minister of each nation will participate in the signing. Legislators from the three countries still have to approve the pact, officially known as USMCA, before it goes into effect.