Friday Morning Reads
Reads:
News:
Futures:
Premium:
Open Interest Changes:
 Earnings: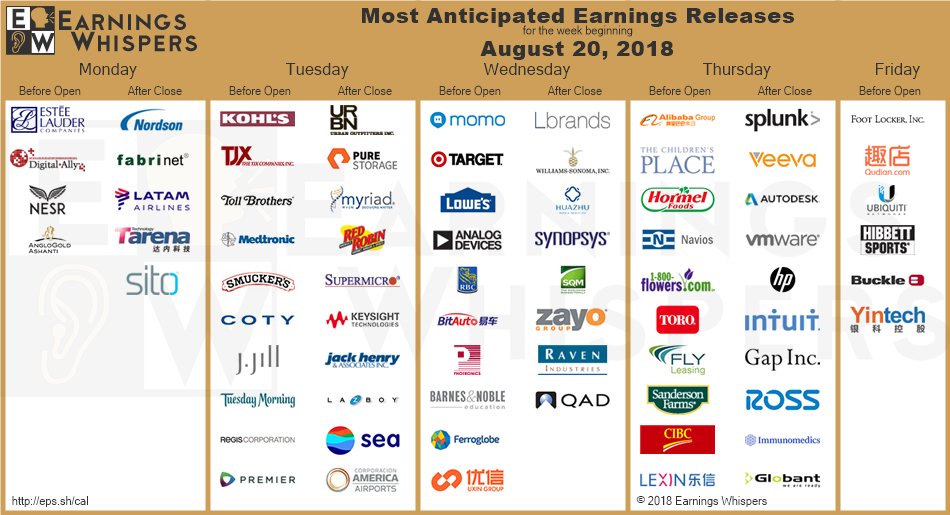 Charts:
SeekingAlpha:
Federal Reserve Chairman Jerome Powell is due to give a speech about monetary policy in a changing economy at the Federal Reserve Bank of Kansas City Economic Policy Symposium in Jackson Hole, Wyoming. Powell is expected to stay on script for the most part and ignore recent criticism from President Trump in keeping with the tradition of his predecessors. Heading into the Jackson Hole gathering, investors were pricing in a high probability of a rate hike at the FOMC's next meeting in September and a moderate chance for an increase in December. Any surprises from Powell on the rate hike trajectory or implications of a flattening yield curve could trip up stocks and bonds on what's expected to be a very low trading volume day.
Economy
Mid-level trade talks between the U.S. and China ended without any formal signs of progress, although Chinese officials said they plan to keep the lines of communication open. Sources indicated the two sides mainly swapped talking points without getting any detailed negotiations. Today, representatives from the U.S., European Union, and Japan plan to meet in Washington to extend talks on how to leverage the World Trade Organization and other ways pressure can be exerted on China.
Asian stocks ended mixed after the lack of meaningful forward progress on trade negotiations, with Hong Kong's Hang Seng Index trimming 0.4% on the day and the Shanghai Composite poking out a 0.2% gain. Japan's Nikkei ended the session up 0.9% and South Korea's Kospi Index rose 0.5%. Meanwhile, the European Stoxx 600 Index is showing a 0.1% bump and U.S. stock futures are pointing to a slight gain ahead of the Fed's Jackson Hole meeting.
Consumer prices in Japan rose 0.8% in July to fall just short of the economists' median estimate for a 0.9% increase, according to data from the Statistics Bureau. The Consumer Price Index decelerated from the 0.7% pace seen in June and stayed below the 1.0% for the fourth straight month. After stripping away the effect of fresh food and energy, consumer prices were up 0.3% from a year ago.
Australia is set for its sixth prime minister in the past decade after Treasurer Scott Morrison prevailed in a leadership ballot to replace Malcolm Turnbull, whose position got shakier over the past week. With his party moving further to the right, Morrison is considered a conservative choice that should see a favorable reaction from markets, and Australia's dollar and stocks moved up in response. Australia's ASX 200 gave up early gains to close near flat following the political news.
Midterms: The latest projection by Height Capital Markets has the Democrats winning control of the House of Representatives by a 5 to 15 seat margin in November's midterm elections. "While a Democratic-controlled House would offer a material shift in tone on policy changes across the entire healthcare sector, we believe the most impactful changes would be to drug pricing policy, where Democrats would gain an upper hand in setting the drug pricing agenda in the House and moving negotiations with the Senate to the left," predicts Height. The firm expects the Senate to stay in GOP control and prevent legislation that would allow Medicare to negotiate drug prices, establish a drug price gouging enforcer, or require manufacturers to justify to HHS their price increases.
The latest report on durable goods orders is due in from the Commerce Department today. Economists on average anticipate a 0.8% drop in new orders for July on a wide range of forecasts (-2% to +4%). The core capital goods (nondefense ex-aircraft) mark is seen rising by 0.5% during the month.
Stocks
Up to a dozen major technology firms are coming together in a private meeting today to compare notes on fighting back against election manipulation, BuzzFeed reports. The head of cybersecurity at Facebook (NASDAQ:FB) called the meeting, which will include representatives from Google (GOOG, GOOGL), Microsoft (NASDAQ:MSFT) and Snap (NYSE:SNAP) and take place at the downtown HQ of Twitter (NYSE:TWTR). A three-part agenda will cover what the companies have been doing to fight bad actors, what problems they're encountering doing so, and whether to meet regularly.
Global retailers looking to tap into the lucrative China consumer market have almost no real choice but to partner with online beasts Alibaba (NYSE:BABA) or Tencent (OTCPK:TCEHY), according to Bain's James Root. He said the two firms have become overwhelmingly dominant over the last four to five years to force the hands of retailers. "I'm describing a world of highly concentrated control amongst these two firms and the ecosystems around them," Root maintained. To that point, Alibaba and Tencent own or control four out of five of China's largest hypermarket and supermarket chains. Alibaba is up 1.5% in premarket trading after posting 61% revenue growth in Q2.
Global sales for electric vehicles rose 77% in Q2 from a year ago to 411K, according to data from Bloomberg NEF. China accounted for more than half of the quarterly tally, while Europe accounted for 22% and North America came in with 19% global market share. EVs accounted for a record high of 3.9% of all passenger car sales in China. Manufacturers accounting for a significant part of the EV gains include BYD (OTCPK:BYDDF), Tesla (NASDAQ:TSLA), Nissan (OTCPK:NSANY), Toyota (NYSE:TM), Renault (OTC:RNSDF), BAIC (OTC:BCCMY) and Chinese state-owned JAC Motors.
The Department of Justice and SEC are probing Microsoft (MSFT) over potential bribery and corruption in relation to software sales in Hungary. The investigation will center on how the company used middleman firms to sell software such as Word and Excel to Hungarian government agencies in 2013 and 2014. Microsoft is down 0.4% in premarket trading.
Elon Musk has formally hired Morgan Stanley to assist him in his effort to take Tesla private. The development was effectively tipped off earlier this week when Morgan Stanley backed away from issuing sell-side coverage on the EV automaker. Musk now has the top two merger advisers (by transaction dollars) working on his side after MS signed off along with Goldman Sachs. It's still unclear what the timetable is on bringing an offer to the Tesla board for consideration. Also in relation to Tesla, a small fire at the Fremont plant resulted in no injuries or damage Thursday night. A tent-like structure apparently used for recycling (and not the tent set for Model 3 production) took damage.
M&A spotlight: Shareholders at Express Scripts (NASDAQ:ESRX) and Cigna (NYSE:CI) have merger votes set for today. The terms of the merger call for Cigna to pay Express Scripts shareholders $48.75 in cash per share, along with 0.2434 shares of stock in the combined company. On the outside looking in, proxy firm ISS said the Express Scripts-Cigna merger is financially compelling as it should allow the new company to immediately scale up with strong cash flow generation.
Crypto check: Bitcoin (BTC-USD) is hanging in there, despite the rejection by the SEC of the application by ProShares for two ETFs. At last check, Bitcoin was up 1.31% over the last 24 hours to $6,526.30. The growing dominance of Bitcoin in the cryptocurrency market is seen by some traders as a sign that people are seeking refuge from so-called altcoins. Bitcoin now represents 53% of the cryptocurrency market, up from a 38% share at the start of the year, according to data from CoinMarketCap.
Thursday's Key Earnings
HP (NYSE:
HPQ
) 
-2.4%
 on narrow Q2 revenue beat, in-line guidance.
VMware (NYSE:
VMW
) 
-3.4%
 AH despite Q2 beat.
Splunk (NASDAQ:
SPLK
) 
+7.7%
 AH on Q2 beat and upside revenue guidance.
Ross Stores (NASDAQ:
ROST
) 
-5%
 AH on Q2 margins compression.
Autodesk (NASDAQ:
ADSK
) 
+7.8%
 AH on raising FY guidance.
Veeva Systems (NYSE:
VEEV
) 
-0.8%
 AH on Q2 beat and upside guidance.
The Gap (NYSE:
GPS
) 
-7%
 AH despite Q2 earnings beat.
Intuit (NASDAQ:
INTU
) 
-3%
 AH on downside guidance, CEO leaving role.
Immunomedics (NASDAQ:
IMMU
) 
-2.1%
 AH on Q4 earnings, CFO resignation.
Global Cord Blood (NYSE:
CO
) +2.2$ AH on Q1 growth.