Friday Morning Reads
Reads:
News:
 Futures:
 Open Interest Changes:
Yesterdays UOA:
Charts: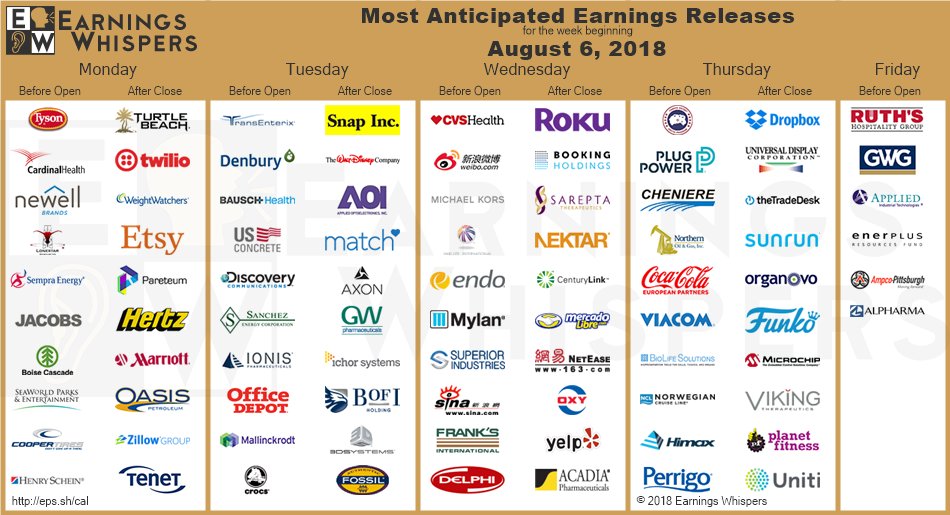 SeekingAlpha:
Turkey's problems are spilling over into the greater market following reports that the ECB is concerned over the impact of a weak lira on European banks, especially BBVA, UniCredit (OTCPK:UNCFF), and BNP Paribas (OTCQX:BNPQF). Data from the BIS also showed the currency, which plunged 13.5% overnight to an all-time low against the dollar, will weigh on banking exposure internationally. For now, Turkish President Recep Erdogan said he will stand up to the pressure, stating "don't forget, if they have their dollars, we have our people, our God."
Economy
"As oil sanctions against Iran take effect... maintaining global supply might be very challenging and would come at the expense of maintaining an adequate spare capacity cushion," the IEA said in latest monthly report. "Thus, the market outlook could be far less calm at that point than it is today." Trade tensions and expectations of reduced growth are still weighing on crude prices, however, with Brent on course to register a near 2% fall this week and WTI set for a drop of almost 3%.
The alliance of populist Shiite cleric Moqtada al-Sadr won Iraq's legislative election in May, according to a manual recount, paving the way for a coalition to be formed nearly three months after the polls. The next government faces a daunting list of challenges: reforming the economy, fighting corruption, rebuilding areas destroyed in the war against Islamic State and preventing a resurgence of the terror group.
Russian Prime Minister Dmitry Medvedev has reportedly warned the U.S. that sanctions it plans to impose against Moscow over the nerve agent attack of a former spy living in the U.K. could be treated as a declaration of an economic war. "And it would be necessary, it would be needed to react to this war economically, politically, or, if needed, by other means. And our American friends need to understand this."
Aiming to simplify capital raising and trading, Commonwealth Bank of Australia (OTCPK:CMWAY) has won a mandate from the World Bank to arrange a pioneering Kangaroo bond issue to be created and run using only blockchain. No size or date was given for the new debt instrument, nicknamed "bond-i" after Australia's iconic Bondi Beach, but it will be launched after a period of consultation with more investors.
Japan returned to solid growth in the April-June quarter, with the economy expanding at an annualized pace of 1.9% following a mild contraction in Q1, which ended the longest stretch of growth in 28 years. Economists expect the trend to continue on the back of higher wages and consumer spending, unless trade conflicts with the U.S. worsen.
With U.S. GDP growing at a 4.1% clip last quarter and the job market solid, consumer inflation has become the wild card for economists. The latest figure, which could be the highest in more than six years, will be released this morning by the Labor Department. Expectations are for CPI to have increased 2.3% Y/Y, and headline CPI (including food and energy) to have reached a 3% Y/Y pace for the first time since December 2011.
Stocks
Tesla's board plans to meet with financial advisers next week to work out a process to explore a proposal to take the company private as shares in the EV maker erased almost all of their post-Elon Musk tweet gains during yesterday's session. The board is expected to ask Musk to recuse himself from the discussion as it decides on whether a special committee should be formed to delve into the issue. TSLA +1.6% premarket.
After five years at Tesla (NASDAQ:TSLA), Doug Field, former head of engineering, is returning to Apple (NASDAQ:AAPL). He'll be partnering up with his old buddy Bob Mansfield, who has been running the company's self-driving car venture called Project Titan. Court documents last month revealed that as many as 5,000 people were authorized inside Apple to access information about the program.
Reversing most of a $773M antitrust fine, Qualcomm (NASDAQ:QCOM) has reached a settlement with Taiwanese regulators that will see it pay $93M, invest $700M in the country and offer patent licenses to rivals. The chipmaker is also in the midst of appealing a $927M fine from the Korea Fair Trade Commission, a $1.2B fine from the European Commission, and faces a lawsuit from the FTC amid a wide-ranging legal dispute with Apple (AAPL).
Highly valued startup WeWork has clinched a $1B investment from Japan's SoftBank (OTCPK:SFTBY), the latest capital injection into the company as its losses in the first half of 2018 tripled to $723M. The investment will lift WeWork's (VWORK) existing cash pile and cash commitments to $4B - money it plans to use for overseas expansion, build office space and acquire new properties and leaseholds.
U.S. Federal Judge Leonard Stark has authorized the seizure of Citgo Petroleum to satisfy a Venezuelan government debt owed to defunct Canadian gold miner Crystallex. While the ruling that could set off a scramble among Venezuela's many unpaid creditors to wrest control of its only obviously seizable U.S. asset, the full opinion - which could include conditions or impose further legal hurdles - was sealed.
Rebuffing rumors that asserted it was going out of business, Crocs (NASDAQ:CROX) has issued a statement after saying it would close the last of its manufacturing facilities. "As we streamline our business to meet growing demand for Crocs, we're simply shifting production to third parties to increase our manufacturing capacity." The turnaround plan, which began in 2014, also involves closing some stores and focusing more on online sales.
Teaming up with investor George Strawbridge, Third Point's Dan Loeb - which recently acquired a 5.65% stake in Campbell Soup (NYSE:CPB) - is calling for the sale of the firm. Campbell said it looks "forward to sharing the details of our plans when the company reports its fourth-quarter and full-year results on August 30 and engaging with our shareholders on our strategic plan."
Budget carrier Ryanair is grappling with major strikes for the first time in its three-decade history. Disruption is set to hit a new peak today, with at least 50,000 Ryanair (NASDAQ:RYAAY) passengers affected by over 400 flight cancellations across five European nations. Pilots are ramping up a bid to wrest better contracts from an airline defined by its penny-pinching culture.
The Pentagon has released a 15-page report outlining a framework for the establishment of the U.S. Space Force, which would become the sixth military branch. Efforts include an "acceleration" of space technology, the creation of a space-development agency, and a pool of "space experts" and "space warfighting professionals." The division would be responsible for protecting against hypersonic weapons, as well as attacks on communications satellites and the Pentagon's missile-warning systems. Related: BA, NOC, LMT, AJRD, SPACE, BORGN
Today's Markets 
In Asia
, Japan 
-1.3%
. Hong Kong 
-0.8%
. China flat. India 
-0.4%
.
In Europe
, at midday, London 
-0.7%
. Paris 
-1.1%
. Frankfurt 
-1.6%
.
Futures at 6:20
, Dow 
-0.4%
. S&P 
-0.4%
. Nasdaq 
-0.5%
. Crude 
+0.2%
 to $66.91. Gold 
-0.1%
 to $1218.20. Bitcoin 
-2.6%
 to $6368.
Ten-year Treasury Yield
 -3 bps to 2.9%
Today's Economic Calendar
8:30 Consumer Price Index
1:00 PM Baker-Hughes Rig Count
2:00 PM Treasury Budget