Friday Morning Reads
Reads:
News:
Futures:
 Open Interest Changes:
Charts:
Earnings This Week: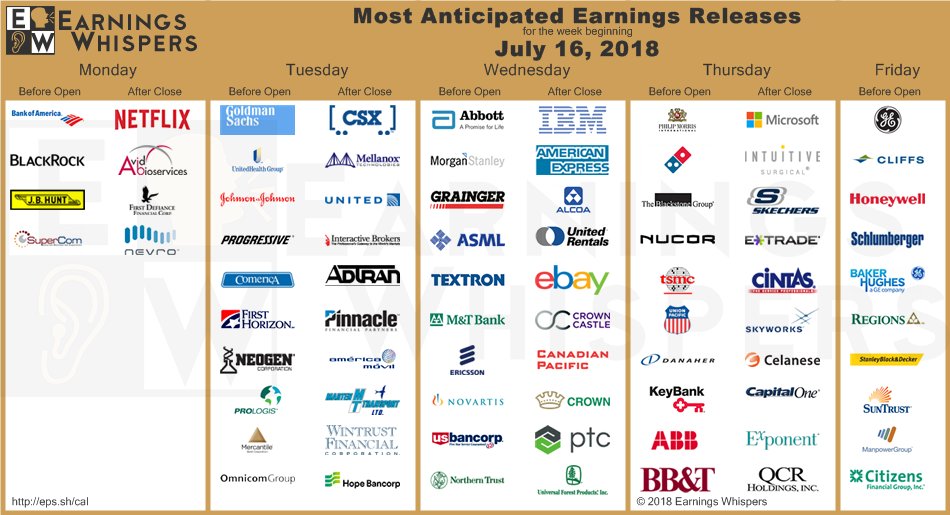 SeekingAlpha:
President Trump is willing to up the ante in the trade war with Beijing and could slap tariffs on every Chinese good imported to the U.S. "I'm ready to go to 500," he told CNBC, referencing the $505.5B of American imports from China in 2017, compared to the $129.9B the U.S. exported to the country last year. Meanwhile, the Chinese yuan slid overnight to its lowest in more than a year, stoking worries Beijing's currency management could be the next flash point in a trade dispute with the U.S.
Economy
Despite aggressive monetary easing by the Bank of Japan for more than five years, domestic prices have become sluggish again in recent months. The trend continued into June, with the core consumer price index, excluding fresh food prices because of their volatility, rising only 0.8% from a year earlier, from a 0.7% rise in May. That's well short of the 2% target set by the Bank of Japan.
Sanctions bite... GDP in North Korea last year shrunk 3.5% from the previous year, marking the biggest contraction since a 6.5% drop in 1997 when the isolated nation was hit by a devastating famine. The Seoul-based Bank of Korea, which is considered the most authoritative source for economic data on its neighbor, also said that the tighter sanctions imposed in 2017 will only show their full impact this year.
The White House has invited Vladimir Putin to the U.S. for another summit in the fall, coming on the heels of a controversial meeting between President Trump and the Russian leader earlier this week in Helsinki. The last official American visit by a Russian president was in June 2010, when Dmitry Medvedev, now Russian prime minister, visited the United States.
Departing from a convention in which presidents have refrained from speaking specifically on monetary policy, President Trump delivered a rare critique about the Federal Reserve. "I don't like all of this work that we're putting into the economy and then I see rates going up," he told CNBC. "At the same time I'm letting them do what they feel is best."
It's "too early" to say whether the Trump administration will move ahead with proposed tariffs of as much as 25% on imported vehicles and auto parts, according to Commerce Secretary Wilbur Ross. The comments came at the start of several Commerce Department hearings that will investigate whether the Trump administration can use a 1962 national security law to impose duties on foreign-sourced cars and parts.
Spain's Supreme Court has dropped a European arrest warrant for former Catalan leader Carles Puigdemont after Germany refused to extradite him on charges of rebellion. The move demonstrates the difficulty the country has faced in trying to persuade its EU partners to help it bring former members of Catalonia's regional government to trial for declaring independence from Spain last year.
Stocks
Comcast has surrendered to Disney (NYSE:DIS) in a bidding war over Fox's (NASDAQ:FOX) film and cable assets, but managed to push up its rival's acquisition expenses by nearly $20B, a play that could constrain Disney's ammunition in future dealmaking. Comcast (NASDAQ:CMCSA) will now try to clinch a £26B acquisition of Sky (OTCQX:SKYAY) - in which Fox already owns a 39% stake - as the media industry undergoes a massive reshaping.
Walmart is eyeing a Q4 launch for a new subscription video service through its Vudu digital entertainment division, Variety reports. While the company is widely expected to undercut Amazon Prime (NASDAQ:AMZN) and Netflix (NASDAQ:NFLX) on pricing, an open-ended question is how much the Bentonville C-suite is willing to spend on content spending. Walmart (NYSE:WMT) picked up Vudu in 2010 and has slowly added to its content base.
More changes to Facebook (NASDAQ:FB) platforms... WhatsApp is rolling out a global test measure to rein in forwarded messages after rumors of child abductors led to several killings in India and sparked calls for action from authorities. WhatsApp did not say what the limit would be elsewhere, but in India specifically, they will be limited to five chats at a time, as well as removing the quick forward button placed next to media messages.
Echoing a decision last month that tossed out two similar California cases, a U.S. district judge has dismissed a lawsuit by New York City seeking to hold five of the world's biggest oil companies liable for their role in contributing to global warming. Among them: BP, Chevron (NYSE:CVX), ConocoPhillips (NYSE:COP), Exxon Mobil (NYSE:XOM) and Royal Dutch Shell (RDS.A, RDS.B). Problems associated with climate change should be tackled by Congress and the executive branch, according to the ruling.
Unable to determine how much of the cobalt used in batteries it makes for Tesla (NASDAQ:TSLA) comes from Cuba, a country subject to U.S. sanctions, Panasonic (OTCPK:PCRFY) has suspended relations with its supplier. Sources said the Canadian firm was Sherritt International (OTCPK:SHERF). Responding to earlier rumors, Tesla also confirmed that refunds of bookings for its Model 3 were not outpacing reservations.
Merck is the latest drugmaker to nod to public pressure on rising costs, cutting the price on hepatitis C treatment Zepatier by 60%, and a number of other medicines by 10%. Merck's (NYSE:MRK) new price change also included a commitment not to increase the average net price across its product portfolio by more than the inflation rate, but that pledge still leaves room for higher increases on individual drugs.
Thursday's Key Earnings
Blackstone (NYSE:
BX
) 
-1.6%
 analyzing a C-Corp switch.
Microsoft (NASDAQ:
MSFT
) 
+3.3%
 AH as cloud revenue soared.
Philip Morris (NYSE:
PM
) 
-1.5%
 on weaker e-cigarette acceptance.
SAP (NYSE:
SAP
) 
-3.7%
 amid softness in legacy licenses.
Taiwan Semiconductor (NYSE:
TSM
) 
+3.6%
 on smartphone demand.
Unilever (NYSE:
UN
) 
+2.5%
 posting gross margin improvement.
Today's Markets 
In Asia
, Japan 
-0.3%
. Hong Kong 
+0.8%
. China 
+2.1%
. India 
+0.4%
.
In Europe
, at midday, London 
-0.3%
. Paris 
-0.7%
. Frankfurt 
-0.5%
.
Futures at 6:20
, Dow 
-0.5%
. S&P 
-0.4%
. Nasdaq 
-0.1%
. Crude 
+0.1%
 to $68.31. Gold flat at $1223.90. Bitcoin 
-0.3%
 to $7451.
Ten-year Treasury Yield
 flat at 2.85%
Today's Economic Calendar
8:20 Fed's Bullard: U.S. Monetary and Economic Policy
1:00 PM Baker-Hughes Rig Count