Friday Morning Reads
Reads:
News:
Futures:
 Open Interest Changes:
Charts:
Unusual Option Action 
Earnings This Week: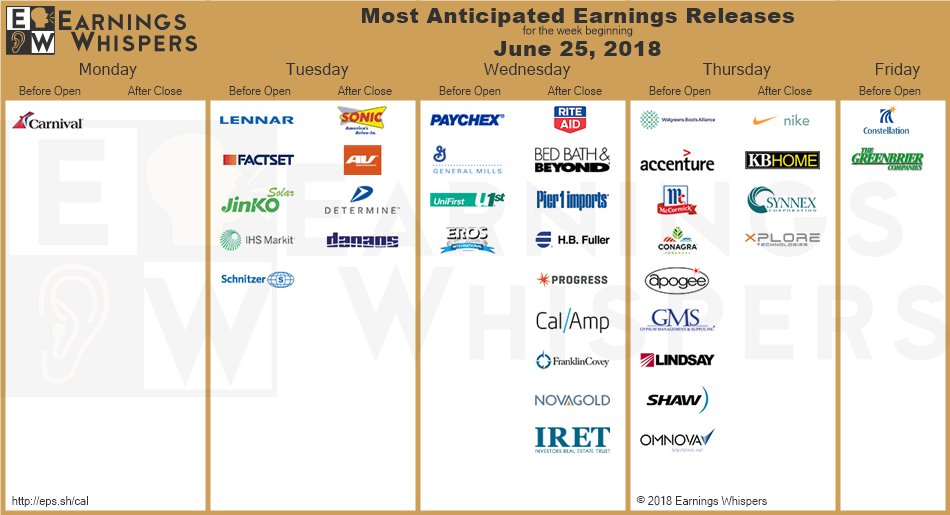 Seekingalpha:
More trade tensions are in the making on reports that Justin Trudeau will mark Canada's 151st birthday on Sunday by imposing tariffs on about C$19.4B worth of U.S. imports and providing aid to trade hit industries. The proposed tariffs will target metals, whiskies, mustard, toilet paper, washing machines, motorboats and maple syrup, in response to the American levies on Canadian steel and aluminum that went into effect a month ago.
Economy
China's National Development and Reform Commission has published a new version of its so-called negative list, which spells out industries where foreign investment is limited or prohibited. The new rules will lift curbs on sectors including banking, automotive, heavy industry, mining, power grids and agriculture ahead of a looming trade war with the U.S.
The euro jumped 0.7% to $1.1643 overnight after EU leaders reached an agreement on migration. The plan proposes screening migrants in North Africa for asylum eligibility and setting up control centers within the bloc by nations which would volunteer to have them. Those locations, called "disembarkation platforms," will be run together with United Nations agencies.
Supported by higher oil prices, eurozone inflation hit the symbolic 2% level in June for the first time in more than a year. While the acceleration will be welcomed by the ECB, policy makers are really looking for a solid pickup that won't require monetary support. Inflation in the euro area was just 1.3% at the start of the year.
The SEC has voted unanimously to propose easing its rules for approving low-risk exchange-traded funds in what could potentially be a major win for the $3.5T market. The regulations adopt amendments that expand the scope of smaller public companies that qualify for "scaled disclosures," and propose changes to whistleblower rules, public liquidity-related disclosure requirements and a new approval process for certain ETFs.
With his anti-corruption platform, the fiery former mayor of Mexico City, widely known as "AMLO," looks virtually unstoppable heading into Sunday's vote. Opinion polls have given him a double-digit lead for months and now suggest he is some 25 percentage points over his closest rival. Andres Manuel Lopez Obrador would become Mexico's first left-leaning leader in decades if elected, breaking the stranglehold of the ruling PRI party and its conservative rivals.
Stocks
The biggest U.S. banks announced plans to buy back tens of billions of dollars in stock and hike their quarterly dividends after passing the second leg of the Fed's annual stress tests. However, objections were made to the capital return plan of Deutsche Bank USA (NYSE:DB) due to qualitative concerns, while Goldman Sachs (NYSE:GS) and Morgan Stanley (NYSE:MS) received conditional approval but will only be paying out roughly what they did last year.
It's official! Twenty-First Century Fox (NASDAQ:FOXA) shareholders will vote on Walt Disney's (NYSE:DIS) revised $71B bid for Fox's entertainment assets on July 27. The date effectively sets a deadline for Comcast (NASDAQ:CMCSA) to come back with a higher bid. Disney has already won DOJ approval for the deal on condition it sells 22 of Fox's regional sports networks.
The debut of Walgreens into the Dow Jones Industrial Average this week marks the worst performance of any new entrant in the past decade. Shares are down more than 11% in the past three days - trimming more than 44 points off the index - after the company replaced GE. Walgreens (NASDAQ:WBA) also tumbled along with other drug retailers yesterday as Amazon (NASDAQ:AMZN) made its entry into the industry by acquiring online pharmacy PillPack.
As the drugmaker sharpens its focus on prescription drugs, Novartis (NYSE:NVS) has unveiled its long-expected plan to spin off all of its Alcon eye care business and launch a share buyback of up to $5B. The $52B takeover of Alcon, completed in 2011, largely fell flat, with the company forced to make massive investments to reverse falling sales and turn around its fortunes.
IPO roundup: Shares of BJ's Wholesale Club (NYSE:BJ) closed at $22 on Thursday, more than 29% higher than its IPO price, as the members-only wholesaler returned to the public markets after seven years as a private company. Separately, Chinese smartphone maker Xiaomi (BATS:XI) priced a $4.7B IPO at the bottom of its target range at HK$17. Trading will begin in Hong Kong on July 9.
Following a shareholder meeting today, China's ZTE (OTCPK:ZTCOY) is expected to announce a radical management overhaul that will be in line with conditions laid out in a $1.4B settlement deal for evading U.S. sanctions. The telecom equipment giant is still in limbo as the U.S. Department of Commerce has not worked out the details necessary for lifting a previously imposed crippling U.S. supplier ban.
The trade friction between the U.S. and China is weighing on share sales, with Japan's Sharp (OTCPK:SHCAY) canceling an up to $2B issuance due to fears of increased volatility in the stock market. The company jumped the most in 22 months in Tokyo on the news, rising over 15%. The proceeds were to be used to buy preferred stock that was issued in return for a financial bailout in 2015.
At a groundbreaking ceremony in Wisconsin for a manufacturing facility for Foxconn (OTC:FXCOF) - expected to be filled by 13,000 employees - President Trump had some words for those who were weighing investment in the U.S. He praised SoftBank (OTCPK:SFTBF) for increasing its American investment to $72B, from a previous $50B, but warned Harley-Davidson (NYSE:HOG) to not "get cute with us" after its decision to move some production overseas.
Adidas is the latest sportswear company to come under attack from cyberthieves, with millions of customers potentially at risk. Data affected includes contact information, usernames and encrypted passwords, but "Adidas (OTCQX:ADDYY) has no reason to believe that any credit card was impacted." In March, Under Armour (NYSE:UAA) disclosed that some 150M users of its fitness-tracking apps had their personal information exposed.
Although they won't get a delivery date, Tesla (NASDAQ:TSLA) is asking Model 3 reservation holders in North America to pay an additional $2,500 to convert their booking into an order, at which point their original $1,000 deposit goes toward the overall payment of the car. According to workers at the company's assembly plant in Fremont, California, Tesla is also not producing enough Model 3s per shift to reach the 5,000 per week target CEO Elon Musk said would be reached by Saturday.
Driverless grocery delivery? Kroger (NYSE:KR) is partnering with autonomous auto company Nuro to deliver groceries using its vehicles. Shoppers would then use their phone or code to unlock the car and take the packages. The tie-up comes as U.S. grocery players continue to tackle the expensive challenge of "last mile delivery" - the final step in getting a product to a shopper's home.
Big victory for Big Soda... California has passed a law that bans local sugar taxes through 2030 after cities in the San Francisco area approved such levies in 2014 and 2016. "We're working with the public health community and government officials to help Californians reduce sugar consumption in ways that don't cost jobs or hurt small businesses," said a spokeswoman for the American Beverage Association. Related stocks: KO, PEP, DPS, MNST, FIZZ, SBUX, UL, PG
Today's Markets 
In Asia
, Japan 
+0.2%
. Hong Kong 
+1.6%
. China 
+2.2%
. India 
+1.1%
.
In Europe
, at midday, London 
+0.7%
. Paris +1.%. Frankfurt 
+1%
.
Futures at 6:20
, Dow 
+0.4%
. S&P 
+0.3%
. Nasdaq 
+0.4%
. Crude 
-0.1%
 to $73.36. Gold 
-0.1%
 to $1252.30. Bitcoin 
+0.6%
 to $5880.
Ten-year Treasury Yield
 flat at 2.84%
Today's Economic Calendar
8:30 Personal Income and Outlays
9:45 Chicago PMI
10:00 Consumer Sentiment
1:00 PM Baker-Hughes Rig Count