Friday Morning Reads
Reads:
News:
Charts:
Premium:
Futures:
Earnings: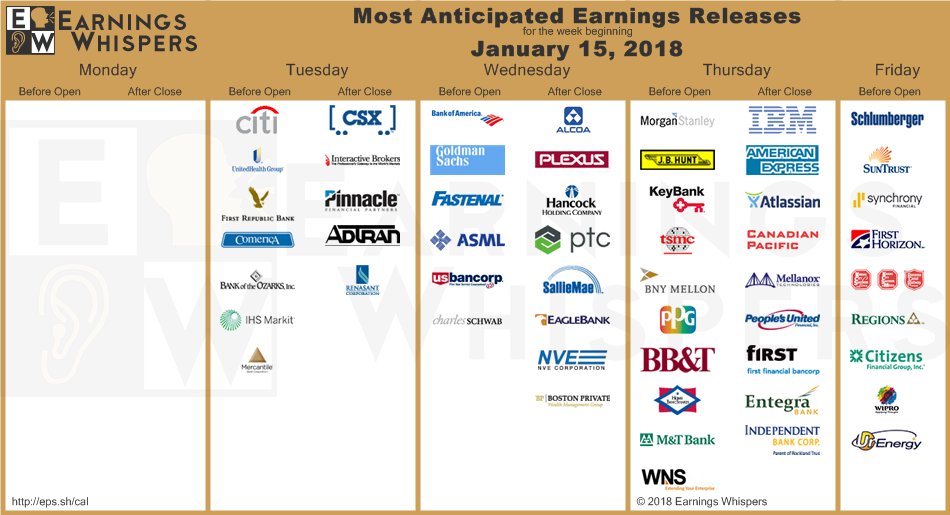 Unusual Option Action:
Markets appear to be shrugging off the potential for a government shutdown as traders are reminded that nearly $6.9T has been added to the U.S. stock market cap over the last year (President Trump will celebrate his inauguration anniversary tomorrow). Though House Republicans have voted to keep the government open, the real drama is in the closely divided Senate, which couldn't even agree on holding a vote on Thursday night. Congress now has less than 24 hours to avoid a shutdown.
Economy
The yield on the U.S. 10-year Treasury jumped overnight to its highest level since 2014, underlining a wider move in the bond market caused by central banks moving away from financial crisis policies. The yield, which moves inversely to the price, rose to 2.642% from 2.611%. That's even above the peaks notched in March 2017, in the wake of the election of Donald Trump.
San Francisco Fed President John Williams is under consideration by the White House for the post of vice chair of the Fed Board in Washington, WSJreports. "Of course I welcome opportunities to contribute at the highest level I can if that would help us do our work," he said in a statement. Williams would serve under Jerome Powell, who is set to become Fed chair early next month.
France has rejected the idea of a tailored Brexit deal, insisting Britain will not be allowed full access to EU markets unless it pays into the EU budget and accepts all its rules. "You want to accept a single market with finance being part of it? Be my guest, but that means financial contributions and accepting European jurisdiction," Emmanuel Macron said at a joint press conference with Theresa May.
"This year promises to be a record-setting one for the U.S.," the IEA said in its closely watched monthly report. "Relentless growth should see the U.S. hit historic highs above 10M barrels a day [in production], overtaking Saudi Arabia and rivaling Russia during the course of 2018 - provided OPEC and non-OPEC restraints remain in place." Crude futures -1% to $63.26.
New President Emmerson Mnangagwa has a plan to end Zimbabwe's economic isolation: pay compensation to white farmers whose land was confiscated, sell bonds to rebuild infrastructure and hold internationally acceptable elections. "We really need a substantial investment in the productive economy," he declared, remaining optimistic about lender support and tapping international capital markets.
Stocks
In a letter to two U.S. trade groups, the SEC hinted it would hold off on approving crypto ETFs until all its outstanding concerns were addressed. "Would funds have the information necessary to adequately value cryptocurrencies or cryptocurrency-related products, given their volatility, the fragmentation and general lack of regulation." The message also mentions concerns like illiquidity, custody, arbitrage and manipulation.
Pay to go away? HSBC has agreed to a deal with the DOJ to pay $100M over currency rigging charges, entering into a deferred prosecution agreement and helping target criminal prosecutions against individuals involved. The deal comes one month after the bank was released from a five-year deferred prosecution agreement over violating sanctions in its dealings with Mexican drug cartels and Iran.
Nokia has signed its first major deal to supply new 5G wireless radio base stations to Japanese telecom operator NTT DoCoMo (NYSE:DCM), which boasts nearly half of the country's mobile subscribers. Financial terms were not disclosed. The deal contemplates DoCoMo starting commercial 5G network service by 2020, in time for the Tokyo Olympics. NOK +1% premarket.
For the first time in 14 years, Texas Instruments (NYSE:TXN) is about to have a new CEO. Rich Templeton will be succeeded by Brian Crutcher, a 22-year veteran of the company, on June 1. Texas Instruments shares have jumped 57% in the past year, exceeding the performance of each of the five most valuable tech companies except for Amazon (NASDAQ:AMZN).
Google has agreed to a patent licensing deal with Tencent (OTCPK:TCEHY) as it looks for ways to expand in China, where many of its products are blocked by regulators. The agreement covers a broad range of products and paves the way for collaboration on technology in the future, Google (GOOG, GOOGL) said in a statement, without disclosing any of its financial terms.
A New York Times article published yesterday discussed hospital groups' plans to establish a non-profit drug company aimed at producing certain generic drugs that either cost too much or are in short supply. With about 20 pharmaceutical products said to be in the making, generic drugmakers took a tumble during the session. AMPH, ANIP, ACRS, AKRX, COLL, RDY, EGRX, IPXL, LCI, MYL, PRGO, TLGT, TEVA, VRX, ENDP
Boeing is working to overcome the Brazilian military's objections to its proposed tie-up with Embraer (NYSE:ERJ), sources told Reuters. Alternatives would preserve the government's strategic veto rights and ensure safeguards for its defense programs. Boeing (NYSE:BA) was forced back to the drawing board last week after Brazilian officials balked at the idea of turning Embraer into a subsidiary.
Winning a key courtroom battle... A federal bankruptcy judge has thrown out a settlement in the class action ignition switch case against General Motors (NYSE:GM). The automaker will avoid making a stock payment of as much as $1B as a result, according to Bloomberg. The trend with recent rulings in the years-old ignition switch cases has been toward lower liability for GM.
Tesla is bringing its Model 3 to showrooms on the East Coast, pulling the cloth off this weekend at its stores in Manhattan, Boston and Miami. The high-profile appearances will follow recent debuts in Los Angeles and Palo Alto, California. The Model 3 is viewed by many as the car that will either make or break Tesla (NASDAQ:TSLA) as a mass market automaker, or perhaps as a company altogether.
TransCanada has received enough commitments from oil shippers for its Keystone XL pipeline expansion that work on the controversial project could begin in 2019. "The milestones move us significantly closer to constructing this critical energy infrastructure for North America," TransCanada (NYSE:TRP) said in a statement. Companies are on board to ship 500,000 barrels a day for 20 years.
Today's Markets 
In Asia
, Japan 
+0.2%
. Hong Kong 
+0.4%
. China 
+0.4%
. India 
+0.7%
.
In Europe
, at midday, London 
+0.4%
. Paris 
+0.5%
. Frankfurt 
+1%
.
Futures at 6:20
, Dow 
+0.4%
. S&P 
+0.3%
. Nasdaq 
+0.5%
. Crude 
-1%
 to $63.26. Gold 
+0.6%
 to $1335.20. Bitcoin 
+4.4%
 to $11749.
Ten-year Treasury Yield
 +2 bps to 2.63%
Today's Economic Calendar
10:00 Consumer Sentiment
1:00 PM Baker-Hughes Rig Count