Day one of the highly anticipated trade war is in the books.  It began at midnight last night to barely a shoulder shrug.....
Start of biggest trade war since The Great Round Rock Tariffs of 9,000 B.C. and stock futures are flat - what does that tell you?..... Exactly!

— UPBOptionMil (@UPBOptionMil) July 6, 2018
It ended with soaring stock prices and a break of key short term resistance:
I  covered last night what I thought the market was going to do about this trade non-sense.
In short:
Priced in trade war was. Jobs report strong.  The dark side no match for a strong jobs report.....
Heck even the $SPY was letting us know what is was going to do in advance.  Thank you!  Just before midnight last night the $SPY had a fat finger spike $3.11 over the current price.
Sure enough 12 hours later the $SPY hit that price... and then some.....
...what a rally we had today.   Some killer trades to be had.  Look at this one from DEEP in  the chat room!     He liked $BIIB based on its chart formation:
Took some deep out of the money calls ---  $BIIB calls for $.12
and got out today for an amazing return: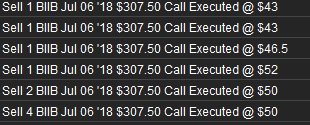 $12. to $43 in less than a day.  Simply incredible.
The jobs report was also incredible.  Not $.12 into $43 incredible, but good enough to have some of those uber negative nillies going positive.
This columnist at the NY Post is usually found penning negative pieces about the jobs report  or how the FED is messing things up. Today he had nothing but good things to say about the jobs report.  He wasn't alone.
Who knows for sure if today's upside turns into Mondays decline.  We've had quite a few ugly Mondays recently.  Perhaps today was one big fake out and this Trade War of Trade Wars is not already priced into the market.
However I look at the charts right now and they look the same to me as they did last night, turning up, setting up for a move higher.
Today's session we even  had the $DIA do what $QQQ $IWM and $SPY did just a day ago... trigger a buy signal.
You could argue the market looks even more bullish today than it did at this time yesterday.  Of course anything can happen over the weekend.  Financials have yet to turn their ship around.  If financials could really reverse to the upside, we could be looking at fresh record highs across the board sooner than anyone thinks.   And wouldn't you know it... financials are set to report earnings next week.
And finally, I'll leave you with this.  Urban Carmel, who has been rather bullish on this market for a long time,  through the rips and the dips is out with another great piece today.
https://fat-pitch.blogspot.com/2018/07/july-macro-update-economy-is-fine-trade.html
and of course Have a great weekend!