Where is the market headed?  The answer, since the dawn of man, is higher.  Just last week we hit new all time record highs for the S&P500.    Saying higher, when asked where the market is headed, is like saying you got wet when it rained the other day.   It still doesn't explain yesterdays collapse and close near session lows for the market.  The overall trend and direction remains up for the market.  Shorter term the picture has become muddy.  I'll cover both - first the short to medium term picture.
Let's start with small caps.  Small caps have been leading this market and started to rally before the election, which was before the Nasdaq and S&P500 started to rally.  Into yesterdays collapse and last weeks North Korea induced collapse small caps were moving lower on an almost daily basis.
Yesterday a late day beat down took IWM decidedly though support.  This is a concern both short and medium term.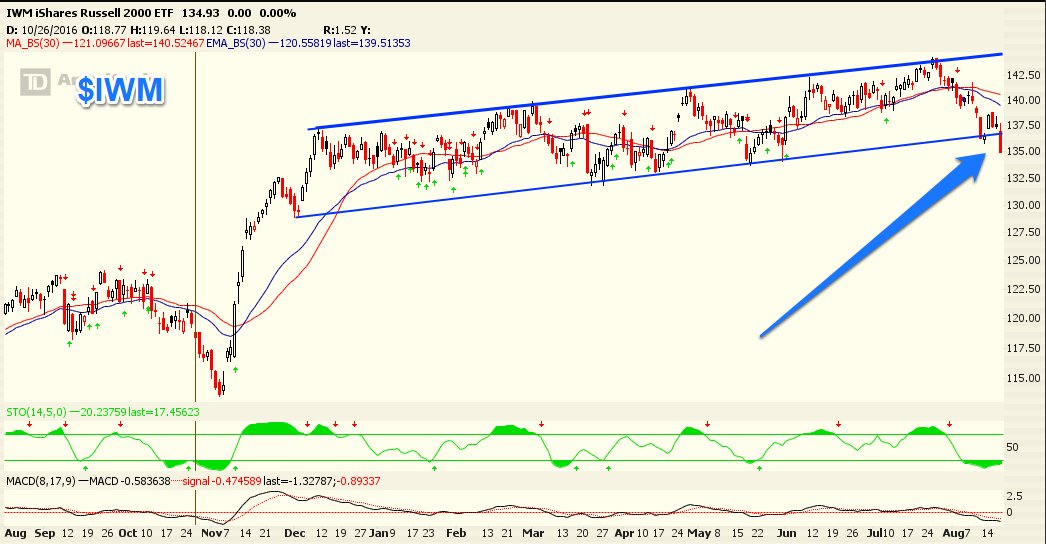 Absent a sharp reversal back over support $IWM looks poised to move back into the $120's.  That move would imply  ~$SPY $235  ~$QQQ $135.
$SPY rests just over support heading into todays trading session:
Yesterdays $QQQ closed a little higher than last Thursday.
A break of last weeks lows increases dramatically increases a correction to at least $QQQ $135.
But all hope is not lost.  The bulls can cling to the VIX.   Each sharp move higher in the VIX has been promptly reversed.
If the VIX remains below last weeks lows into the close today or even pulls back from yesterdays highs, the VIX will be signalling the bout of selling is more than likely over and the fasten your seat belt sign will be turned off.  You are free to walk around the cabin.
What about today?
$AMZN.  This chart looks ready to head lower.  A break of $950 sets up $900.  This mornings bounce could offer cheaper put options for a downside trade entry.
$GOOGL $FB $NFLX all look vulnerable to more downside.   The issue remains for me, the same issue that's been around since the Central Banks have gamed every asset class under the sun.  A buy the dip reversal to squash the downside outlook.