$EBIX is in the midst of a long term uptrend in price per share, while the outstanding share count continues to fall.  This week the company announced another share buyback that amounted to 8% of the total market capitalization for the company.  Helping to facilitate these share buybacks are continued  growth for the company.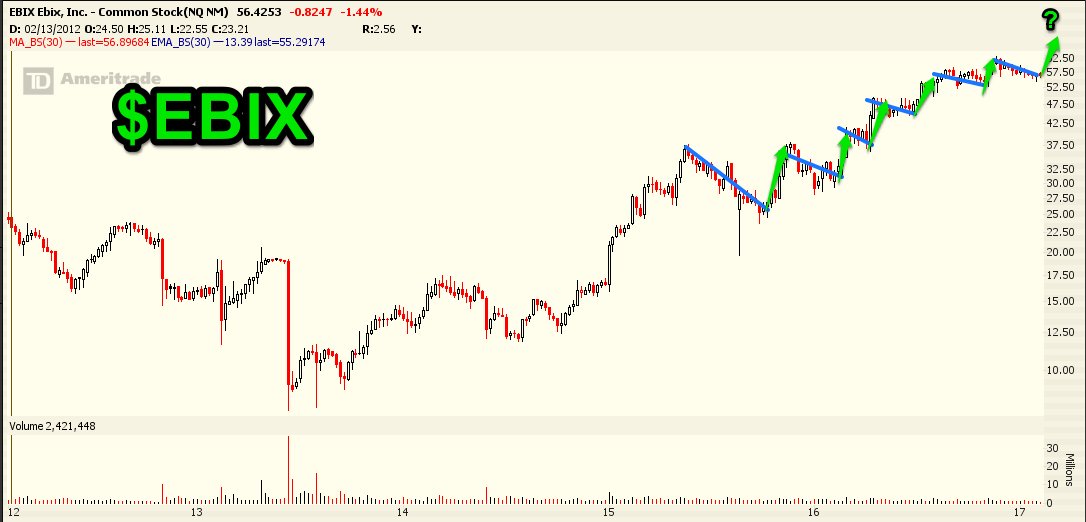 Outstanding shares have dropped from ~38 million to ~32 million the last two years.  This weeks share buyback announcement could take another 2 million shares out of circulation.
From this weeks press release:
Robin Raina, President and CEO, Ebix Inc., said, "We continue to believe that opportunistically buying back our stock is a great use of the cash generated in our businesses. Since August 2014, the Company has bought 6.8 million shares at an average price of approximately $28 per share. We also believe that we can enhance shareholder value by making accretive acquisitions, continuing the quarterly dividends and buying back our stock from the open market, in addition to continuing the fund our organic growth initiatives. In our view, buying back our own stock is one of the most accretive ways of enhancing shareholder value."
Only 24 of the current 31.9 million shares outstanding are in the float of which 5.9 million shares are SHORT the stock.  The short Percent for $EBIX is over 28%.  Now lets be realistic, shorts tend to end up being right.  $EBIX had issued in the past, but right now the chart is clearly showing a robust upside trend.  There was a heavy short interest on $TSLA at $28, and that short interest  and skepticism remains today at $265.  Howver there was a large short interest in $GPRO at $70 and that large short interest remains today at $9 a share.
However this weeks buyback announcement continues the $EBIX theme of accumulating its own stock, which in itself is a positive for it's share price.  Should the demand for $EBIX rise (they report earnings at the end of this month) amid a shrinking supply, the 5.9 million shorts could help propel the price higher via short covering.
Some great coverage on $EBIX:
Huge Growth Opportunities Ahead
With the earnings report coming at the end of this month I entered the $60 March calls for $.90 on a trade for continued upside.
It has been a slow deliberate rally for $EBIX over the last few years.  Their continued growth and shareholder friendly actions, should continue to propel the stock higher over the coming months.