I'll admit it.  Last quarter I helped Domino's report another amazing quarter of growth.   Two for $5.99 each.   You can't go wrong.... right?
For the first time in over 20 years, I ate Domino's pizza.  Whether its Online, the app, or even if you still know how to make a phone call to the store,  Domino's makes it easy to acquire their product.  I don't like lines.  And Domino's has taken the line out of the equation.  Domino's Delivers!
Take a look at Domino's growth -  it is truly remarkable.  Even Tom Brady hasn't won 23 years in a row.  Domino's has been sporting growth for 23 consecutive years... and 16 of 20 domestically.  Incredible!
Pizza.  Its cheese, sauce, and bread.  So simple.  It's not like Domino's holds the exclusive rights to pizza.  Anyone can make it.   You could argue Domino's pizza is the generic brand.  Which is why I don't eat it.  Especially when local pizza places have $7.99 large pie specials on Monday's.   Yet, according to their financials, they are killing it.    It's a turnaround story for the ages.  Google 'turnaround story' and Domino's is sure to turn up somewhere.
It's stock price has also made a historic turnaround.  From $2.30 to a recent new all time record high of $192.01.
Press a button, tell Alexa, Google home, Facebook ...... ordering pizza has never been this easy before
And once you make that simple step to order, it gets even easier.  Heck they can just about drop the pie on your lap these days.
They have tested drone delivery in Australia: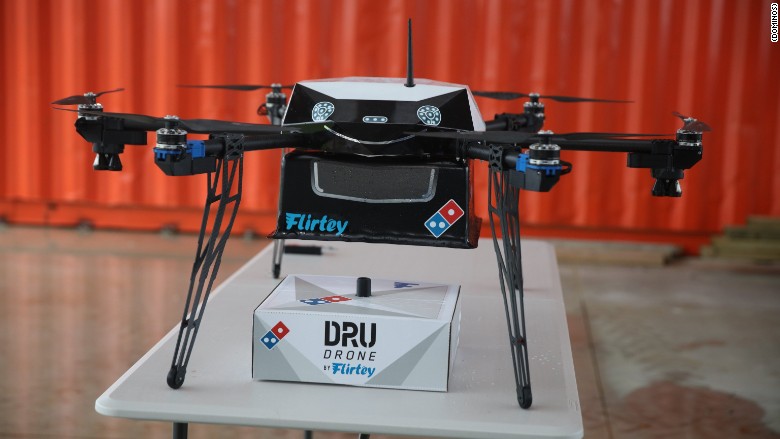 For the mountain regions that are difficult to navigate  they have tested Reindeer delivery:
and now they have specially built, back to the future-esque,  cars to dispense their product  quicker and hotter than ever before.
1.21 GigaPies!!!!
Their last earnings report was a blowout!  Yuge numbers:
Domino's Pizza, Inc. (NYSE: DPZ), the recognized world leader in pizza delivery, today announced results for the fourth quarter and fiscal 2016, comprised of strong growth in same store sales, global store counts and earnings per share. Domestic same store sales grew 12.2% during the quarter versus the year-ago period, and 10.5% for the full year, continuing the positive sales momentum in the Company's domestic business. The international division also posted strong results, with same store sales growth of 4.3% during the quarter and 6.3% for the full year. The fourth quarter marked the 92nd consecutive quarter – or 23rd year – of positive international same store sales growth and the 23rd consecutive quarter of positive domestic same store sales growth. The Company also had record global net store growth of 1,281 stores in 2016, comprised of 171 net new domestic stores and 1,110 net new stores internationally.
Fourth quarter was even Yuger... on the surface at least:
Fourth quarter diluted EPS was $1.48, up 25.4% over the prior-year quarter; full year diluted EPS was $4.30, up 23.9% over the prior year. Management noted that the as-reported diluted EPS for both the fourth quarter and fiscal 2015 was negatively impacted by expenses related to the Company's recapitalization, and was positively impacted by the inclusion of an extra, or 53rd, week in the fourth quarter of 2015. Fourth quarter diluted EPS was up 28.7% over the prior-year quarter as-adjusted EPS of $1.15; full year diluted EPS was up 24.6% over the prior year as-adjusted EPS of $3.45
But when you dig deeper those 25% and 24% EPS gains over the same period last year were helped by a massive $738 million share buyback, reducing the outstanding shares by over 10%.
The last 3 years Dominos has spent over $1 BILLION on buying back its  own stock.  Over those same three years net income for Dominos pizza has been $571 million.
Take away the massive buyback, the majority funded via debt issuance, and the EPS growth is  11.5% not 24.6%  and  15% not 28.7%.  Had the massive buyback been funded with a corresponding massive pile of cash, I would have no problem touting those Yuge EPS numbers.  However that $600 million+ has to get paid back at some point.... or will they just recapitalize it like they did in 2007, 2012 and 2015?
The billion dollar plus of share buybacks has helped Dominos share price more than triple from $60 to over $180 a share.  That same billion dollars today is not going to buyback that same amount of shares.  Essentially the sharebacks are losing their bang for the buck.  The most recent share buyback program has a mere $136 million left on it, which amounts to about 736,000 shares at the most recent closing price.
With Dominos huge, record breaking earnings report, why isn't the stock over $200 a share already.  They are firing on all cylinders... right?
Those 25% EPS growth numbers are fabulous for the headlines but was $600 million of more debt worth the cost?  Same store sales up 23 years and running.  What could possibly go wrong?
For one, it's Pizza.  And not the best pizza, at least in my humble opinion.  For $5.99,  it's quick, cheap and easy.  Making Pizza doesn't require a Doctorate in Pizzaology.   There is no secret crabby patty formula.  There is no patent on cheap $5.99 priced Pizza.  The competition for Pizza is fierce.
Higher Costs.     Since the financial crisis in 2008, when $DPZ was at $2.30 a share,  Dominos has been operating in a Pizza nirvana.  Debt has never been cheaper, labor costs have been cheap and flat.  Cheese prices have been low for 8+ years.     At some point reality will come back into play, and that could be starting already.  Wages are on the rise, especially for the lower wage workers.  Domino's workers are comprised mostly of low wage part-timers.  Even a small move higher in pay will crimp profits.  Minimum wages are rising all over the country and are expected to keep steadily rising over the next few years.  When you charge $5.99 for a pizza and your 5 workers are making $6 an hour more, that's one more pizza you have to sell an hour.   It's a tight balance.  Wages and Cheese account for 60% of Domino's costs.  Both have been flat since the Industrial Revolution. ... alright, well at least for the last eight years.  The Supply chain which  accounts for over 62% of Dominos total revenue will not be immune to higher costs either. Higher Interest costs as rates rise are going to take a bigger and bigger bite out of Domino's earnings.   Look no further than $DPZ latest financials.   They surpassed over $100 million in interest payments for the this year.  25% of their net income went to paying interest on their debt.
Their massive debt load and shareholder friendly practices are catching up to them.  Free cash flow for 2016 was almost $229 million.   Net income was $215 million.  In 2016 they bought back $300 million of stock,  issued $78 million in dividends, paid over $100 million in interest, and $100 million in taxes.  They used $122 million for debt payments.   It doesn't add up to a company that's sitting on a pile of cash.  Its the opposite really.  Cash dropped dramatically last quarter, by over $90 million!  Free cash flow is fabulous, but then you go out and spend almost 2x your free  cash flow on buying back your stock at record highs, and issuing dividends to shareholders?  What about that $2.2 billion debt?  I smell another recapitalization like they did in 2007, 2012, and 2015, but at what cost?    Just keep rolling over that debt....
Domestic Growth?  While the company boasts of its overseas store growth,  each international store brings in about $22k a year in revenue, which is 3x less than the Domestic franchises.   Dominoes derives 93% of its revenue from domestic action.  They can grow that domestic market by another 100% and it still won't make up 15% of their overall revenue.  Domestically the saturation point for Domino's pizza franchises draws closer with every new store opening.  The overall  quick service pizza market is up 1% the last year.  Just how much more pizza can you get people to eat?
Delivery Market Growth?  In 2000 Domino's boasted of providing 26% of the pizza delivery market in the United States.  Today, some 16+ year later Domino's, according to their most recent presentation, controls 27% of the Pizza delivery market.  There is still room to grow.... but there is also Papa Johns and a host of other pizza shops fighting for that next order.
Over the Top?  Dominos new delivery car can keep 80 pies warm in its oven while its out making deliveries. Would you want that 1st pie that gets delivered?  Or the 80th one?   At some point the experience reaches the tipping point.  Just how fresh is that 50th pizza going to be by the time it gets to your place?    Reindeer's delivering pizza?  That just doesn't sound like a pizza I want to eat.  Drones?
Technology?  The technology that Dominos uses has done wonders for their sales, but anyone can make an app these days.   Papa Johns claims their technology if the best.  They took in 60% of their sales last year via mobile and online ordering.  The technology edge is gone.
Just Giving It Away!  The company decided recently  to give away shares  of its stock to customers.  I think it's a great idea to give back to your loyal customers.  Give them shares, give them money.  However from an investment perspective, a company giving away shares, even if its only 3,000 or almost $600,000 worth, is that something you want to be investing in?  It has an air of invincibility to it.  Almost an arrogance.  And yet the company is letting $2.2 billion sit there, without paying it down....  let the good times roll.
All Good Things Come to an end? The great Axle Rose once said:  "Nothing lasts forever and we both know hearts can change".  Year after year, quarter after quarter Domino's has posted, not just growth, but stellar growth.  The market has rewarded Domino's with a lofty 46 p/e ratio, and for the time being, has ignored the giant $2.2 billion Elephant in the room.  The whiff, the hint, the smell, the faint scent of growth slowing will send investors running out of that small, cost effective,  technologically advanced, recently renovated, low start up cost,  franchised  store.  Higher wages and costs could crimp that same store, and the unthinkable could happen.  Store closings?  Nah.... never.... well....   The thing is the stock price will already be falling before you see this pop up on a quarterly or annual filing.
Dominos has done a tremendous job growing revenue.  The numbers presented in the financials don't lie.  They are huge.  The company has been incredibly friendly to its 1,300 shareholders, doling out special dividends, and buying back over a Billion dollars worth of their stock the last several years.  But at what cost?  Their interest expense continues to rise amounting to over 25% of their net income.  This past year they burned through over $90 million supporting their shareholder friendly policies.
If the current pizza nirvana continues, and wages remain flat, costs remain low, rent remains low, and growth continues to be amazing, $DPZ could easily break $200 a share.  Their rising interest payments, and debt burdens will continue to be ignored.  However if wages rise, as they did last month, and costs rise, and the $5.99 pizza deal turns into the $6.99 or $7.99 pizza deal..... the Dominos  could start to fall.  Clearly there is a love affair with this company by its customers and its shareholders.  The company is giving its customers the food it wants at a price they like, and the company is squeezing every nickel it can to give back to its shareholders via dividends and share buy backs. Everyone is happy!
A 46 p/e ratio for a quick service restaurant.  Perhaps that's the new normal.  I recently entered some Puts for a move lower in the stock.  Domino's Pizza isn't going to see its stock fall when the same store sales numbers start to show a decline.  The stock will have already fallen 20%+ when that happens.
With interest rates on the rise, and the cost of capital likely to surge, Dominos has done little to reduce its $2.2 billion debt load.  They are more focused on their customers and shareholders, which has worked out great for everyone, except the shorts... for now.
Just like no one saw the stock rallying to $192 when it was trading for $2.30 8 years ago, not many think this stock will fall under $150 over the coming months.  There will be no headlines, or downgrades preceding the decline.  They will come after the fact, just like all of the upgrades on the 8,000% move to $192 over the last 8 years.