Nevro ($NVRO) is a medical device company which focuses on patients suffering from chronic pain. The mission to solve that problem resulted in the development of the Nevro® Senza® SCS System for the relief of chronic pain, a new therapy that has advanced the state of spinal cord stimulation (SCS). The Nevro® Senza® received CE mark(Europe) in 2010, TGA approval in 2011(Australia), and finally FDA approval in 2015 with Superiority labeling. On November 5th, 2014, Nevro ($NVRO) became a publicly traded company on the New York Stock Exchange and returned 275% for shareholders through the end of 2015. 2016 has been a different story, and the stock has struggled through the first 4 months, down .39% year-to-date versus a gain of 1.05% for the S&P. Is the run over the for the stock, or is there still opportunity to play it for upside? I think the latter - here are a few reasons why I am positioning for the the stock to move up at least 30% from it's current $67.25 share price in 2016:
Growth
Nevro($NVRO) is a tremendous growth story. Since the U.S. product launch in the spring of 2015, the companies sales have skyrocketed, posting a 114% increase from 2015. Better yet, sales are expected to grow at least 137% in 2016.
(click to enlarge)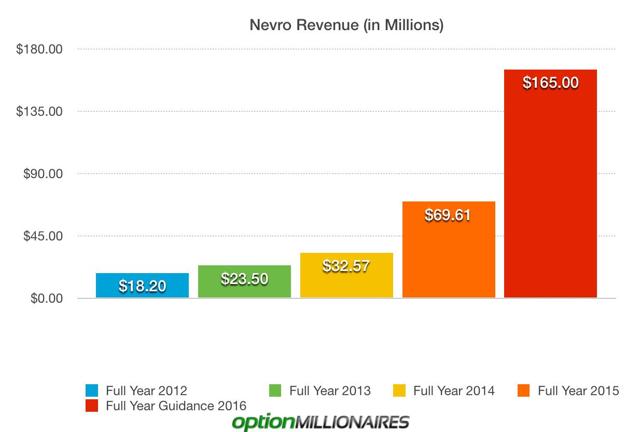 (Optionmillionaires.com)
Considering the fact that Nevro($NVRO) has raised it's full-year revenue estimates 6 times over the past 13 months, it is far more likely that the growth rate will be higher. Also, as per their last conference call, the company is looking to add at least 60 more sales reps onto their staff of 100 this year, and updated their expectations for rep productivity to $1.3-1.5 million per rep in 15-18 months versus the earlier 18-24 month guidance. I expect the company to beat revenue estimates in 2016 while also continuing to raise guidance.
Competition
One of the main reasons Nevro($NVRO) has struggled so far in 2016, has been competition concerns. Nevro's($NVRO)  Senza® SCS System is not entering an easy U.S. market for spinal cord stimulation. Companies like Medtronic ($MEDT), Boston Scientific ($BSX), St. Jude Medical ($STJ), Nuvectra ($NVTR), and Stimwave all have, or will have, products that compete directly with Nevro($NVRO) . Nevro's($NVRO) most recent 10K explains it best:
Many of our competitors have greater capital resources, more established operations, longer commercial histories and more extensive relationships with physicians. They also have wider product offerings within neuromodulation and in other product categories, providing them with greater supplier power and with more opportunities to interact with stakeholders involved in purchasing decisions
The above comments should be enough to scare away most investors, especially when a stock trades 27 times revenues and is losing money, but there is one thing that separates Nevro($NVRO) from it's competitors - it's their 'Best of Breed' product. Nevro® Senza® SCS System is the only spinal cord stimulation product that has received superiority labeling from the FDA. The system was also called 'unique' by the director of the Office of Device Evaluation at FDA's Center for Devices and Radiological Health. Competing products in the space have tingling sensation side effects called 'paresthesia', the Nevro® Senza® SCS System does not. The Nevro® Senza® SCS System also provides superior pain relief. Boston Scientific ($BSX) gave it's vote of approval for the Nevro® Senza® SCS System by issuing a patent challenge in May of 2015, which they lost in December, further validating the product. If anything, the competition in the space will lead to consolidation, with Nevro ($NVRO) being the number one target.
Bears
As with many stocks who are early in their early growth cycle, Nevro($NVRO) is a very hard company to value based on fundamentals. As mentioned above, it trades at 27 times 2015 revenues and over 11 times the 2016 revenue guidance. The company also lost $67 million in 2015, and expects to continue to incur losses for the foreseeable future - yet the company is valued at $1.9 billion. Those numbers, coupled with the crowded competitive space for Nevro($NVRO) , has caught the eyes of the bears who are betting on more downside for the stock. Since February, the short interest has doubled, rising to nearly 6 million shares being sold short or 23% of the float. To put that number in perspective, it would take nearly 17 days to cover that position based on the average trading volume for Nevro over the past 10 days. It almost seems like an easy bet based on the information above, but I completely disagree with the sentiment. History has shown the failure of bearish bets on high growth/momentum names in the past like Netflix ($NFLX) , Amazon ($AMZN), Salesforce.com ($CRM) , Facebook ($FB), Tesla (TSLA), and many others. The market is a forward looking mechanism, and those with the ability to look past the short-term fundamental flaws of Nevro($NVRO) can see a company on the cusp of stealing/growing marketshare, while also holding the Intellectual property to bring more revenue driving products and innovations to the market in the coming years. One of the best analysts in the Medical Device sector over the past 5+ years has been David Lewis from Morgan Stanley($MS). He has been one of the more conservative analyst on one of the more popular stocks in the sector ,Intuitive Surgical($ISRG), keeping it rated at underweight and perform until just this year, when he finally turned bullish on the name. Sure enough, his analysis proved true, and the stock is up over 15% in 2016. David Lewis has an overweight rating and $86 price target in Nevro (NVRO), and thinks there is a major opportunity for the company. Of course it is easy for me to agree with his sentiment, considering I am bullish the name as well. But considering his track record, i think his commentary reaffirms my bullish thesis.
Amedysis ($AMED) was one of my top 5 favorite stocks in 2015 - it has soared over 79% since then. Nevro($NVRO) is one of my top 5 favorite stocks for 2016, and think it has the same characteristics that drove shares of Amedysis ($AMED) to new highs. I currently hold calls in the stock and may look to add to or close my position in the next 36 hours.
Happy Trading!
- JB