For those who shut down at yesterdays close and returned at today's close, from an S&P500 perspective, you missed nothing.  Prices ended the day right at the levels they ended yesterday at.  A few weeks ago that was 2015 in a nutshell.  And then it gave birth to this massive pull back.....
Move along now.  Nothing to see: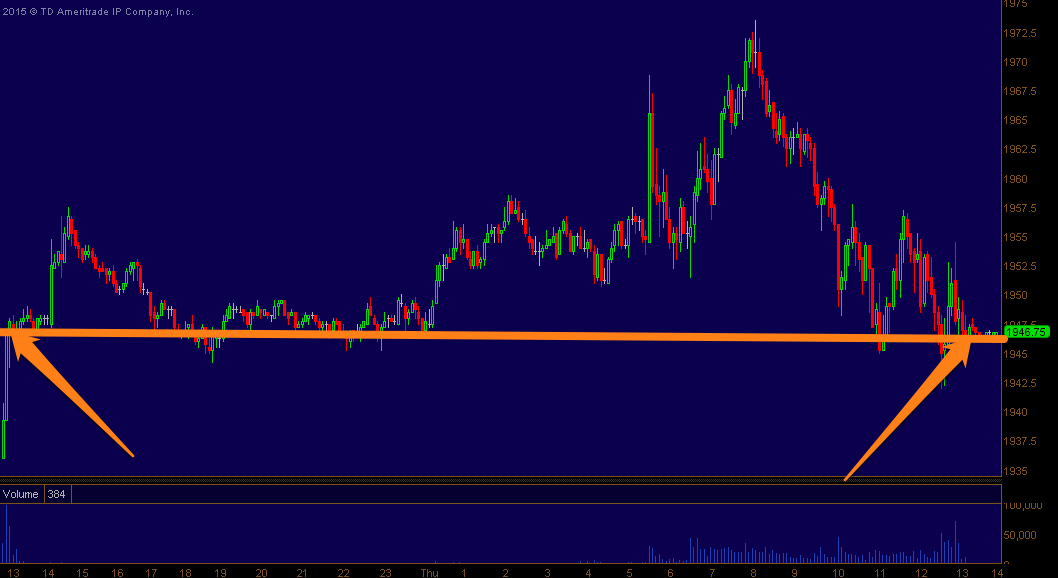 The $SPY soared over $198 early in the session,  only to get clubbed under $195 just before the closing bell.  It was another tremendously volatile market session.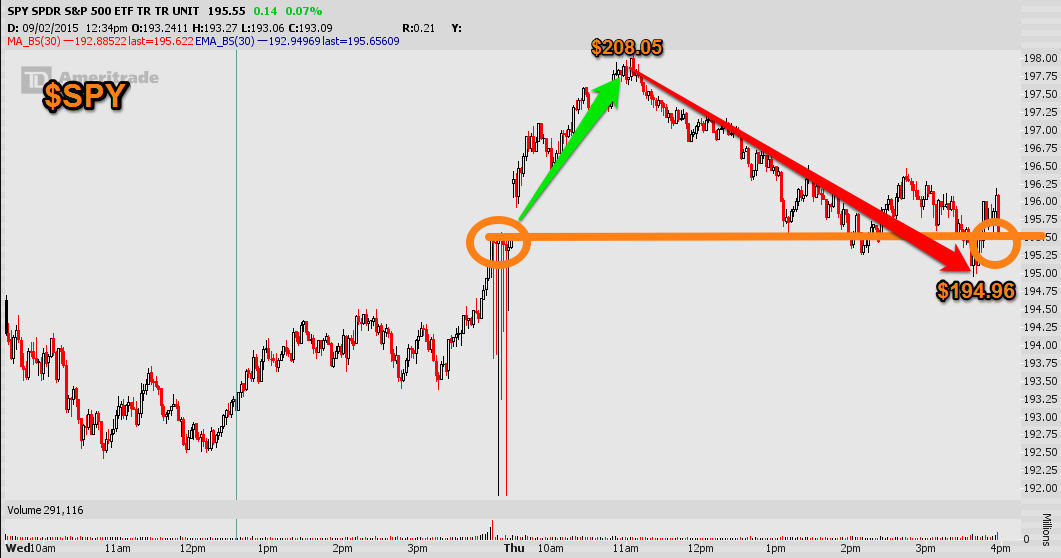 The action looked terribly promising early on as prices moved swiftly higher with that $200 $SPY figure in focus.  But then the tank emptied.  Sellers took over, and the slow stair stepping price action turned into a late day rout.
So where do we go from here?
Let me play the role of Captain Obvious: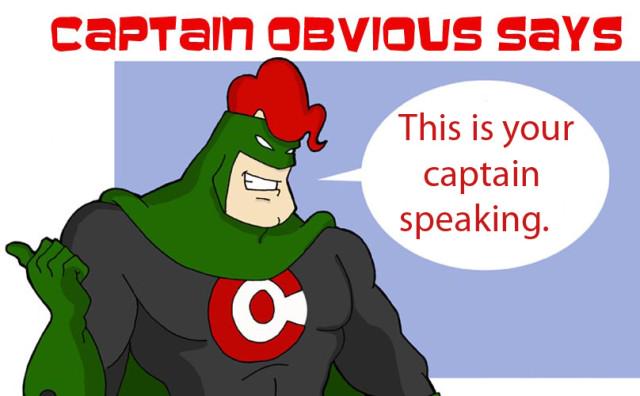 I think the next move will be a big one.  That's not exactly going out on a limb.  But we did have a big move today that ended up going nowhere, as prices closed right where they closed yesterday.  I think the next move will have a resolution not a boomerang move.
1. UP
One distinct possibility I covered this morning is that we have put in a higher low,  and  the next move up will offer the opportunity to put in another higher lower at $SPY 200.  This would imply a short term 3-5% move to the upside and a 50% retrace of that move.  From a S&P500 perspective it would look something like this:
Not exactly the clean Ebola bottom from October, but from a price vantage point, a similar type move.
2.  DOWN
And then we get this.  Failed attempt's to recover the decline, with the latest failing to surpass last weeks highs.   A head and shoulder of sorts with a wedge confirming the sharp decline.   I think this is one of the more commonly held perspectives of the market right now.  I think the consensus is that stocks are going to head back to the lows of last week.  In this case the decline could still be a higher low or perhaps a double bottom, before stocks return to their former stature.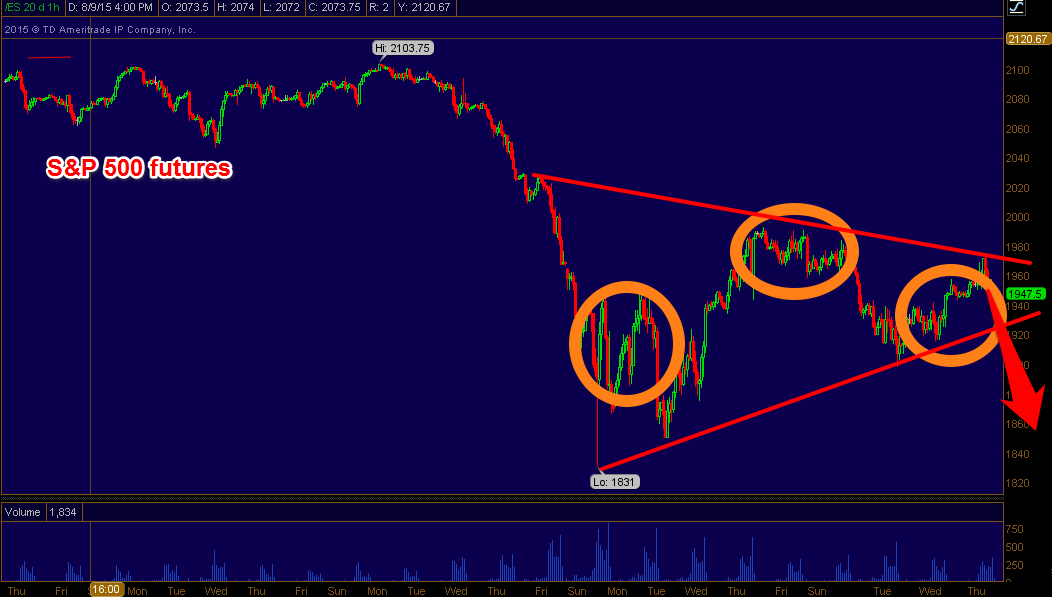 3. All Around
The final option will be an indecisive market, much like today's trading session.  A large spike lower followed by a large spike higher, or some variation of that, in which traders get their pants pulled down and spanked with a long wooden paddle... repeatedly.  An education on why, when the market gives you grapes and oranges, you don't try and make a banana float.... or Cranberry Vodka's...... or I have no idea what any of that means but I felt compelled to write it.
What do I think?
It's SoapBox Sandbox Time
The last few weeks I've been trading light, as I have not been confident where the market is headed.  Today right near the highs of the day I bought a few small call positions and at the close my rear end had a Board of Education stamp on it.  Although my $FEYE calls were up over 100% at the highs...  I got schooled.  I'm trading about as small as I have all year.  And if anything it reaffirmed what I feel right now about the market.  Ambivalent.  It is the coin tosses of coin tosses.  Amid the massive moves today, the VIX still closed down.  After the bell the VXX was selling off.  In the past this is something I would use as a clue about the outlook for tomorrow - Stocks up.  Yet the fact that we could not hold on to gains today, and that all recent rallies have been swiftly sold off... that's bearish.  Today's overall action - awful for the bulls, great for the bears.  Clearly someone was using today's early rally to get the heck out of dodge.
Will tomorrows jobs report change anything?  I'm not sure.  In the past the trend was firmly up.  The jobs report was just another excuse for the bulls to ramp stocks.  Will tomorrows jobs report be an excuse for the bears to take this market back to last weeks lows?
From a longer term perspective, I don't think this market, this economy, this country, can handle another market crash.  We know what happened in 2008/2009.  It starts with some honest to goodness selling and at the end it becomes a self fulfilling prophesy.  Selling begets selling, prices plummet, stocks fall much farther than they have any business falling.  Prices become depressed, people become depressed... and it becomes a game of confidence.  Right now confidence is being tested.  After 6 years of Central Banks lending a hand, it's clear the thought of the FED stepping away has the bicycle about to fall.  The economy is about to get some nasty road rash.... I don't think they can afford to let it happen again.   The wounds are still fresh.  OK I am Off the sandbox now.
Which is why I think the market will head higher tomorrow.  And in order to get that bicycle riding straight again, its got to be an old fashioned blow out.  2-3%+ higher.  Otherwise it may be too late to put the training wheels back on.....