Tuesday Morning Reads
Reads
News
Charts:
Premium:
Unusual Option Action
Earnings This Week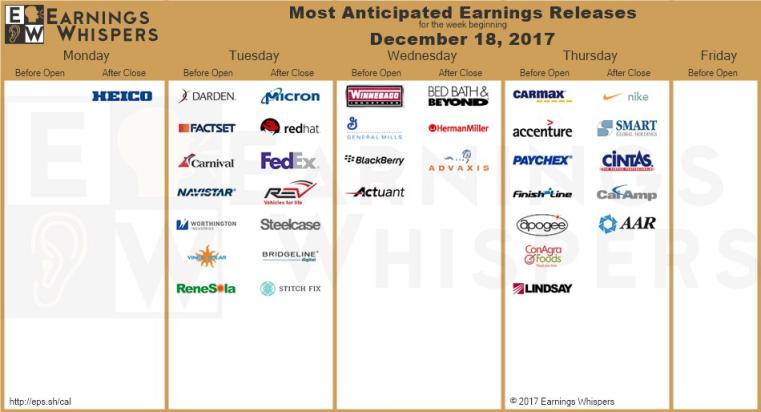 Seekingalpha
Senators Susan Collins of Maine and Mike Lee of Utah said late Monday that they would vote for the Republican-led tax overhaul Tuesday. Collins and Lee, two of the last remaining undecided Republican senators, had been key to securing the bill's passage. The bill is now expected to pass the Senate even without the votes of Arizona senators Jeff Flake, who remains uncommitted, and John McCain, who will miss the vote as he recovers from chemotherapy treatment in his home state.
Economy
The Amtrak train that derailed from a Seattle overpass Monday was traveling at 80 miles per hour in a 30mph zone, said a federal investigator looking into the crash. The investigation has not reached any final conclusions yet, said Bella Dinh-Zarr, a National Transportation Safety Board member. 3 people died and 70 people required medical attention after the crash Monday, which occurred during the debut passenger run of a new, quicker route between Portland and Seattle.
Stocks
Corfo and Pampa Calichera, a Chilean development agency that controls Sociedad Quimica y Minera de Chile (NYSE:SQM), said late Monday that it had agreed to suspend its arbitration battle with SQM for 30 days as they try to solve a dispute over lithium mining claims. Chile will be able to expand its lithium production "significantly" if the negotiations are successful, Corfo said. SQM surged Monday with the election of pro-business Sebastian Pinera.
Vale is saying it will not pay bonuses demanded by its workers now on strike at the company's Moatize coal plant in Mozambique. Workers downed tools on Friday demanding two bonuses, even though Vale (NYSE:VALE) increased the salaries of its workers by as much as 9% in 2016 and raised salaries 15.6% this year. Vale says the Moatize mine produced 5.5M metric tons of metallurgical and thermal coal in 2016.
Starboard Value LP disclosed late Monday that it has bought a 9.9% stake in Cars.com (NYSE:CARS). The activist investor believes Cars.com is undervalued by a market that is betting heavily against it and ignoring the potential for a sale, WSJreports. Starboard also sees potential for the company to improve margins when it no longer has to share a large portion of its sales with the media companies that once controlled it, per the report.
GM lawyers were making their first arguments in a New York bankruptcy court trial Monday, asking a judge to throw out a $1 billion August settlement surrounding defective ignition switches in millions of recalled GM (NYSE:GM) vehicles. The deal was reached between plaintiffs and an entity that GM left behind as part of its 2009 $50 billion government bailout; the settlement would have GM pay $1 billion to that entity.
Dole Food, the world's largest fruit-and-vegetable outfit, is in late-stage talks to be taken out by Belgian food producer Greenyard. In a statement issued Tuesday, Greenyard said a definitive agreement has not yet been reached, but that it has secured the required financing to close the deal if a final pact is inked. If the companies can reach a final agreement, the resulting company will generate 8 billion euros in revenue annually.
Tegna announced late Monday that it agreed to acquire Midwest Television's broadcasting stations in San Diego for $325M, adding the 29th largest television market to its portfolio of affiliates in major markets. Tegna (NYSE:TGNA) says the deal represents an attractive purchase price multiple of 6.6x average expected 2017-18 EBITDA, including expected run rate synergies and tax benefits. Tegna expects the acquisition to be accretive to EPS by a few cents within the first 12 months of the closing.
The U.S. Department of Justice says it has reached a settlement with Parker-Hannifin (NYSE:PH) requiring the company to divest the Facet filtration business, including the aviation fuel filtration assets acquired from Clarcor in February. The DoJ's Antitrust Division filed suit in September after saying the acquisition eliminated competition in the development, manufacture and sale of qualified filtration products necessary for the proper filtration of aviation fuel used in commercial and military aircraft.
State regulators in New York and Massachusettssay they are investigating MetLife (NYSE:MET) after the insurer said last week it had failed to pay parts of pensions to about 600,000 retirees. New York's Department of Financial Services says it was aware that MetLife had failed to pay the pensions before the insurer's public disclosure last Friday and will work to remediate the issue. MET pledges to fully cooperate with regulators.
Today's Markets 
In Asia
, Japan 
-0.2%
. Hong Kong 
+0.7%
. China 
+1.7%
India 
+0.7%
.
In Europe
, at midday, London 
+0.2%
. Paris 
-0.1%
. Frankfurt 
-0.1%
.
Futures at 6:20
, Dow 
+0.1%
. S&P 
+0.1%
. Nasdaq 
+0.1%
. Crude 
+0.5%
 to $57.48. Gold 
+0.1%
 to $1266.40. Bitcoin 
-4.0%
 to $18196.
Ten-year Treasury Yield
 Flat at 2.39%
Today's Economic Calendar
8:30 Housing Starts
8:30 Current Account
8:55 Redbook Chain Store Sales