Tuesday Morning Reads
Reads:
House will vote today (after 5pm) on debt ceiling increase of $480 bln, which gives Congress until December 3 to raise debt ceiling. Bloomberg
Evergrande misses third interest payment round (FXI). Reuters
Texas Governor Greg Abbott bans all vaccination mandates in his state. Mr. Abbott says vaccinations are highly encouraged for all eligible people, but it should be a personal choice (MRNA, JNJ, BNTX, PFE). NY Times
Futures:
OPEN INTEREST: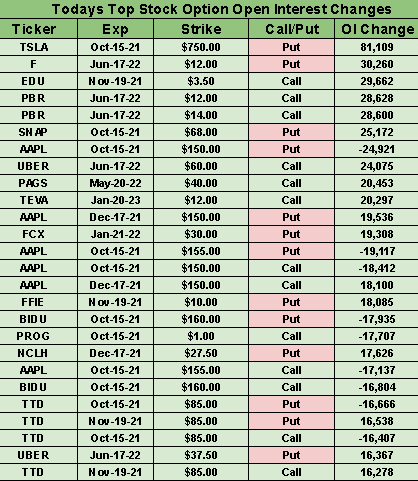 premium:
SeekingAlpha
Orders of sushi, beer and ice cream flew across the Tel Aviv coast on Monday as part of a government-led initiative to create a national drone network. The project intends to ease road congestion, improve air quality and be an economically viable option for the 9.2M consumers around the country. Flights have also been used for medical purposes, like delivering donated blood and plasma, though officials must ensure the skies could be cleared in case of turbulent weather, a war or an emergency.
Phase 3: The National Drone Initiative has a total of eight planned phases, with the latest stage conducting around 300 flights per day above open areas. The UAVs can currently carry a maximum load of approximately 2.5 kg (5.5 pounds) and have a 5-kilometer (3-mile) radius for missions, though the Israel Innovation Authority said that by next year the perimeter will be expanded to 100-kilometers (60 miles). Many of the 16 participating companies have links to Israel's military, which is a global leader in drone technology.
It's garnering "a lot of interest from other countries and regulators, as we are now far ahead," said Sagi Dagan, Vice-President of Growth at the Israel Innovation Authority. "Israel has a competitive advantage in terms of the technologies, the drones and the air traffic management, all being co-designed through regulation and the market, and setting the new rules through work in the field. This is very unique."
Over in the U.S.: Last December, the FAA introduced new drone rules to help open the skies for widespread commercial deliveries, allowing operators to fly small drones over people and at night under certain conditions. The regulations give the agency and law enforcement a handle on what's actually flying around, requiring remote identification technology to pinpoint UAVs from the ground. Drones represent the fastest-growing segment in the entire transportation sector, with over 865K drone registrations and 247K FAA-certificated remote pilots.
Some history: UPS (NYSE:UPS) won the government's first full approval to operate a drone delivery airline back in October 2019, while Alphabet's (GOOG, GOOGL) Wing became the first company to get certification for a single-pilot drone operation. In August 2020, the FAA granted Amazon (NASDAQ:AMZN) permission for delivery trials, while Walmart (NYSE:WMT) jumped into the drone delivery race that September. Earlier this year, Google also sought approval to use drones to research firefighting in California and CVS (CVS) partnered with UPS to deliver prescriptions in Florida. (15 comments)
Henry Kravis and George Roberts are stepping down as co-CEOs of KKR, the private equity firm they founded with Jerome Kohlberg Jr. nearly half a century ago. The cousins are pioneers of the buyout industry, taking it from a niche market in the 1970s into one of the most pieces of Wall Street. The format allows a financial buyer to purchase a company using a small amount of equity and a significant amount of borrowings backed by the target's cash flow. KKR -2.5% premarket.
What it means: Kravis and Roberts are known for engineering a dramatic cultural change in Corporate America, giving hefty incentives for management to increase earnings and stock prices, while prompting companies to run more efficiently. They also capitalized on the Michael Milken-financed junk bond, allowing them to raise debt to buy sizable corporations that were overburdened with huge layers of management. Today, many companies already operate like the KKR model, prompting the private equity giant to expand into new markets and change the way it does buyouts.
Joe Bae and Scott Nuttall, who started at KKR in their 20s in 1996, will replace Kravis and Roberts as co-CEOs. While the firm is now less focused on the big home runs, the two will need to convince investors that the firm can continue growing its asset base and industries, which extend from infrastructure to real estate. Alongside the management moves, KKR is simplifying its corporate governance by eliminating preferred shares in contrast to rivals like Blackstone (NYSE:BX).
Outlook: The $25B purchase of Nabisco in 1989 held the record for the largest-ever LBO until 2007, when KKR topped its own record by teaming up with rival TPG to buy Texas utility TXU Corp. for $31.8B. At the time, the Nabisco acquisition was so hot that it became the subject of the bestselling book Barbarians at the Gate. While those two deals weren't so successful (Nabisco notched a negligible return and TXU filed for bankruptcy in 2014), Kravis and Roberts have transformed KKR into a global investment house with $429B in assets and a portfolio of companies that employ over 800K people.
Jamie Dimon thinks so, but that didn't stop Bitcoin (BTC-USD) from topping $57,000 overnight. While he staunchly remains a crypto-skeptic, his bank is willing to offer its clients access to the digital tokens. Back in 2017, the JPMorgan CEO notoriously called Bitcoin a fraud (when it was trading at $5,000), and while he later regretted that characterization, Dimon has repeatedly said he has no interest in the cryptocurrency.
Quote: "I personally think that Bitcoin is worthless," he declared during an Institute of International Finance event. "I don't want to be a spokesperson - I don't care. It makes no difference to me. I don't think you should smoke cigarettes either. Our clients are adults. They disagree. That's what makes markets. So, if they want to have access to buy yourself Bitcoin, we can't custody it but we can give them legitimate, as clean as possible, access."
Does Bitcoin's bull run and Dimon's statements have an inverse relationship? Here's a tweet from Ryan Selkis, founder @messaricrypto, rehashing Dimon's outlook of BTC:
2014: "terrible store of value"
2015: "will not survive" "will be stopped"
2016: "going nowhere"
2017: "a fraud"
2018: "don't really give a shit"
2019: [JPMCoin launch]
2020: "not my cup of tea"
2021: "I have no interest in it" "fool's gold" "worthless"
Go deeper: JPMorgan's wealth management division started offering clients access to Bitcoin funds in August and has been dabbling in the crypto world over the past few years. In February 2019, JPMorgan said it would roll out a digital currency called JPM Coin to make instantaneous payments using blockchain technology. In October 2020, the bank also formed a new unit for blockchain projects called Onyx. (92 comments)
In a letter addressed to Amazon's (AMZN) "Amazonians", CEO Andy Jassy revealed that individual team directors will have the final say regarding how many days a week their staff will need to be in the office when the company reopens its U.S. corporate locations. Amazon, which has more than 1M workers across the country, is currently anticipating employees to come back to the Seattle headquarters, and other locations, starting Jan. 3, 2022.
Excerpt: "We expect that there will be teams that continue working mostly remotely, others that will work some combination of remotely and in the office, and still others that will decide customers are best served having the team work mostly in the office," he wrote. "At a company of our size, there is no one-size-fits-all approach for how every team works best. We're intentionally not prescribing how many days or which days - this is for Directors to determine with their senior leaders and teams."
Before the change in strategy, Amazon detailed plans that would've required all corporate workers to come in to their offices at least three days a week beginning in January (it previously targeted September). However, Jassy said that having most of its staff working remotely due to the COVID-19 pandemic led Amazon to re-evaluate its philosophy about workers needing to be in the office at all times.
Zoom in: Other tech giants have also embraced a remote environment. Twitter (TWTR) last year said its workers can work from home "forever" if they want, while Microsoft (MSFT) has postponed its return to the office "indefinitely." Facebook (FB) and Google (GOOG, GOOGL) will also allow some employees to continue to work from home if their jobs can be done remotely. (33 comments)