Tuesday Morning Reads
Reads
futures:
Options: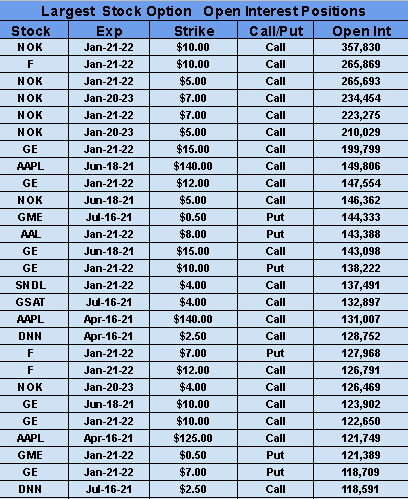 Premium:
Prepper
As the spring meetings of the IMF and World Bank begin in a virtual format, U.S. Treasury Secretary Janet Yellen had a message for governments across the globe. "It is important to work with other countries to end the pressures of tax competition and corporate tax base erosion... to make sure the global economy thrives based on a more level playing field in the taxation of multinational corporations," she said in her first major speech on international economic policy. Yellen is specifically advocating for the adoption of a global minimum levy for corporations in order to avoid a "race to the bottom" on taxation.
Backdrop: President Biden has proposed hiking the U.S. corporate tax rate to 28% from 21%, partially undoing the Trump administration's cut from 35% in its 2017 tax legislation. Biden also wants to set a minimum U.S. tax on overseas corporate income to make it harder for companies to shift earnings offshore. A minimum global corporate income tax could partially offset any consequences that may arise from the U.S. corporate tax hike and would help pay for the White House's ambitious $2.3T infrastructure plan.
Questions to ask: Will nations (or Congress) agree to the tax? What will the level be? And will it include enforcement mechanisms or be effective enough to eliminate tax havens or low tax jurisdictions?
While many countries have endorsed a minimum tax (there's been talk at the OECD for years), others may not embrace one unless they can claim a bigger stake in the profits of U.S. tech companies. The debate also touches on the ongoing friction in international taxation: whether to tax companies based on the location of their income or the location of their headquarters. The U.S. didn't have a pure system before or after the 2017 tax act, which leaned toward taxes based on where revenues are generated, though the Biden administration appears to be focusing more on the latter. (17 comments)
More bullish economic data saw investors drive stocks higher in a broad advance on Monday. U.S. services industry activity jumped to a record high in an ISM survey following Friday's bumper jobs report that showed U.S. nonfarm payrolls surging in March. Traders scooped up underperforming sectors like tech and communication services, and the only sector to finish in the red was energy, which was hit by a drop in oil prices. Cruise operators meanwhile had a stellar session, with Norwegian (NCLH) leading the S&P 500 to finish the day up 7% after asking the CDC to resume trips from American ports starting July 4.
Bigger picture: While the Dow and S&P continue to notch new records, the Nasdaq is still about 3% below its February high, as the recent spike in bond yields made growth stocks less attractive. However, yields haven't budged much in recent days and lockdowns in countries like France have recently helped give the sector a boost. Following the record session, stock futures ticked lower in overnight trading, while the Labor Department is expected to report job openings data for February. The IMF today is also expected to raise forecasts for 2021 global growth in response to U.S. fiscal stimulus and vaccinations.
"It looks like the U.S. [economy] has just hit the accelerator," said Brian O'Reilly, head of market strategy for Mediolanum International Funds. "We've certainly seen a moderation in the one-way bet [on cyclical sectors] that was being placed until maybe the middle of March. The main risk is still a reversal in Fed language."
In crypto markets: Ether (ETH-USD) has been rallying strongly, up another 3% overnight to $2,112. The coin powers the Ethereum blockchain, a platform that is touted for its so-called decentralized finance, or DeFi, applications. The growing excitement saw the value of the entire crypto market top $2T for the first time on Monday, just two months after it surpassed $1T, as retail and institutional investors continue to pile into the space.
Fallout from the Archegos affair keeps making headlines as Credit Suisse (NYSE:CS) logged a $4.7B hit following the meltdown of the investment firm. Credit Suisse's investment banking and risk chiefs will also get the boot, along with a number of business heads. The Swiss bank further scrapped proposals for executive bonuses for the year and slashed its dividend to a proposed 0.10 francs per share (from a payout of 0.2926 francs).
Recap: In late March, Archegos defaulted on margin calls from several global investment banks, including Credit Suisse, Nomura (NMR), Morgan Stanley (MS) and Goldman Sachs (GS). The fund had large, concentrated positions in ViacomCBS (VIAC), Baidu (BIDU) and other companies, but its use of total return swaps helped hide its high exposure from the banks. The derivative contracts exposed the firm to severe losses when the trades went sour, with fund manager Bill Hwang reportedly losing $8B in just ten days.
Credit Suisse was forced to dump a significant amount of stock to sever its ties with Hwang's firm, and now expects a first quarter pretax loss of around 900M Swiss francs ($960M). Meanwhile, another round of block trades on Monday saw Credit Suisse dump Archegos-linked stocks like ViacomCBS and Vipshop (VIPS), marking the second crisis to hit the bank in recent weeks. Earlier in March, Credit Suisse froze $10B in investment funds connected to now-insolvent Greensill Capital after marketing funds that financed the company's operations.
Outlook: The biggest source of banks' trading revenue was once client commissions, but those have narrowed over the last decade, leading their prime brokerage businesses to grow. That's where lenders provide financing for clients like hedge funds, as well as pooling trading and risk exposures to help drive profitability across their trading desks. However, banks have been struggling to handle a flood of deposits, while trying to not increase their capital requirements, which can partly explain the appeal of total return swaps involving Archegos. Balance sheet exposures must be carefully managed by institutions, and the ability to finance clients via prime brokerage does have its limits. (34 comments)
"Anything is on the table. Anything is possible, of course," Dr. Anthony Fauci had said in January regarding a U.S. vaccine passport, though he dispelled the notion in a Politico Dispatch podcast on Monday. "I doubt that the federal government will be the main mover of a vaccine passport concept," he declared. "They may be involved in making sure things are done fairly and equitably, but I doubt if the federal government is going to be the leading element of that."
What may happen instead? Businesses, schools or hospitals could require vaccine documentation to enter buildings, or orders may be implemented at the state or local level. "I'm not saying that they should or that they would, but I'm saying you could foresee how an independent entity might say, 'well, we can't be dealing with you unless we know you're vaccinated,' but it's not going to be mandated from the federal government."
Vaccine passports could speed up travel or economic reopenings, but the idea of requiring the documents has become a point of political contention, while legal issues are still being debated. Florida Gov. Ron DeSantis issued an executive order on Friday prohibiting businesses from requiring customers to show proof they have received a coronavirus vaccine and prevented the state government from issuing such passports. "It is necessary to protect the fundamental rights and privacies of Floridians and the free flow of commerce in the state," he announced, saying requiring immunization credentials "would create two classes of citizens."
Looking abroad: Israel launched its "green passport" program back in January to residents who have received a coronavirus vaccine or those who have recovered from the illness. The passport lifts some restrictions, including mandatory quarantine following exposure to an infected person or traveling abroad, and can be used for attending cultural and sporting events or eating inside restaurants. The EU also unveiled a proposal for vaccine passports in March, which would allow citizens to cross borders without quarantine requirements. (24 comments)
Work practices and conditions are in the spotlight at Amazon (AMZN), which is now the second-largest private employer in the country. Results from a unionization initiative at its facility in Bessemer, Alabama, called BHM1, are still pending, but a verdict is expected within days. Nearly 6,000 employees participated in the vote, making it the first such significant effort by Amazon workers in the U.S. If the effort succeeds, it would give workers the power to negotiate a contract that could lock in heavy changes to wages and working conditions, but even if it fails, it could inspire other Amazon warehouses to organize.
Bigger picture: Amazon has been fighting hard against the endeavor, and has successfully fended off unionization efforts elsewhere in the U.S., but other labor unrest is brewing. The retail behemoth apologized to Rep. Mark Pocan (D-Wis) on Monday after falsely denying that some of its drivers are forced at times to urinate in plastic bottles. "If that were true, nobody would work for us," the official Amazon Twitter account wrote, before the company backtracked in a blog post.
"We know that drivers can and do have trouble finding restrooms because of traffic or sometimes rural routes, and this has been especially the case during Covid when many public restrooms have been closed. Regardless of the fact that this is an industry-wide issue, we would like to solve it. We don't yet know how, but will look for solutions."
Go deeper: The National Labor Relations Board recently found that Amazon illegally fired two UX designers last year for publicly pushing for the company to address warehouse worker concerns and its impact on climate change. The agency will accuse Amazon of unfair labor practices if it doesn't settle the case, according to correspondence viewed by the NYT. Last month, NBC News also reported that enough Amazon workers have filed charges against the company over the last year that the NLRB is considering launching a national investigation. (72 comments)