Thursday's Market Prepper
News, Charts, Reads, Earnings, Watchlist, Outlook
News:
Reads:
Earnings: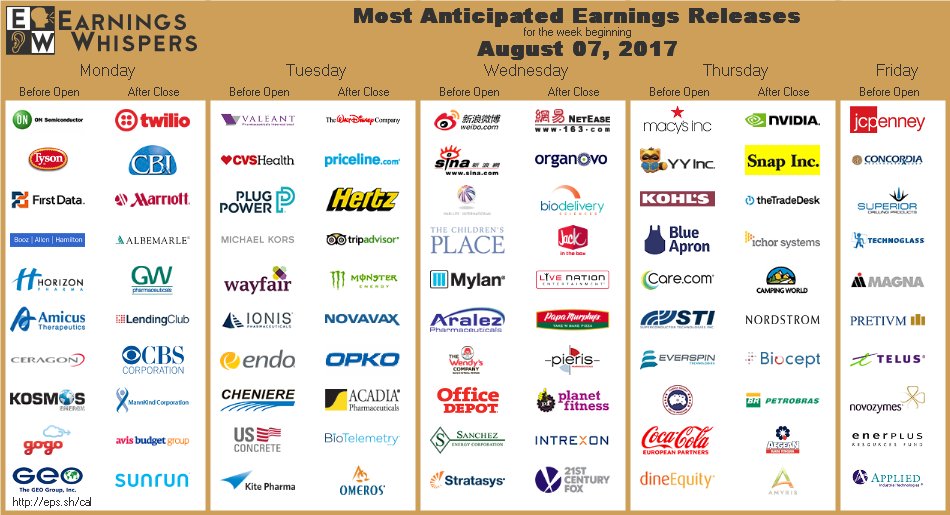 Charts:
Yesterdays Unusual Option Volume:
Seekingalpha:
Earnings from department stores are in focus, with Macy's (NYSE:M), Kohl's (NYSE:KSS) and Nordstrom (NYSE:JWN) set to report today, and J.C. Penney (NYSE:JCP) tomorrow. "I'm paying more attention to what they say about the general health of spending rather than the online [shopping] impact on bricks and mortars," said Peter Boockvar, market strategist at Lindsey Group. Last week's jobs report showed that employment growth in the U.S. retail industry dipped into negative territory for the first time since 2010.
Economy
Pyongyang has hit back at threats from President Trump, branding his warnings "a load of nonsense" and stating only "absolute force can work on him." It also announced plans to launch four rockets near Guam, saying preparations should be ready in a matter of days. In response, the Pentagon has prepared a detailed plan for a pre-emptive strike on North Korea's missile sites, should Trump order such an attack.
With the crisis taking place in its backyard, China's foreign ministry has issued a statement calling on all relevant parties to avoid any words or action that could "intensify problems or escalate the situation." Chinese state press is saying that this is a game of chicken between the U.S. and North Korea and that the two parties should get back to dialog.
The Trump administration has imposed sanctions on eight more Venezuelan officials to punish them for their roles in President Maduro's creation of a new legislative superbody. But even as the list of targeted individuals grows longer, promised economic sanctions have yet to materialize on the nation's oil industry. Venezuela is the third-largest supplier to the U.S.
"Both folks in the House and the Senate, on both sides of the aisle frankly, have said that Obamacare doesn't work, and it needs to be either repealed or fixed," Health and Human Services Secretary Tom Price said on Fox & Friends. Talk of fixing the law is new for most Republicans. Price and President Trump have long focused only on repealing or replacing it.
Stocks
Is it going to have to admit it's a media company? Facebook (NASDAQ:FB) has just launched a rival video platform to YouTube (GOOG, GOOGL) called "Watch", which will feature original content from its partners. It will allow users to discover clips outside of their own feed more easily, while giving them a way to create Watchlists.
Toshiba's auditor gave an "adverse opinion" on the company's internal controls in an annual report filed today, showing the conglomerate has a way to go before regaining market trust following its 2015 accounting scandal. However, PwC gave a "qualified opinion" on Toshiba's (OTCPK:TOSYY) financial results, effectively signing off on its books and likely helping the company avoid an immediate delisting.
Pedal to the metal! Glencore (OTCPK:GLNCY) has raised its earnings guidance, as first half earnings soared, saying it expected the increased take-up of EVs and demand for storage to boost demand for its products. The miner is also continuing to cut debt as it prepares to ramp up acquisitions, with a strong balance sheet providing "headroom for highly selective growth opportunities."
Goldman Sachs plans to begin using "personality tests" as part of the hiring process at the bank. Answers will be compared with those of current Goldman (NYSE:GS) staff. It comes as Wall Street struggles to compete for the best employees vs. Silicon Valley, private equity and hedge funds, which often have better hours and workplace perks.
It's the latest foreign takeover to go sour. The SEC has delayed approval of a Chinese-led purchase of the Chicago Stock Exchange, the latest setback for an acquisition that attracted a lot of pushbacks from American lawmakers. Founded in 1882, the CSE is the smallest of designated U.S. exchanges with about 1% of U.S. equity trading.
Lego is jettisoning its chief executive after only eight months in the job, bringing in a younger person to steer the world's most profitable toymaker. Niels Christiansen, former head of Danfoss, will replace Bali Padda, the company's first foreign CEO. Lego said the move wasn't due to performance, but rather due to Padda's age.
Toyota is pushing back the start of operations at its proposed Mexican plant by a year to the first half of 2020. The delay is necessary to adjust Toyota's (NYSE:TM) local supply chain: the automaker initially intended to build the Corolla at the $1B Guanajuato facility, but instead switched production to the Tacoma. The factory could also manufacture sport utility vehicles.
According to documents leaked to Reuters, Tesla (NASDAQ:TSLA) is moving forward with plans to develop a long-haul electric semi-truck, which is said to drive itself and move in "platoons" that automatically follow a lead vehicle. Technology companies see some long-term potential for autonomous trucks to lower costs on certain cross-country routes, but battery ranges will need to be improved.
Intel has officially joined the self-driving car race. The chipmaker is building a fleet of 100 cars to test self-driving technology, as it tries to leapfrog rivals like Qualcomm (NASDAQ:QCOM) and Nvidia (NASDAQ:NVDA). The project will combine Mobileye's (NYSE:MBLY) offerings with Intel's (NASDAQ:INTC) open compute and communication platform. Testing will take place in the U.S., Europe and Israel.
Pilotless planes could not only be a future method of transport, but an economically-beneficial one too. According to new research by UBS, there may be a material profit opportunity of more than $35B per year for the aerospace and aviation industry. Commercial aircraft already use computers and technology on-board to assist in a number of functions, including the autopilot system. Related tickers: BA, DAL, AAL, UAL
Cost cutting by new CEO John Flannery... General Electric (NYSE:GE) has delayed the completion of its new Boston location in an effort to spread out the expenses of the $200M project. GE will get an incentive package from the city and Massachusetts valued at as much as $145M for moving 200 jobs and ultimately having about 800 at the headquarters.