Thursday Morning Market Prepper
PREMIUM 
CHARTS
Visuals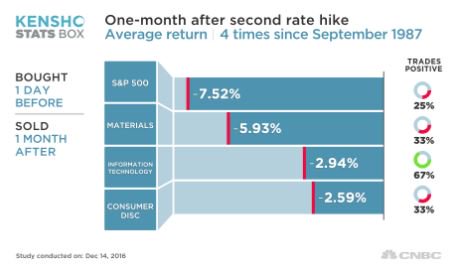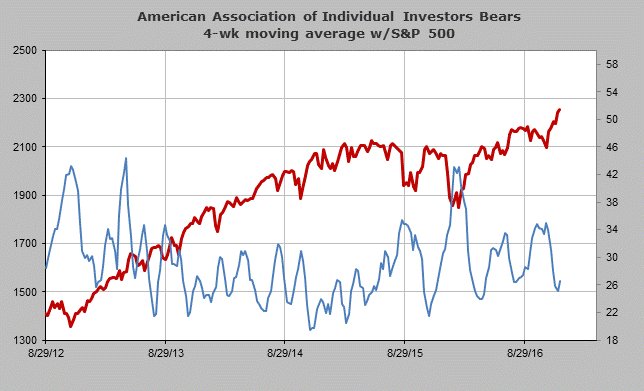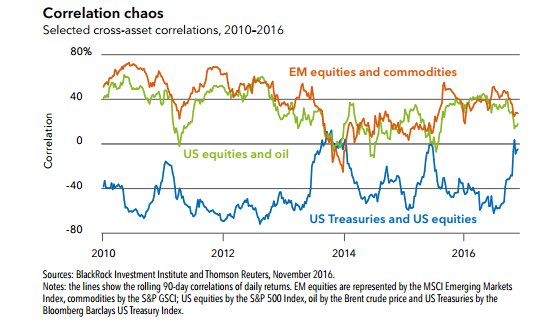 and more:
There's a new normal for investors after the Federal Reserve hiked interest rates and with Donald Trump's administration taking shape. Fed Chair Janet Yellen said during her press conference that Trump's election has placed the central bank under a "cloud of uncertainty" as it looks ahead and shifted some expectations. The "dot plot" of interest rate projections indicate that at least five of 17 Federal Reserve policymakers increased their interest rate forecasts.
Economy
Bank stocks and bluechip names are helping to lift European stocks as investors digest the Federal Reserve's rate hike and economic assessment. The Stoxx Europe 600 is up 0.4% with minor gains spread across much of Europe. U.K.'s FTSE +0.10%, Germany's DAX +0.61% and France's CAC +0.71% are all in positive territory for the day. Asian markets were mostly down, including a biting 1.77% drop in the Hang Seng index. U.S. stock futures are pointing to a minor gain at the moment.
Russian President Vladimir Putin is in Nagato to meet with Japanese Prime Minister Shinzo Abe to discuss a territorial dispute among other matters. The trip by Putin is his first to a G-7 nation since the Crimea was annexed in 2014. In his opening remarks, Putin thanked Abe for his efforts in shifting Russia-Japan relations.
Crude oil prices are recovering from their slide after the Federal Reserve hiked interest rates yesterday. A stronger U.S. dollar is seen as a possible concern on demand. Investors expect a tight market in 2017 on their faith in the OPEC and non-OPEC production cut deals. WTI crude oil futures +0.55% to $51.32/bbl at last check. Brent crude +0.98% to $54.43/bbl.
Donald Trump struck a conciliatory tone during a tech summit at Trump Tower in New York City yesterday. The President-elect discussed cybersecurity, trade, jobs and intellectual property with the tech leaders, according to the Trump transition team. Trump also suggested meeting with the tech executives as often as every quarter. Twitter (NYSE:TWTR) CEO Jack Dorsey was notably missing from the gathering due to his company's market cap which didn't quite make the cut.
Amid political uncertainty, Eurozone PMI came in solid for December. Flash services PMI for December came in at 53.1 vs. 53.8 estimated. The gauge on incoming new business fell to 52.8. Eurozone flash manufacturing PMI jumped to 54.9 to sail past the 53.7 level anticipated by economists. The manufacturing reading was the highest in 32 months. Eurozone flash composite PMI was level with expectations at 53.9 to hold at the highest level of the year.
NPD Group reported sales fell 5% Y/Y for the fifth week of the holiday shopping period. Total dollar sales are down 3% for the holiday season to date. Athletic footwear was the only sector showing positive growth from a year ago, with a 2% gain. Demand for wearable tech and home automation products is showing some resiliency through the post-Black Friday lull.
The economic calendar is fairly loaded today with potentially market-moving releases. Jobless claims are expected to fall to 255K after coming in at 258K last week. The consumer price index for November is expected to show a 0.2% rise. Core CPI is also seen arriving at 0.2%, from 0.1% last month. Food prices and air fares will be two areas of focus for some investors. The Empire State Manufacturing Survey is also due out. Economists expect a 3.0 reading vs. 1.5 last month.
Stocks
Melco International disclosed that it acquired a 13.4% stake in Melco Crown (NASDAQ:MPEL) from Crown Entertainment for ~$1.19B. Crown director James Packer will step off the board as part of the transaction. Melco International's (OTC:MDEVF) position in Melco Crown will increase to 51.3% after the deal closes, while Crown's position will be reduced to under 14%.
Now that Exxon Mobil CEO Rex Tillerson is President-elect Trump's pick for secretary of state, the company board faces a difficult decision on how make a clean financial break. The Exxon (NYSE:XOM) board is considering whether to grant Tillerson - who will step down at year's end to start his new job - more than $175M in stock compensation that he is currently eligible to receive only upon hitting the retirement age of 65 in March. Cashing out Tillerson may be the best of several bad options for Exxon.
Anheuser-Busch InBev agreed to sell SABMiller's position in Distell Group to a pension administrator in South Africa for $640M. The transaction is another step forward for the company in meeting its antitrust commitment in the megabrew deal. AB InBev (NYSE:BUD) is down 1% in Brussels trading
The passing of a casino bill in Japan is expected to light a torch in the industry as major players look for expansion opportunities. Analysts think Japan could become the second largest gambling market in the world after Macau when the building out is complete. MGM Resorts (NYSE:MGM) has already said it sees "significant growth" opportunities in Japan, while Wynn Resorts (NASDAQ:WYNN) said it was "extremely pleased" by the passage of the law.
CVS Health is scheduled to hold its Analyst Day event today amid the changing drugstore landscape with Walgreens (NASDAQ:WBA) and Rite Aid (NYSE:RAD) merging. Jefferies expects CVS (NYSE:CVS) management to highlight the company's efforts to improve market share and cut costs, while Barclays notes that details on product introductions and capital allocation will be crucial for investors. Also watch for a 2017 guidance update from CVS. Consensus estimates currently stand at revenue of $187.8B and EPS of $5.87.
Food stocks are on watch today after a late report yesterday rattled the M&A cage. Swiss magazine Bilanz tipped that Kraft Heinz (NASDAQ:KHC) is putting together a bid for Mondelez International (NASDAQ:MDLZ), although Mondelez was quick to deny that talks are underway. A 3G-led deal for Mondelez could impact how investors evaluate potential targets Campbell Soup (NYSE:CPB) and General Mills (NYSE:GIS), as well as reset strategies at Coca-Cola (NYSE:KO), PepsiCo (NYSE:PEP) and Hershey (NYSE:HSY). Mondelez is up 6.12% in premarket action.
The hacking headaches at Yahoo (NASDAQ:YHOO) continue after a new security breach involving as many as one billion user accounts is disclosed. The information may include names, e-mail addresses, phone numbers, dates of birth, hashed passwords and even some security questions and answers (encrypted or unencrypted). Verizon (NYSE:VZ), which is acquiring Yahoo for a cool $4.83B, said it's monitoring the situation. Shares of Yahoo are down 3.9% premarket.
Stone Energy filed for chapter 11 bankruptcy protection to pursue a pre-packaged plan of reorganization supported by top lenders and bondholders. Creditors' support for Stone Energy's (NYSE:SGY) reorganization plan, which prior regulatory filings say calls on bondholders to forgive ~$850M in debt for ownership of the reorganized company, is conditioned on the company quickly securing court approval for the plan.
Corporate calendar: Pinnacle Foods (NYSE:PF) will host an investor luncheon in New York City during which it will issue 2017 guidance for the first time. United Natural Foods (NASDAQ:UNFI) is also in the spotlight with its annual general meeting on the schedule. Both companies are operating in sectors bursting with M&A talk. Delta Air Lines (NYSE:DAL) is expected to address long-term revenue initiatives during its investor day presentation this morning. Shares of Delta have fallen back from their 52-week high of $52.30 recorded last week.