Late in 2014, with $CAT well over $100, I noted from a technical perspective, that the stock was going to head lower and likely not see $100 for quite a while.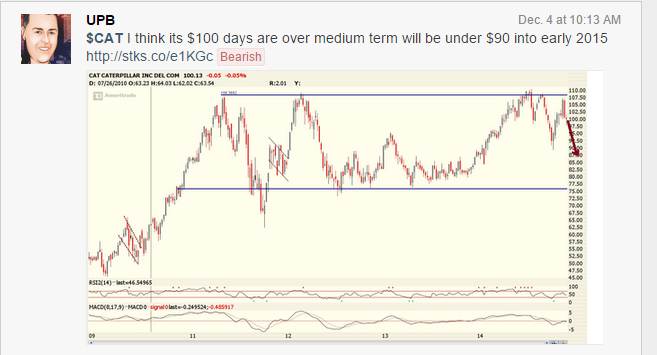 After this morning's $CAT news, it looks like $100 may not return, absent a reverse split, for quite a long time.
Yesterday I pointed out the key support levels that, if broken, would let the proverbial cat out of the bag.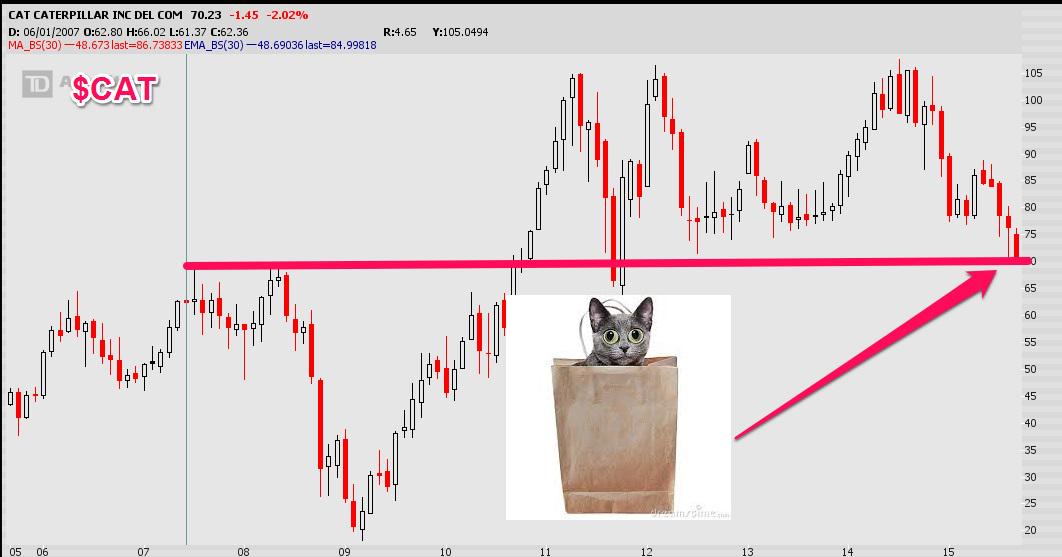 Today?  Meow!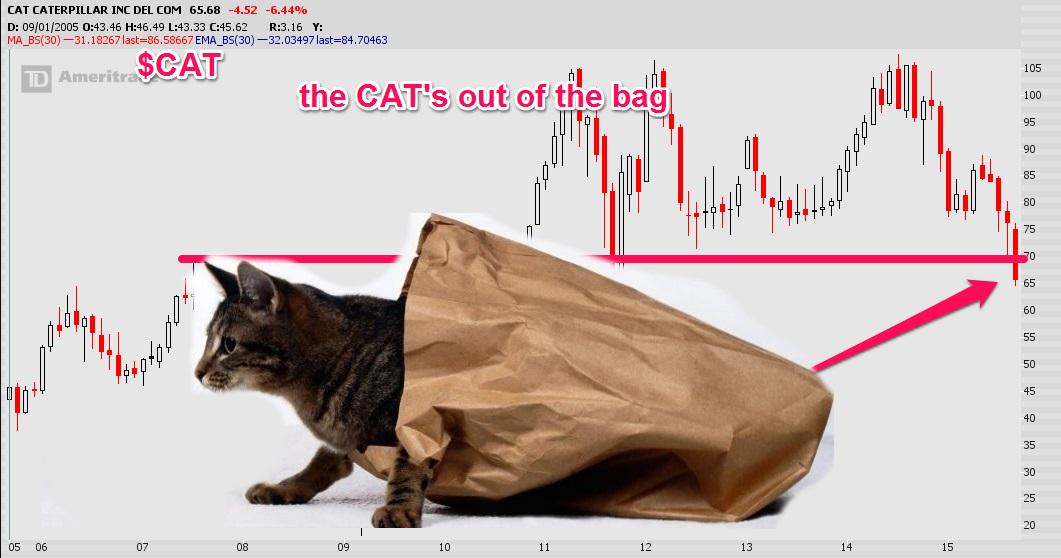 What's worse? -  less than 2 months ago the company announced a $1.5 billion accelerated share buyback program.  You have to wonder who the company values when its cutting $1.5 billion in expenses via a 10,000 employee firing but spending $1.5 billion on buying back its own outstanding shares?  Amazing?  Ironic? Unbelievable?  Yes Yes and Yes!

The Peoria, Ill.-based company said the job cuts could exceed 10,000 people through 2018, including 4,000 to 5,000 salaried and management positions to be eliminated by the end of next year. It aims to reduce annual costs by roughly $ 1.5 billion
To me, this mornings news on CAT is a confirmation of the weakness we are seeing in the stock market here and around the globe.
The Central Banks have done everything they can to reinvigorate this economy.  We are finding out what some have been saying all along... that most of the growth we've seen the last 6+ years is the size of the wealthy and their bank accounts.
I covered this is my weekend post: The Fed Finger
The $CAT is out of the bag.  That's fine and dandy.  I also think this confirms the continues bearish outlook I have of the stock market this FALL.  The next question after $CAT.........
drum roll....
Who is the next CAT?   is it $HD?  $MMM?
Is $CAT the tip of a melting iceberg?
Stocks have broken key support.  That August low is drawing ever closer.  And I'm sure we'll be seeing a lot more layoff and outlook changes at the days/week progress.