The wild action continues.  Yesterday some markets were putting in gains not seen since 2008.  Now think about that for a minute.  2008 was not the end of the financial crisis, but when it came to a head.  Wild gains and massive reversals are not the makings of a stable bull market.   Perhaps this time it's different.  But judging from this mornings pull back off the overnight highs, I'm not so sure.
Trendline support from yesterdays close needs to hold.   A break would bring a similar pull back that we saw to end last week.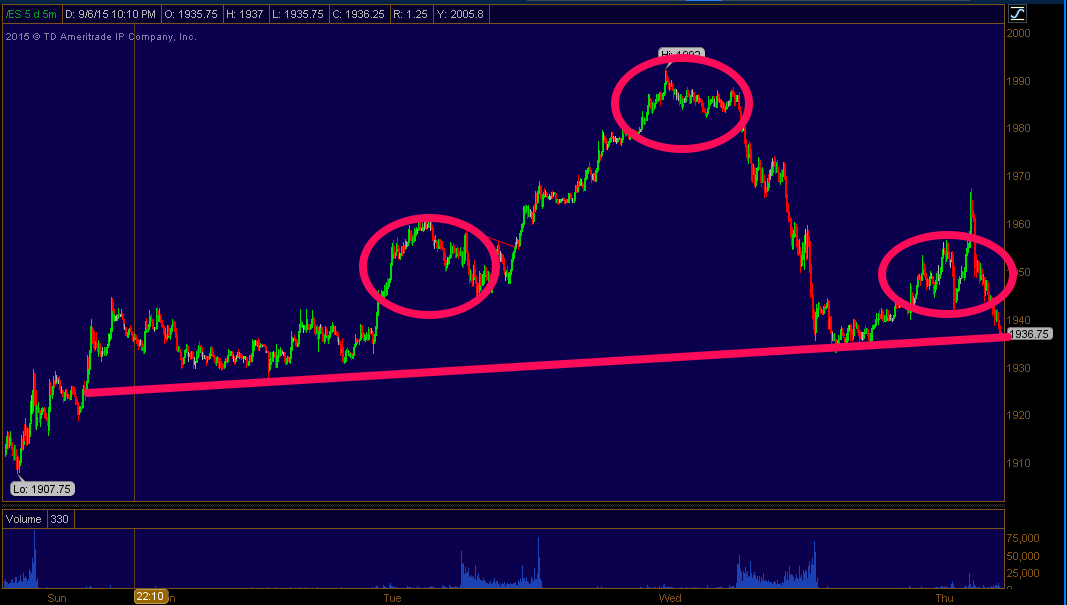 The wedge of doom?  or boom?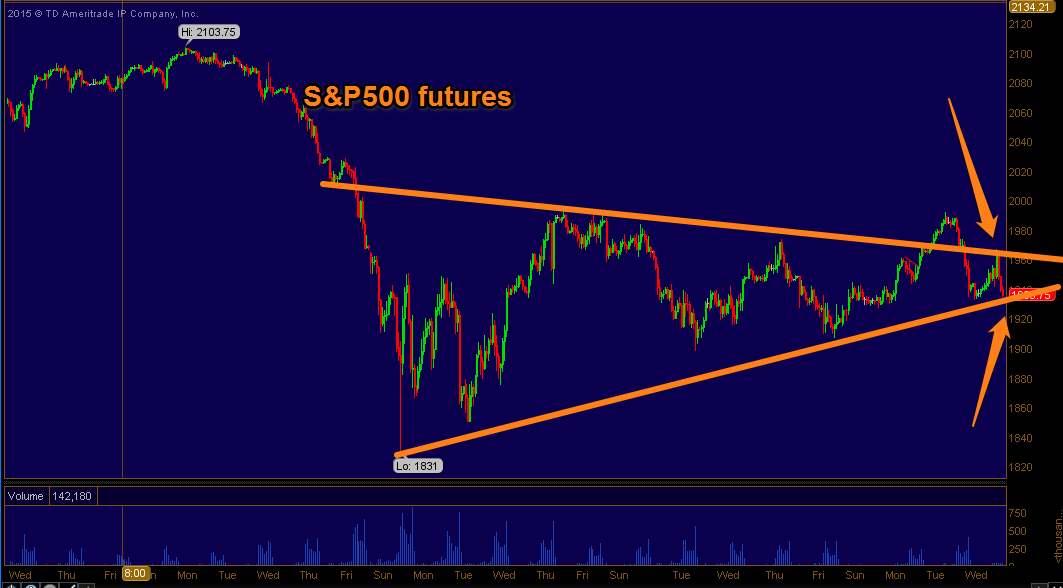 Here we are folks.
The wedge of doom/boom is going to lead to a massive move in this market.  Higher or lower?  I remain bearish, but let's face it, be on the lookout for unexplained spikes to the upside amid any down turn.  It's been a tough slog shorting this market the last 6+ years.
However I think last Thursday and Friday illustrated the current environment, especially when the sell bots are in control.  The sellers use every rip to dump their stocks.  We've even seen some nasty after hours action.
Last Thursday after the bell stock futures had a mini-flash crash.    Clearly someone was willing to sell at any cost.  Let's call it indiscriminate selling.
Think about it for a minute.  We get the FED soon, but not this week.  Heading into the FED I think the risk isn't missing out on a spike to record highs, or a 10% rally.  The risk is we pull back to the market crash Monday lows.  The positive catalysts just aren't there right now.  The only thing creating market rips to the upside is China and Japan, and last week Europe pledging more stimulus.  And all of those gains have been short lived.  Just higher prices for the selling to start at.
I remain as I started the week.  Bearish on the market, and looking for a move back to the crash lows of a few weeks ago.
It might not happen exactly as I envision it.  But in my opinion it is the most likely scenario in the short term.
See you in the chat room.