Stock futures are higher to start the day adding to yesterdays sharp late morning reversal.  Since the lows of late September any weakness has been bought hand over fist and yesterday was no different.
Last week the market had its best week of the year in spite of the Paris terrorist attack.
Yesterday tensions rose as a Russia Fighter Jet was shot down, stocks initially fell, but then embarked on a violent rally, erasing the morning losses and then some.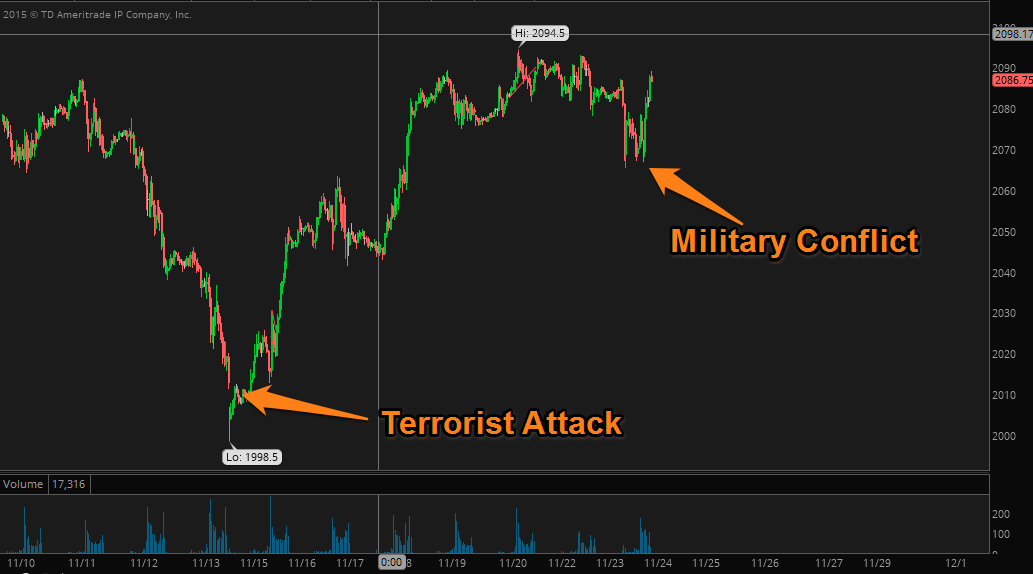 That was some missile attack at the lows yesterday.
Today the market is up as the ECB continues to talk more stimulus.  Yes more stimulus.  6+ years of asset price manipulation is not enough.  The EURO is down and the US Dollar Index has turned 100 again.
This is the theme heading into 2016.  A stronger US Dollar.
Yesterdays early morning collapse did wonders for those holding and buying PUTs.  Count me in that group, although I was not a seller of all my PUT options and currently would love to turn back the close 22 hours.  But I am not Cher.  I can not turn back time.  I can not find a way....  to sell those options you say.  If I could turn back time.  If I could sell my PUTs..... ok...
Perhaps I'll get another chance today.  Patience works both ways, but the good thing about owning PUTs VS. Shorting a stock... you don't wake up owing more than you invested.... so I have that going for me... which is nice.
Looking out to today.
Crude oil is falling.  XLE has been in rally mode.  I think XLE will come back down and today may offer a chance to get some puts on the cheap.  XLE is going to play 'ketchup'.  Perhaps 68.50 weekly or $67 Dec puts.
$AMZN is back in black after getting torched yesterday early on.  $FB has yet to recover after hitting highs a few weeks ago.  Of the two $FB remains the weaker and if the market stagnates today and into the end of the week, I think $FB could continue to pull back with a test of $100 coming.
Home Depot remains on a rampage.  The internet bubble in 2000, the housing bubble in 2007/8  and the sheetrock screw, compressed plywood bubble of 2015?
Like $DIS, $HD seems impervious to downside.  As the price rises the analyst targets rise.  The company is buying back billions of dollar worth of its own stock.  Which has turned out to be a tremendous decision by the company.... until the stock turns south.  I'm not sure when that day is coming.  But I do know the option market is not pricing in a pull back, which is why buying a few puts on the name is a high risk-reward trade.
Currently $HD is set to open at a new all timer record high.
The opening bell is a few minutes away.  I leave you with this.
The VIX is coming together.  We know from a long term perspective the VIX has a lead weight wrapped around its neck.  It wants to remain low.   Perhaps this will breakdown to 2015 lows into the end of the year.  Or perhaps we are on the brink of another spike higher.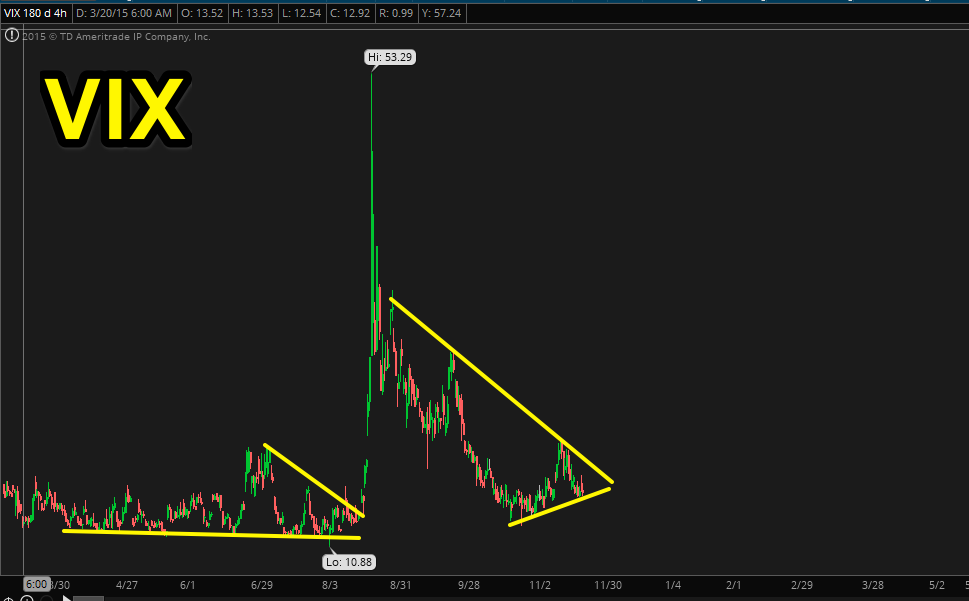 If I don't get the chance to say it in the chat room - Have a Happy Thanksgiving.