Mondays Market Prepper
Reads:
News:
Premium:
Charts:
Earnings: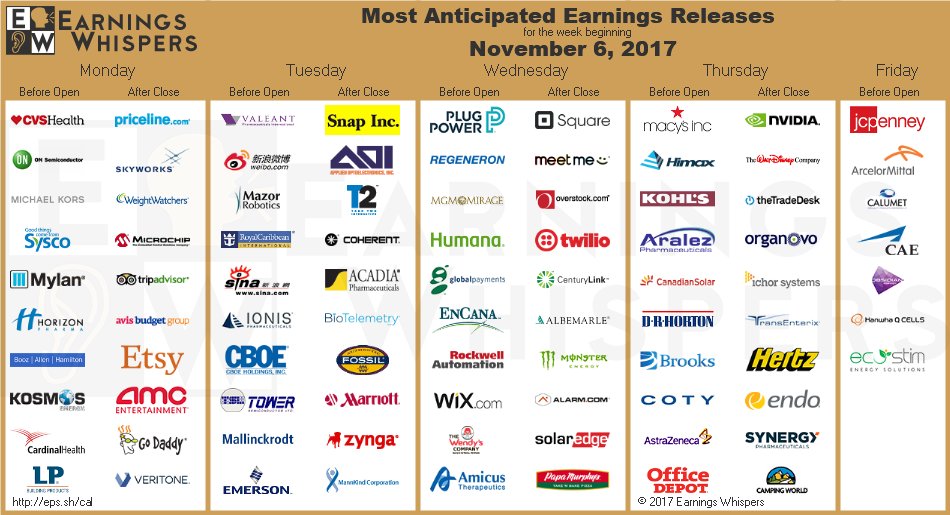 Option Data:
Seekingalpha
Brent crude futures jumped to their highest since July 2015, while WTI futures touched $56 a barrel following a new wave of arrests of royals and ministers in a Saudi corruption probe. It was orchestrated by Crown Prince Mohammed bin Salman, who's backed OPEC-led output cuts. Game of thrones? The purge also led to the arrest of business billionaire Prince Al-Waleed, whose investment firm Kingdom Holding has big stakes in Citigroup (NYSE:C) and Twitter (NYSE:TWTR).
Economy
Meanwhile, Saudi Prince Mansour bin Muqrin and a number of government officials were killed on Sunday in a helicopter crash near Yemen, a day after the nation intercepted a ballistic missile that was said to have originated from its war-torn neighbor. The kingdom blamed the launch on Iran and warned it could be considered "an act of war." The Saudi Tadawul fell as much as 1.5% overnight on the latest news.
A huge new leak of financial documents, dubbed the "Paradise Papers," has revealed how the powerful and ultra-wealthy secretly invest vast amounts of cash in offshore tax havens. The files also put the spotlight on Commerce Secretary Wilbur Ross, who shares business interests with Vladimir Putin's immediate family, but he said the relationships were disclosed at three different times.
One of the Fed's most influential policymakers, New York President William Dudley, is preparing to retire next year, about six months earlier than planned, CNBC reports. President Trump already has three other seats to fill on the Fed's Board of Governors, and a fourth if Yellen departs when her term as chair ends, giving the White House an unusually wide window to reshape the central bank.
Ousted Catalonia leader Carles Puigdemont and four associates have turned themselves in to Belgian police following Spain's issuing of an arrest warrant for rebellion and sedition. Two polls were also released Sunday suggesting pro-Catalonia independence parties will together win December's regional election but they may fall just short of a majority of seats in parliament needed to revive the secession campaign.
China's financial system is becoming significantly more vulnerable due to high leverage, according to central bank governor Zhou Xiaochuan, who has made a series of blunt debt level warnings in recent weeks. Latent risks are accumulating, including some that are "hidden, complex, sudden, contagious and hazardous," even as the overall health of the financial system remains okay, he wrote in an article published on the PBOC website.
President Trump's tour of Asia has begun in Japan. During a summit with Shinzo Abe, he declared that the "era of strategic patience" was over and that the two countries were working to counter the "dangerous aggressions" of North Korea. Trump also vowed to push for a free and balanced trade partnership with Tokyo following decades of "massive trade deficits," but said relations were "better than we have ever had."
Stocks
Gun stocks will be on watch this morning as Democrats renew their calls for reform following the deadliest church shooting in American history. Dressed in black tactical gear and armed with an assault rifle, Devin Patrick Kelley shot dead 26 people and wounded about 20 others at the First Baptist Church of Sutherland Springs, TX on Sunday. The suspect was then killed during a high speed car chase. Related tickers: AOBC, RGR, CAB, SPWH, VSTO, OLN
Billionaire businessman Len Blavatnik is looking to buy an up-to-$3B stake in Teva (NYSE:TEVA), whose stock price hit a 17-year low last week after the drugmaker cut its annual profit forecast. The company has a $12.3B market cap. According to Israeli media reports, the investment could either be done through a private stock listing, which would help Teva deal with its nearly $35B debt burden, or the shares could be bought from Allergan (NYSE:AGN).
Following months of talks, Sprint (NYSE:S) -7.1% premarket after the company ended merger discussions with T-Mobile (NASDAQ:TMUS), stating it couldn't reach an agreement on pricing and governance terms. SoftBank (OTCPK:SFTBY) is now looking to increase its stake in Sprint, but won't cross the 85% threshold that would make its U.S. carrier a candidate for delisting. Sprint has also set a deal with Altice USA (NYSE:ATUS) to combine on a mobile virtual network operator.
Competition laws will permit Amazon (NASDAQ:AMZN) to undercut local businesses with loss-making prices when it opens for business in Australia, which is expected to happen later this month. "If you open a store in a new town and you set a common price point, you are going to lose money initially if you don't have scale," said ACCC Chairman Rod Sims. "Eventually, if you get your business plan right, you will make that price point, that is in no way illegal."
The industry is changing... J.C. Penney (NYSE:JCP) will no longer have a chief merchandising officer, once one of the most powerful jobs in retail, as John Tighe leaves the company and won't be replaced. It comes after J.C. Penney saw its shares drop to an all-time low last month after slashing its forecasts for 2017. The firm has also watched its shares drop 88% over the past five years.
A planned $1B Apple data center is facing uncertainty after Irish Prime Minister Leo Varadkar said CEO Tim Cook would no longer commit to it, adding that Dublin would do whatever necessary to get it built. The country relies on foreign multinational companies like Apple (NASDAQ:AAPL) for the creation of one in every 10 jobs across the economy and sees major investments as a means of securing their presence in Ireland.
Halting production work on House of Cards earlier last week, Netflix (NASDAQ:NFLX) has now moved to sever all ties with Kevin Spacey following claims of sexual misconduct against one of its biggest stars. Spacey is among several big names in the entertainment business to be accused of sexual harassment by people coming forward in the wake of allegations against movie producer Harvey Weinstein.
Ford is gearing up to launch a Chariot bus network in London, gatecrashing the capital's crowded transport market and establishing a new rival to UBER. The move, which still has to gain approval from TfL, comes just weeks after Ford's (NYSE:F) San Francisco service was briefly suspended by California regulators for inspection failures. Chariot also operates in three other cities: New York, Austin and Seattle.
Resurrection? United Continental (NYSE:UAL) is considering replacing widebody planes with new 767 passenger jets, WSJ reports. Boeing (NYSE:BA) stopped making the passenger model three years ago but is now looking at ways to restart production of the plane to meet emerging demand from carriers seeking to replace aging airliners in the next several years.
Rebuffed by American Airlines (NASDAQ:AAL), Qatar Airways has broadened its global reach by purchasing a 9.61% stake in Cathay Pacific (OTCPK:CPCAY). For the state-owned carrier, its first major stake in an Asian airline will allow it to boost its global influence and potentially increase traffic through its Doha hub, amid the worst political crisis in years among Gulf Arab states.
HSBC has pledged to provide $100B in financing and investment by 2025 to help combat climate change, facilitating financial flows to help boost support for clean energy and lower carbon technologies. "This will involve direct lending, bonds and project finance, alongside new products in asset management," said an HSBC spokesman.
A consortium including BP, Royal Dutch Shell (RDS.A, RDS.B) and Statoil (NYSE:STO) is developing a blockchain-based digital platform for energy commodities trading that's expected to take off by the end of 2018. "Ideally, it would help to eliminate any confusion over ownership of a cargo and potentially help to make managing risk more exact if there are accurate timestamps to each part of the trade," said Edward Bell, commodities analyst at Emirates NBD.
Goldman Sachs's asset management division is likely nursing a multimillion-dollar paper loss on a controversial Venezuelan bond purchase it made this summer, FT reports. With the country now seeking to restructure all its foreign debt, the PDVSA bond is now trading at $0.25 on the dollar, down from $0.29 at the start of last week, and $0.31 from the time of Goldman's (NYSE:GS) purchase.
"Would very much appreciate Saudi Arabia doing their IPO of Aramco with the New York Stock Exchange. Important to the United States!" President Trump tweeted on Saturday. According to the WSJ, when Crown Prince Mohammed bin Salman announced plans last year for a stock offering of Aramco (Private:ARMCO), he said he wanted it listed on the NYSE (NYSE:ICE), but since then outside advisers have warned the move could open up the company to shareholder lawsuits.
Today's Markets 
In Asia
, Japan flat. Hong Kong flat. China 
+0.5%
. India 
+0.1%
.
In Europe
, at midday, London flat. Paris 
-0.2%
. Frankfurt 
-0.2%
.
Futures at 6:20
, Dow 
+0.1%
. S&P 
-0.1%
. Nasdaq flat. Crude 
+0.7%
 to $56.02. Gold 
+0.3%
 to $1272.30.
Ten-year Treasury Yield
 -1 bps to 2.32%
Today's Economic Calendar
12:30 PM TD Ameritrade IMX