Monday's Marker Prepper
Reads:
News:
Fridays  Unusual Option Action
Premium:
Earnings: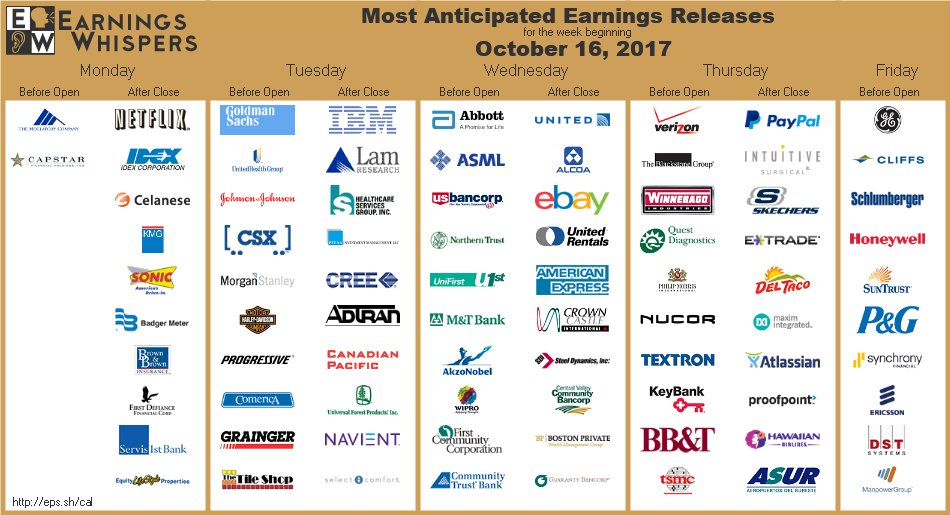 Charts:
Seekingalpha:
Catalan leader Carles Puigdemont has not given a clear answer about the future status of the region, according to a letter sent to the Spanish government, in which he reiterated an offer to meet Prime Minister Mariano Rajoy as soon as possible and asked that dialogue take place over the next two months. The Catalan government had until 10:00 a.m. local time to state its position. The benchmark IBEX 35 Index is down 0.8% on the news, Spanish bonds are selling off, while the euro is 0.3% lower at $1.1793.
Economy
Investors are also digesting the latest election news coming out of Austria. 31-year-old Sebastian Kurz has declared victory for his People's Party, setting him up to become Europe's youngest leader and putting the country on course for a rightward turn. Austria's ATX has so far returned 27% YTD, making it the continent's best-performing developed stock market this year.
"Let me be clear, I think people are convinced that stocks and shares right now and bonds can go up as well as down," Mario Draghi said over the weekend, in response to a question on whether the securities were overpriced in Europe. "Where we see some signs of valuations that tend to be stretched is in the prime commercial real estate [in the eurozone]."
Negotiators at talks to modernize NAFTA look set to extend the remaining rounds in a bid to meet a year-end deadline, according to Reuters. Most recently, the Trump administration demanded that U.S.-made content account for half the value of the cars and trucks sold under the trade agreement, raising further doubts about any potential deal to renew the pact.
"My best guess is that these soft [inflation] readings will not persist, and with the ongoing strengthening of labor markets, I expect inflation to move higher next year," Janet Yellen told a Group of 30 conference on Sunday. While the FOMC left rates unchanged at its September meeting, it made clear its expectation of another boost before the end of the year. Three more rate hikes are seen in 2018.
The annual meetings of the IMF and the World Bank wrapped up on Saturday with Treasury Secretary Steven Mnuchin urging them to help move economic powers away from large trade surpluses. He also pushed for curtailing lending to middle-income countries that have developed significant resources on their own, stating programs should "be tailored to help fully transition these borrowers off donor assistance."
Meanwhile, the IMF has begun preparations for a possible rescue of Venezuela that could require $30B or more in international help annually, and result in a complex bond restructuring and big test of Fund rules. It follows a surprise win for the ruling socialists in a weekend regional election, which could potentially rekindle protests and new foreign sanctions on the moribund economy.
Crude futures were in the green overnight, up 1.2% to $52.07/bbl, after President Trump refused to certify that Iran is complying with its nuclear accord. During the previous round of sanctions against Tehran, around 1M bpd of oil supplies were cut off from global markets. Prices were also boosted as Iraqi troops seized parts of the oil-rich Kurdish region, while an oil rig exploded in Louisiana's Lake Pontchartrain.
Stocks
Seeking to preserve their spectrum holdings, T-Mobile (NASDAQ:TMUS) and Sprint (NYSE:S) plan to announce a merger agreement - in late October or early November - that wouldn't include any immediate asset sales, sources told Reuters. Reports last week suggested that some of the DOJ's antitrust staff were skeptical about the deal, which would combine the third and fourth largest U.S. wireless carriers.
With channels still running past yesterday's 7 p.m. negotiation deadline, Viacom (VIA, VIAB) and Charter Communications (NASDAQ:CHTR) have agreed to a short-term extension of their carriage deal. Charter's Spectrum service feeds Viacom's networks (including MTV, VH1, Comedy Central, Nickelodeon and BET) to 16.6M subscribers, and Viacom has about 16% of affiliate revenue (some $760M) at risk in the partnership.
Aramark has agreed to buy hospitality services company Avendra, majority owned by Marriott (NYSE:MAR), and linen supplier AmeriPride Services for $2.35B, before tax benefit adjustments. "These strategic and financially compelling transactions represent the next step in our commitment to drive sustainable shareholder value," said Aramark (NYSE:ARMK) CEO Eric Foss.
Tesla fired about 400 employees last week, including associates, team leaders and supervisors, according to multiple reports over the weekend. The dismissals, which Tesla (NASDAQ:TSLA) said were part of a company-wide annual review, came even as the automaker pushes to increase vehicle production five-fold and reach a broader market with its new Model 3.
Facing pressure from potentially crippling U.S. tariffs, Bombardier (OTCQX:BDRAF, OTCQX:BDRBF) is exploring options for its aerospace businesses, including a sale of some operations or new aerospace partnerships. The Montreal-based manufacturer is studying the disposal of its Q400 turboprop and CRJ regional-jet unit, sources told Bloomberg, stating that Airbus (OTCPK:EADSY) was among the suitors.
Long history of safety failures? Passengers that were aboard an AirAsia (OTCPK:AIABF) flight from Perth to Bali on Sunday are criticizing the flight crew for screaming when the plane suddenly dropped 20,000 feet in a matter of minutes. The flight was diverted after a "technical issue," but it brings up memories of the AirAsia X engine failure last June and Flight 8501, which crashed into the Java Sea in December 2014.
Blackstone is targeting retail investors with $5M or less for its next leg of growth, betting it can raise as much from them over the long term - via direct access - as it does from the pension funds and other institutions. "The goal is not to raise as much money as possible," Blackstone's (NYSE:BX) Joan Solotar declared. "We want to grow assets at what we deem are appropriate returns."
U.S. banks are stepping up anti-fraud controls after the data breach at Equifax put about half the nation's population at risk of identity theft, FTreports. Executives at Citigroup (NYSE:C) and Wells Fargo (NYSE:WFC) said customers would face new checks because of the increased risk of identity fraud, a problem that already costs an estimated $16B a year across the country.
With stiffer competition from the 24/7 business of Amazon.com (NASDAQ:AMZN), Macy's (NYSE:M) is preparing for another early kick off to Black Friday shopping on Thanksgiving. The so-called creep from Friday to Thursday began in 2010 with Sears (NASDAQ:SHLD), but many retailers have made the jump in the years following. Still, companies like TJ Maxx (NYSE:TJX), Costco (NASDAQ:COST) and Home Depot (NYSE:HD) are sticking with tradition and staying dark on Turkey Day.
Today's Markets 
In Asia
, Japan 
+0.5%
. Hong Kong 
+0.8%
. China 
-0.4%
. India 
+0.6%
.
In Europe
, at midday, London 
+0.1%
. Paris 
+0.1%
. Frankfurt 
+0.2%
.
Futures at 6:20
, Dow 
+0.1%
. S&P 
+0.1%
. Nasdaq 
+0.1%
. Crude 
+1.2%
 to $52.07. Gold 
+0.2%
 to $1307.20.
Ten-year Treasury Yield
 flat at 2.29%
Today's Economic Calendar
8:30 Empire State Mfg Survey
2:00 PM Treasury Budget