Monday Morning Market Prepper
Morning Reads
News
EARNINGS THIS WEEK: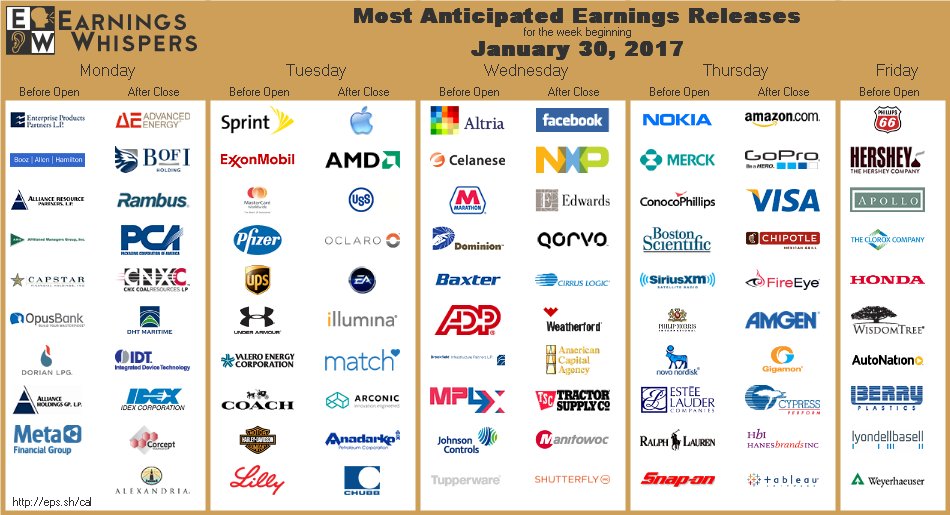 Premium:
Charts:
Tweets:
A corporate bond deal so big it's moving U.S. Treasuries... pic.twitter.com/xn6EEN20hg

— Tracy Alloway (@tracyalloway) January 30, 2017
Reading the source material is better than reading other people's opinions about the source material https://t.co/HKIYKbdb3g

— Elon Musk (@elonmusk) January 30, 2017
OPEC appears to have persuaded investors that it's making good on promised production cuts https://t.co/Rn97IDr01u pic.twitter.com/OrBwaEpNVB

— Bloomberg (@business) January 30, 2017
Seeking Alpha
U.S. equity index futures are down about 0.3%, while the dollar weakened slightly, following President Trump's executive order on immigration, which clamped down on refugee admissions and temporarily banned travelers from seven predominantly Muslim countries. "America is a proud nation of immigrants... but we will do so while protecting our own citizens and border," he said in a statement. "This is not about religion." Adding to pressure on markets, data on Friday showed U.S. economic growth slowed more than expected in Q4, with GDP rising at a 1.9% annual rate.
Economy
A federal judge in New York and at least five other states have temporarily halted deportations after the American Civil Liberties Union argued for stranded refugees and visa holders to be released. The White House also clarified its policy regarding green card holders, stating the travel ban would not apply to those with legal permanent residence in the United States.
In another weekend executive action, President Trump reshuffled the National Security Council to include his chief strategist, Steve Bannon, and limited the roles of the director of national intelligence and the chairman of the Joint Chiefs of Staff. The memorandum makes the former Breitbart News head a regular attendee of the principals committee, the Cabinet-level interagency forum that deals with policy issues affecting national security.
President Trump also made a flurry of phone calls to world leaders on Saturday as he began shaping his new administration's foreign policy. A conversation with Vladimir Putin discussed combating terrorism, confronting ISIS, the Ukraine crisis and the Iran nuclear deal, but the topic of easing U.S. sanctions against Russia over its 2014 annexation of Crimea didn't come up.
Six people have been killed and eight injured in a shooting at a mosque in Quebec City. Prime Minister Justin Trudeau condemned the "cowardly attack," saying "Muslim-Canadians are an important part of Canada's national fabric." On Saturday, he also responded to Trump's immigration ban by tweeting: "To those fleeing persecution, terror & war, Canadians will welcome you, regardless of your faith. Diversity is our strength #WelcomeToCanada."
After selecting Citigroup (NYSE:C) as its financial adviser, Puerto Rico's federal oversight board has voted to give the commonwealth more time to submit a fiscal turnaround plan and restructure $70B in debt without fear of lawsuits. A so-called stay on litigation over missed payments will be moved to May 1 from Feb. 15, while a deadline for a fiscal blueprint will be extended to Feb. 28 from Jan. 31.
The IMF believes Greece's debt is "explosive" and "highly unsustainable," reaching 275% of GDP by 2060 unless the country's loans are significantly restructured. The assessment, prepared ahead of an IMF board meeting on Feb. 6, is significantly more pessimistic than that of Greece's eurozone creditors and underscores the difficulty of the fund moving ahead with a bailout.
Twenty billion euros earmarked by the Italian government will be enough to help recapitalize other weak lenders after Monte dei Paschi (OTCPK:BMDPY), according to Bank of Italy governor Ignazio Visco. He didn't name any banks that may need government support to bolster their capital, but analysts say Banca Popolare di Vicenza, Veneto Banca (OTC:VENBF) and Carige (OTC:BCIGY) will likely need to strengthen their balance sheets soon.
Although it was below 0% less than a year ago, inflation in Saxony rose by 2.3% in January. That could mean Germany's preliminary inflation figure topped the ECB's target of 2% (to be released at 8:00 ET), prompting louder calls for an end to stimulus programs from within the eurozone's largest member. 10-year Bund yields are up 2.5 basis points at 0.49%, just under the one-year high hit last week.
It's the Year of the Rooster! Chinese markets will remain closed for most of the week as Lunar New Year celebrations kick off for much of Asia. The PBOC pumped 1.13T yuan (roughly $165B) into domestic money markets last week via its routine operations as consumers prepared for shopping sprees and to hand out red packets filled with fresh notes to friends and relatives. Markets will reopen on Friday.
Stocks
Many American companies are responding to President Trump's executive order on immigration. Alphabet (GOOG, GOOGL), Amazon (NASDAQ:AMZN), Apple (NASDAQ:AAPL), Facebook (NASDAQ:FB), Microsoft (NASDAQ:MSFT), Netflix (NASDAQ:NFLX), UBER and others have expressed concern about the action's effect on their employees. The ramifications of tighter immigration rules don't just affect Silicon Valley, but stretch from finance and travel to meat packing and construction.
Matching their words with deeds? Some U.S. firms have even replied with actions and donations. Starbucks (NASDAQ:SBUX) announced plans to hire 10,000 refugees, while Airbnb (Private:AIRB) said it would provide them with free housing and anyone not allowed in the U.S. Google (GOOG, GOOGL) has created a $4M crisis fund, UBER will establish a $3M defense fund and LYFT said it would donate $1M to the ACLU.
Toyota has relinquished its four-year title as the world's top-selling automaker to Volkswagen (OTCPK:VLKAY), the first time the German company has held the title. Global sales across its Toyota (NYSE:TM), Lexus, Daihatsu and Hino Motors brands rose 0.2% to 10.18M last year from 2015. That was less than the 10.3M sold by VW, which posted record high global sales despite its diesel emissions scandal.
Hundreds of domestic Delta flights were delayed or canceled on Sunday evening by computer problems, though the No. 2 U.S. airline later lifted a freeze on departures. The problems blacked out airport passenger screens, forced agents to check in passengers manually and left some arriving Delta (NYSE:DAL) aircraft stuck on the tarmac for hours. Last week, a computer problem forced United Airlines (NYSE:UAL) to ground all domestic flights.
Less than two weeks after they launched a campaign for influence over the company, CSX is discussing a settlement with outgoing Canadian Pacific (NYSE:CP) CEO Hunter Harrison - and the activist investor backing him - that could make the railroad industry veteran its chief executive. The two sides met in Atlanta on Friday, according to WSJ, which said that Mantle Ridge is also seeking more than three CSX board seats.
Shares of Toshiba tumbled as much as 5.8% overnight on word that some trust banks are preparing to sue the company over its 2015 accounting scandal. Separate reports suggested Chairman Shigenori Shiga was ready to step down and Toshiba (OTCPK:TOSYY) would no longer accept orders for new atomic plants, withdrawing from its nuclear power business in the U.S.
Sony is taking a ¥112B ($1B) writedown in its movie business after reviewing the future profitability of its operations. The company said it would book the charge in the fiscal third quarter and is examining how that will affect its forecasts. To offset part of the loss, Sony (NYSE:SNE) will sell shares in the medical web service M3 (OTCPK:MTHRF) to Goldman Sachs' (NYSE:GS) Japan unit, in a deal worth about ¥37B.
A slowdown in the wearables market? Fitbit (NYSE:FIT) will cut between 5%-10% of its workforce and disclose lower-than-expected fourth-quarter results in an announcement today, according to The Information. The reorganization, which would affect between 80 and 160 people across multiple departments, will reduce operating costs by about $200M. FIT -7.1% premarket.
Vodafone is in talks to combine its Indian operations with rival Idea Cellular (OTC:ICLQY) in an all-share deal that could help the groups counter fierce competition in the market. Any merger would be effected through the issue of new shares in Idea to Vodafone (NASDAQ:VOD) and would result in the deconsolidation of Vodafone India. VOD +3% premarket.
Chancellor Angela Merkel on Saturday decried unfair tax advantages for multinational corporations, singling out Starbucks (SBUX) as a tax rogue that exploits global arrangements at the expense of German chains. "Coffee-house operators from Germany have to pay their taxes, while it's not at all clear with Starbucks whether they pay taxes anywhere," she told CDU supporters. "That's not right and we have to do something about it."
After facing a series of legal and regulatory challenges in the U.S., DraftKings (Private:DRAFT) has received a license that will allow it to operate in much of the European Union. The company began operating last year in the U.K., which requires its own license, and is also active in Canada. DraftKings and its onetime rival, FanDuel (Private:DUEL), agreed to merge in November.
BP plans to study the potentially disruptive impact of 3D printing on oil markets if the rise of local digital manufacturing reduces the need to ship goods around the world. Freight transportation accounts for more than a fifth of total oil consumption, much of it involving long-distance shipments across oceans and continents. BP -1.3% premarket.
Champagne corks are popping across the exchange-traded fund industry after a third successive year of record-breaking growth. Vanguard's ETF inflows jumped by almost a sixth to $97B in 2016, while Blackrock's (NYSE:BLK) ETF business, iShares, ballooned 10% to $140B. The rise in demand for passive investment management has put the pressure on active managers to justify their larger fees and deliver higher returns.
Today's Markets
In Asia
, Japan
-0.5%
. Hong Kong closed. China closed. India
-0.1%
.
In Europe
, at midday, London
-0.7%
. Paris
-0.9%
. Frankfurt
-0.8%
.
Futures at 6:20
, Dow
-0.2%
. S&P
-0.2%
. Nasdaq
-0.3%
. Crude
+0.4%
to $53.36. Gold
+0.1%
to $1192.60.
Ten-year Treasury Yield
flat at 2.48%
Today's Economic Calendar
8:30 Personal Income and Outlays
10:00 Pending Home Sales
10:30 Dallas Fed Manufacturing Survey