So that was it?  Are we moving on from Brexit?  This morning stock futures are soaring around the globe. S&P500 futures are up over 1.3%.
While all the talk recently has been about Brexit, this same time last year the talk was all about Grexit... and all that did was launch the market to new record highs.
Grexit Talk Launches Stocks To Record Highs
It 'Bremains' to be seen if new record highs return this time around.  However we continue to see how important price rejection is for this market.  Heading back to the last pull back for the stock market, prices were again rejected to the downside forming a wonderful wick.
Last week as stocks plunged to their lows, the market again rejected the lower levels by embarking on a swift reversal.  Yet another wonderful wick was formed.
Wicks matter.  And in this case, our current wick could be telling us that more short to medium term upside remains.
Last Week
Today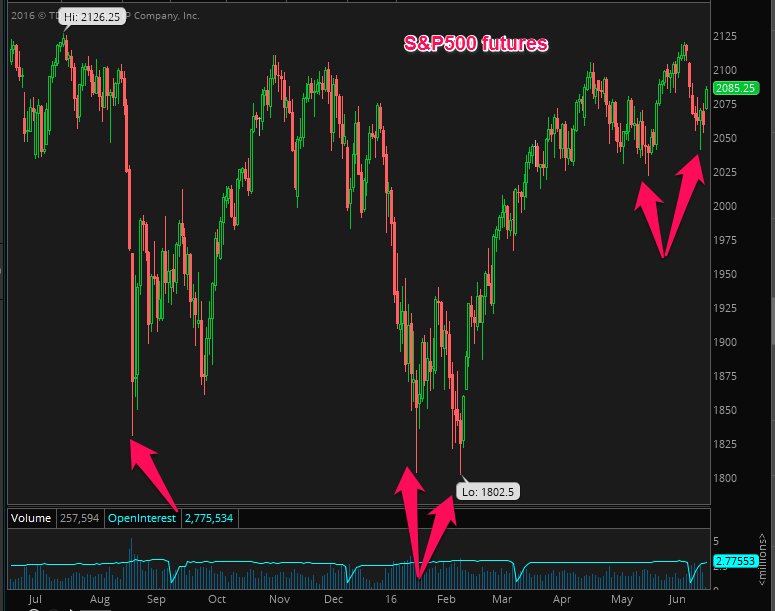 What are we to trade on this price recovery?  We can start with the beaten down names.  Financials stand to gain the most on this move, with names like $C $JPM and $GS having excellent upside potential.
FANG took it on the chin on Friday, and while I am staying away from $FB until it hits long term support, $GOOGL's test with $700 on Friday could trigger a nice relief rally much like we saw when it hit $700 earlier this year.
The majority of these gaps up over the last few years have been 'gap and runs'.  Meaning the move is likely to get chased.  Although we are likely to get at least a little pull back during the first hour of trade.
We are launching another great community feature at OM.com this morning.