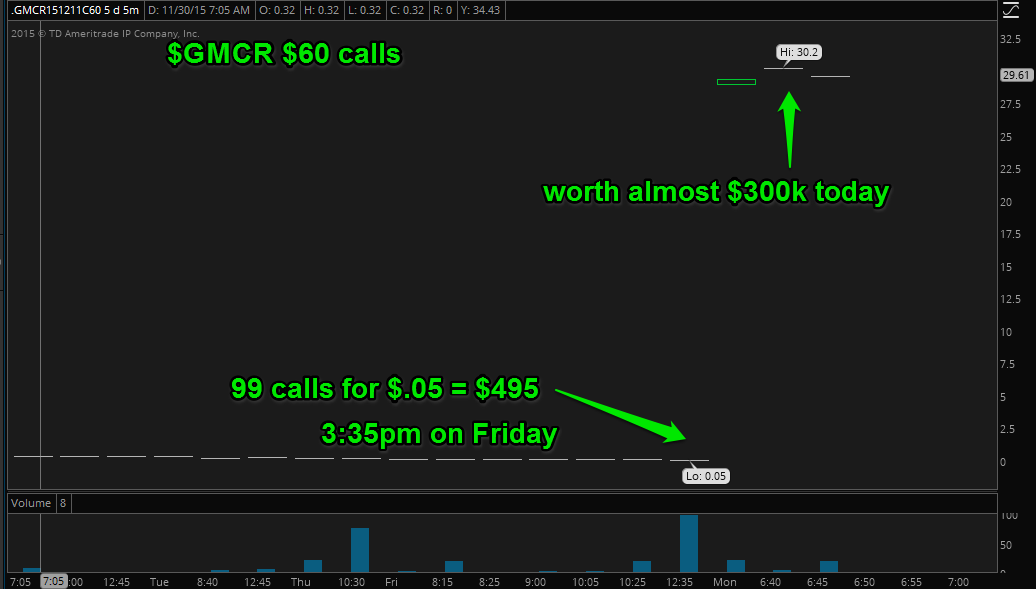 Green Mountain Coffee is up over 70% this morning after being bought out for some $92 a share.  Options on the name are flying even higher.  The $60 strike is sporting a 60,000% gain early on.
Some lucky buyer late on Friday scored 99 calls at $.05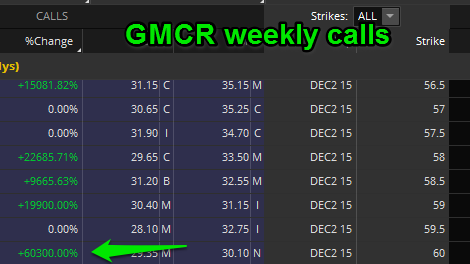 JB was buying call options for the stock a few weeks ago in anticipation of a big move higher.

Those options did not make it to this week.  Timing is everything with stock options.  What a difference one trading session can make.
Some traders woke up pretty happy this morning.  Here was one from the chat room this morning:

from CNBC
Personal beverage system company Keurig Green Mountain has agreed to be taken private by an investor group led by JAB Holding for $92 a share in cash.
The companies value the total equity of the deal at about $13.9 billion, and represents a premium of approximately 77.9 percent over Keurig's closing stock price on December 4.
Coca-Cola, Keurig's biggest single shareholder, said it would receive cash for its stake in the company, which is valued at $2.4 billion at the offer price.
Shares of the company soared over 70 percent in midmorning trade, on track for its best trading day ever.
The agreement was unanimously approved by Keurig's board of directors. The deal is expected to close in the first quarter of 2016.
This is the latest in a string of coffee deals by JAB as it seeks to become a formidable competitor to Nestle, which operates the world's biggest coffee business.
JAB formed a joint venture in July called Jacobs Douwe Egberts — now the largest pure-play coffee company — by combining its D.E. Master Blenders 1753 business with the coffee business of Mondelez International.