Reads, News, Data, Earnings, Charts - to help you get ready for the coming week:
Reads:
News:
Earnings: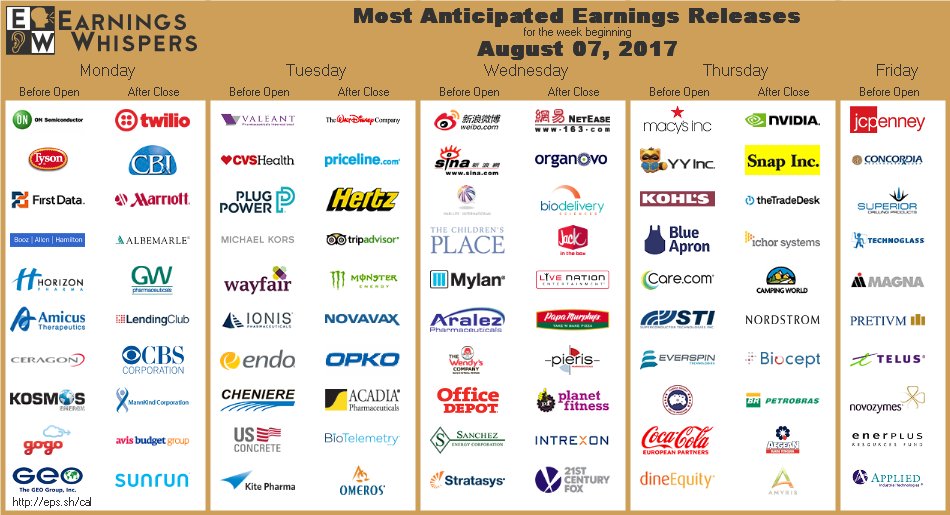 Charts:
Notable earnings reports: Marriott International (NYSE:MAR), CBS (NYSE:CBS) and Tyson Foods (NYSE:TSN) on August 7; Disney (NYSE:DIS), Priceline (NASDAQ:PCLN), Wayfair (NYSE:W), Michael Kors (NYSE:KORS) on Augusy 8; Ctrip.com (NASDAQ:CTRP), Mobileye (NYSE:MBLY) and Mylan (NASDAQ:MYL) on August 9; Nvidia (NASDAQ:NVDA), Alibaba (NYSE:BABA), Macy's (NYSE:M) and News Corp (NASDAQ:NWSA) on August 10; J.C. Penney (NYSE:JCP) on August 11.
Expected IPO pricings: Zealand Pharma (Pending:ZLND) on August 8, Contura Energy (Pending:CTRA) on August 9, Ranger Energy Services (Pending:RNGR) on August 10.
IPO quiet period expirations: Avenue Therapeutics (NASDAQ:ATXI), Esquire Financial (Pending:ESQ), Mersana Therapeutics (NASDAQ:MRSN); Aileron Therapeutics (NASDAQ:ALRN), Blue Apron (NYSE:APRN), Dova Pharmaceuticals (NASDAQ:DOVA) on August 8; Byline Bancorp (NYSE:BY), Tintri (NASDAQ:TNTR) on August 9.
Secondary offering lockup expirations: Aeglea BioTherapeutics (NASDAQ:AGLE), Exact Sciences (NASDAQ:EXAS), Evolent Health (NYSE:EVH), Ctyokinetics (NASDAQ:CYTK) on August 7; Monroe Capital (NASDAQ:MRCC), Accelerate Diagnostics (NASDAQ:AXDX) on August 8; Becton Dickinson (NYSE:BDX) on August 9, Foundation Building Materials (NYSE:FBM) on August 9; Kinsdale Capital (Pending:KNSL), TPI Composite (NASDAQ:TPIC) on August 10.
Notable annual meeting: Pandora (NYSE:P) on August 7, Ralph Lauren (NYSE:RL) on August 10, Merrimack Pharmaceuticals (NASDAQ:MACK) on August 11.
Special shareholder meetings: Farmers National Banc (OTCPK:FMBN) on August 8, Central Valley Community Bancorp (NASDAQ:CVCY), Folsom Lake Bank (OTCPK:FOLB) on August 10.
Analyst/Investor day: BorgWarner (NYSE:BWA) on August 7, Equifax (NYSE:EFX) on August 9.
Business update call: Barnes & Noble Education (NYSE:BNED) on August 7
FCC watch:: The deadline for the agency to deny Sinclair Broadcast's (NASDAQ:SBGI) purchase of Tribune Media (NYSE:TRCO) is August 8.
FDA watch: Gilead (NASDAQ:GILD) expects to find out if its single tablet daily regimen for HIV is accepted for review. TherapeuticsMD (NYSEMKT:TXMD) to receive Advice Letter on TX-004HR. A drug approval call is scheduled for Jazz Pharmaceuticals (NASDAQ:JAZZ) on August 7.
Sales and revenue update: TD Ameritrade (NASDAQ:AMTD) on August 7, WestJet Airlines (OTC:WJAFF) on August 10.
JPMorgan Auto Conference: Presenters for the event from August 8-9 include Adient (NASDAQ:ADNT), Dana (NYSE:DAN), Visteon (NYSE:VC), Cooper Tire & Rubber (NYSE:CTB), Delphi Automotive (NYSE:DLPH), General Motors (NYSE:GM), LKQ Corporation (NASDAQ:LKQ), Stoneridge (NYSE:SRI) and Avis Budget (NASDAQ:CAR).
Barron's mentions: Watch for Amazon (NASDAQ:AMZN), Facebook (NASDAQ:FB) and Google (GOOG, GOOGL) to make a major push into sports TV beyond occasional streaming to challenge ABC/ESPN, Fox (NASDAQ:FOXA), CBS, and NBC (NASDAQ:CMCSA). Big gains are seen for Delta Air Lines (NYSE:DAL), Finisar (NASDAQ:FNSR) and Voya Financial (NYSE:VOYA). There's some caution expressed on Tesla (NASDAQ:TSLA). Despite the rave reviews on the Model 3, the stock is seen as "priced to perfection" into the production ramp.