Fridays Market Prepper
Reads:
News:
Charts:
Premium:
Yesterdays Unusual Option Action
Earnings this week: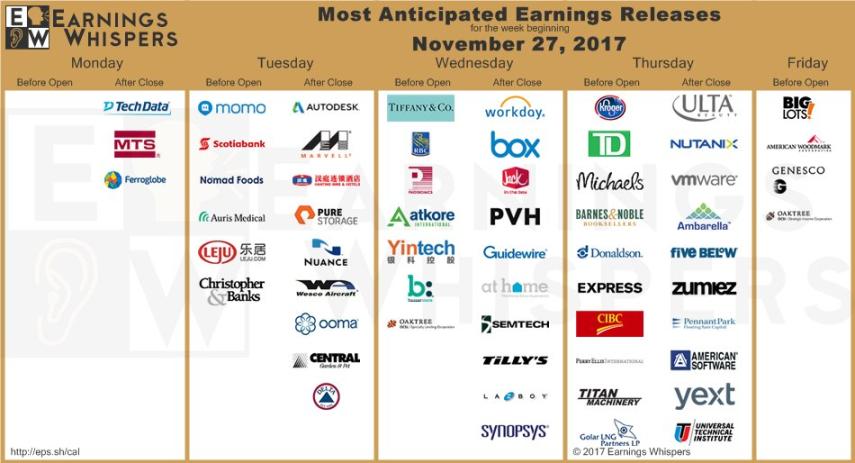 Seekingalpha:
U.S. stock index futures are pulling back from the Wall Street highs seen in the previous session as the Senate tax bill ran into significant hurdles. With concerns over the deficit, it's now possible that deep tax cuts might have to be moderated, future tax increases might be built in and that some conservatives might seek to attach spending cuts. A Senate vote has now been delayed, and it's not clear if it will even take place today.
Economy
The breakthrough in Brexit talks that Theresa May has been working to clinch next week is at risk after Northern Ireland's Democratic Unionists made it clear they were in no mood to compromise over the Irish border. Other big news from Britain... RBS is closing more than a quarter of its branches across the U.K., or 259 locations, as the bank encourages customers to use its online services.
November was the best month for eurozone factories in over 17 years. IHS Markit's final manufacturing PMI for the bloc climbed to 60.1 last month from October's 58.5. Suggesting the expansion will continue through December, new orders soared, backlogs surged and headcount increased at the fastest rate since the survey began in 1997.
Seeking to forge a new government, German Chancellor Angela Merkel has held her first meeting with the Social Democrats, while the business world criticized the prolonged political deadlock. "Germany can afford many things, but not an unstable government," said VW Truck & Bus (OTCPK:VLKAY) CEO Andreas Renschler. The government should be ready to tackle future challenges "in a creative, bold and forceful way."
Greece plans to return to the international capital markets with a new seven-year bond issue early next year, after completing a €30B voluntary bond swap this week, FT reports. If market conditions are favorable, two more issues of three- and 10-year bonds would follow by July, ahead of Greece's expected exit from its bailout program next August.
On the third day of his trial, Halkbank executive Mehmet Hakan Atilla told a U.S. federal court that Turkish President Recep Tayyip Erdogan had authorized transactions to help Iran evade U.S. sanctions. Several methods to launder the money were carried out, like gold trades and fake food purchases, while his testimony could further strain relations between the two NATO allies.
The Hwasong-15 missile that North Korea launched on Wednesday is a new type of ICBM that can fly over 8,080 miles, a South Korean defense ministry spokesman told Reuters. South Korea's economy appears to be shaking off the tensions. Gross domestic product expanded at a 3.8% annualized rate in Q3, marking the fastest pace of growth in seven years.
A private survey that focuses on small and medium-sized firms in China showed that manufacturing activity picked up at a slower pace in November. The Caixin/Markit manufacturing PMI came in at 50.8, the lowest level in five months. The economy in Q4 is still likely to "maintain the stability observed since the start of the second half of the year," said Zhengsheng Zhong of CEBM Group, a subsidiary of Caixin.
Stocks
Lithium-ion revolution? Tesla's (NASDAQ:TSLA) Elon Musk has beat today's 100-day deadline to install the world's biggest battery in South Australia, which will supply power to 30,000 homes. But he'll probably have to relinquish that crown by February. Hyundai Electric & Energy Systems is building a 150-megawatt unit, 50% larger than Musk's, that will go live in about three months in Ulsan, South Korea.
With some bad blood spilled during the last few months, Toshiba (OTCPK:TOSYY) is close to settling a legal dispute with Western Digital (NYSE:WDC) that has threatened to become a major stumbling block in selling its $18B semiconductor unit. According to Bloomberg, the U.S. firm will drop its efforts to block the deal in exchange for an extension of their joint venture agreements.
ASML -2% premarket after Intel (NASDAQ:INTC) cut its stake in the Dutch semiconductor equipment supplier to below 5%. The U.S. company took a 15% stake in 2012 as part of a program to help build the next generation of smaller, faster chips. With ASML's new machines now entering commercial production, the investment program is winding down.
Bitcoin is hovering around the $9,900 level after tumbling about 15% from an all-time high hit this week in volatile cryptocurrency trade. In further signs of mainstream acceptance, however, bitcoin has gone to the Big Four. Accounting firm PricewaterhouseCoopers has accepted the first bitcoin payment for its advisory services.
According to Reuters, Nissan (OTCPK:NSANY) has begun international arbitration against India to seek more than $770M in a dispute over unpaid state incentives. There are currently over 20 similar cases pending against the nation, among the highest of any single country, brought by investors concerned about issues ranging from retrospective taxation to payment disputes.
Lyft saw an explosion of sales growth in the first half of the year, according to The Information. Revenue is estimated to have tripled from the year-ago period to $483M, while LYFT's net loss fell 27% to $206M. The company's strong revenue gains come at a time when larger rival UBER struggles with a series of scandals and setbacks.
General Motors thinks it can make billions of dollars building and operating a fleet of self-driving cars, taking on UBER, LYFT and others. "This business is potentially bigger than our current core business," CFO Chuck Stevens told analysts yesterday. GM hopes to launch its autonomous robo-taxi fleets in big cities by 2019.
With six years of shrinking sales and a wave of maturities coming due in 2018, Sears (NASDAQ:SHLD) is seeing less big-box in its future. "Innovative smaller-format stores continue to showcase our company's unique integrated retail capabilities by combining new technology, our strongest categories and in-store experts," CFO Rob Riecker said on a pre-recorded conference call.
Amazon is in talks with generic drugmakers, including Mylan (NASDAQ:MYL) and Sandoz (NYSE:NVS), about a potential entry into the pharmacy space. The conversations are about making a role in drug purchasing, competing against distributors such as McKesson (NYSE:MCK), AmerisourceBergen (NYSE:ABC) and Cardinal Health (NYSE:CAH), but the plans remain vague, and some are skeptical Amazon (NASDAQ:AMZN) will pull the trigger.
Blue Apron +3% premarket after replacing CEO Matthew Salzberg with CFO Brad Dickerson, who joined the company from Under Armour (NYSE:UAA) in 2016. Salzberg is the second co-founder to leave following Blue Apron's (NYSE:APRN) stock market debut in June. The meal-kit maker is struggling to hold on to customers and reverse a precipitous drop in investor confidence.
Copyright infringement? Disney (NYSE:DIS) has filed a lawsuit against Redbox in an attempt to stop the DVD rental company from selling digital copies of its movies. Redbox is offering $7.99 to $14.99 per title because it doesn't have a distribution arrangement with the studio and buys retail copies of its discs to rent to customers that come with download codes.
Another battle... Qualcomm (NASDAQ:QCOM) has filed three new patent infringement complaints against Apple (NASDAQ:AAPL), saying there were 16 more of its patents that the company was using on its iPhone. It follows Apple's countersuit on Wednesday against Qualcomm, which alleged that Snapdragon mobile phone chips infringed on its patents.
Microsoft has elected four new members to its board of directors, bringing the total to 14, of which nine have been appointed since Satya Nadella became CEO in February 2014. He has already made a significant mark on the company, emphasizing its cloud products over the Windows franchise, and getting Microsoft (NASDAQ:MSFT) out of the smartphone business. Since Nadella took over, shares have soared more than 70%.