Friday  Morning Reads
Morning Reads:
Options: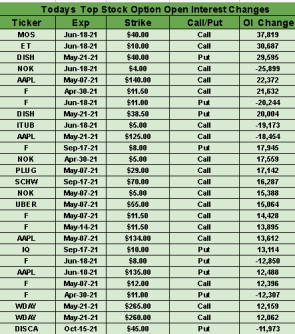 Futures:
Premium:
Prepper:
Closed since March 2020 due to the coronavirus pandemic, Disney's (NYSE:DIS) two California theme parks are getting ready for their grand reopening today. Things will still look a little different with guests required to wear masks and Mickey Mouse maintaining social distancing, though the company has called back more than 10,000 cast members. The reopening of Disneyland and California Adventure will also be restricted to California residents, at least initially, despite California allowing vaccinated out-of-state visitors to visit its theme parks.
By the numbers: The stringent guidelines have been quite costly. Disney's "Parks, Experiences and Consumer Products" division accounted for 37% of its $69.6B in total revenue in 2019, or around $26.2B, but a year later, revenue shrank to $16.5B, or around 25% of the company's $65.4B total revenue. The rules have also been controversial. While California officials only began allowing theme parks to reopen from April 1, Disney had petitioned to unlock its property gates starting in November. Company executives even cited successful reopenings at some of its other theme parks, including Disney World in Florida.
Technology is at the forefront of the reopening. Guests are being urged to use cashless pay options - via the parks' MagicBands or their smartphones - and to use the parks' mobile ordering system to buy food. Virtual ride queues will also help maintain social distancing, while an online reservation system will assist with crowd control. "Genie," a new digital offering from Disney, will additionally optimize park trips for guests by creating a clear itinerary of what they want to do and eat during their stay.
Stock price: Given the strain on live entertainment, a greater focus on Disney's streaming efforts has been factored into DIS shares over the past year, with the stock rising 75% to $185. "There's a lot more at play," Michael Wiggins De Oliveira writes in a recent SA article, saying that "while Disney+ makes the biggest headlines, it's not the whole Disney story." Others like Trapping Value say while the "reopening economy should also benefit Disney's theme parks and boost earning potential in 2021-2022, at the current valuations, all of this (and more) is being discounted." "Disney now trades at 19X the most optimistic 2025 estimates," according to the SA author, who calls the stock the "best short hedge on the market." (8 comments)