Thursday Morning Reads
reads:
futures:
Options: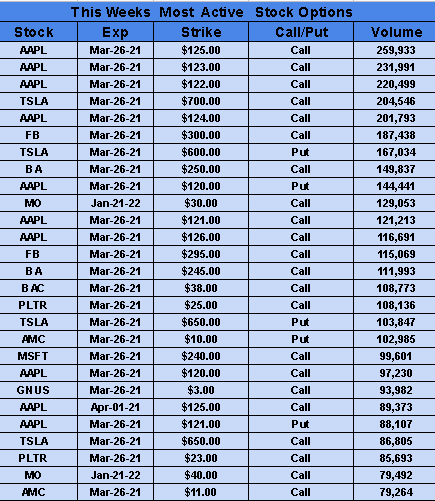 Premium:
Seeking Alpha
Following the completion of the current round of stress tests, the Federal Reserve Board will end its temporary restrictions on most banks paying dividends and buying back shares after June 30. Firms with capital levels above those required by the stress test will no longer have to face the curbs, while banks with capital levels below those required will remain subject to the limitations. In premarket trading: JPMorgan Chase 

(NYSE:JPM)

 +1.3%, Bank of America 

(NYSE:BAC)

 +1.1%, Citigroup 

(NYSE:C)

 +1.2%, Wells Fargo 

(NYSE:WFC)

 +1.3%, Morgan Stanley 

(NYSE:MS)

 +1.2%, Goldman Sachs 

(NYSE:GS)

 +0.7%.

"The banking system continues to be a source of strength and returning to our normal framework after this year's stress test will preserve that strength," Vice Chair for Supervision Randal Quarles said in a statement.

Backdrop: The central bank had prohibited the largest U.S. banks from buying back stock in order to conserve capital as the pandemic tore through the U.S. economy. The full restrictions were set to expire on March 31 after being enacted in June of 2020. Last week, the Fed also announced that the temporary change to its supplementary leverage ratio rule, which was implemented during the coronavirus crisis, would expire at the end of this month.

Go deeper: The Fed had previously allowed banks to restart buybacks in the first quarter, though the banks couldn't return to shareholders more than they have been making in profit over the past year. The latest announcement will provide more clarity for investors and to a financial sector that has become one of the biggest stock market leaders. The group is up 14.7% year to date on the S&P 500, while the SPDR S&P Bank ETF (NYSEARCA:KBE) is more than 20% higher YTD.

Equities notched a green session on Thursday, while stock index futures rose by another 0.3% overnight, though caution still reigns high in the current trading environment. If bond yields are still part of the equation, the rate on the 10-year Treasury tacked on another 6 bps to trade at 1.67%. Markets could also be driven by a number of end-of-quarter trades, though analysts noted that some headlines were mostly supportive for stocks.

Examples: Americans are increasingly back to work and returning to old spending habits. U.S. Labor Department data on Thursday showed claims for unemployment benefits dropping to a one-year low as stronger hiring and consumer outlays drove an economic revival. Worker filings for unemployment benefits fell to 684K last week from 781K a week earlier, below the pre-pandemic high of 695K.

Consumer snapshot: Darden Restaurants (DRI), owner of Olive Garden, closed up 8% on Thursday after posting a robust forecast for its current quarter. It even said restaurant sales were stronger than even 2019 levels in its most recent week, while raising its dividend by ~138% and approving a new $500M buyback program.

Elsewhere, WTI crude oil futures (CL1:COM) sold off nearly 5% on Thursday, reversing Suez-inspired gains, but rebounded 2% overnight on word that it could take weeks to dislodge the ship blocking the canal. Meanwhile, Bitcoin (BTC-USD) is holding steady at the $53K level after a recent selloff, though futures contract rollover suggests the crypto could face more downward pressure in the near term.

The latest round of Big Tech vs. Congress took place yesterday in a nearly six-hour virtual hearing with the House Energy and Commerce Committee. The lineup featured the CEOs of Alphabet (GOOG, GOOGL), Facebook (NASDAQ:FB) and Twitter (NYSE:TWTR) and started with some big blows. "It is now painfully clear that neither the market nor public pressure will force these social-media companies to take the aggressive action they need to take to eliminate disinformation and extremism from their platforms," Committee Chair Frank Pallone Jr. (D-NJ) said in opening remarks. "And, therefore, it is time for Congress and this Committee to legislate and realign these companies' incentives to effectively deal with disinformation and extremism."

"The [Capitol Hill] attack started and was nourished on your platforms. Your business model itself has become the problem," Pallone continued, adding that the companies in the past have just "shrugged off billion dollar fines." Other representatives also took some jabs. "These platforms are hotbeds of disinformation despite new policies," said committee member Jan Schakowsky (D-IL), while Doris Matsui (D-CA) declared, "Big Tech is handing our children a lit cigarette and they become hooked for life."

Is regulation in the cards? At least two pieces of legislation are in progress, with the "Protecting Americans from Dangerous Algorithms Act" being reintroduced this week. It seeks to narrowly amend Section 230 of the Communications Decency Act, which provides a liability shield for social media companies, by holding platforms liable "if their algorithms amplify misinformation that leads to offline violence." Another bill, called the "Online Consumer Protection Act," could also hold tech companies more accountable.

Outlook: While efforts toward regulating Big Tech under the Trump administration focused on antitrust law and the censorship of views, Democrats have expressed fears over disinformation, hate speech and conspiracy theories. Regulation faces a long road ahead given the economic engines provided by Big Tech, their global reach and lobbying efforts within Washington. The transformation of society's relationship to these companies is also unprecedented, with the products used to manage most of people's professional and private lives, and have only gained in importance during the coronavirus era.

President Biden has set a new goal of administering 200M COVID-19 vaccine doses by the end of April, doubling his target for his first 100 days in office. The objective is doable at the current pace of inoculations and may even exceed Biden's new target as manufacturers ramp up production. Johnson & Johnson (JNJ) is poised to sharply increase shipments after its vaccine was given emergency use authorization by the FDA a month ago, while Pfizer (PFE) and Moderna (MRNA) have also steadily increased their production.

"The recovery is really hitting full steam again, and all of the conditions will be in place for a real, explosive liftoff in the summer when hopefully we've reached a higher vaccination threshold," said Julia Pollak, labor economist at ZipRecruiter.

Across the Atlantic: EU leaders clashed over vaccine distribution at a marathon virtual summit on Thursday and failed to settle a fight about supply of the jabs among member states. Austrian Chancellor Sebastian Kurz criticized the allocation of shots, demanding additional supplies to Vienna, while some brought up the vaccine share of poorer Eastern European states. The countries failed to come to an agreement, but pledged to strengthen vaccine export controls and production on EU soil.

Other happenings: A new study, a pre-proof of which was published in the American Journal of Obstetrics & Gynecology, found the mRNA COVID-19 vaccines made by Pfizer and Moderna are safe and effective for pregnant women. Pfizer also started clinical trials of its COVID-19 vaccine on healthy children aged 6 months to 11. They will begin receiving a 10 microgram dose of the vaccine before progressively moving to higher doses, though the option for 3 microgram doses is also available (vaccines for adults require two shots that contain 30 micrograms per dose). (70 comments)

Over the past 24 hours, many global brands have found themselves at odds with public sentiment in China due to their participation in the Better Cotton Initiative, an industry body that has been vocal about labor practices in Xinjiang. The region is home to 12M Uighurs, mostly Muslim, and millions of them have been confined to internment camps, according to foreign researchers and governments. Beijing denies any mistreatment, calling the facilities Vocational Education and Training Centers, which are intended to promote economic development and stamp out radicalism.

Why is the backlash happening now? Earlier this week, the EU, the U.S., Britain and Canada imposed travel and financial sanctions on Chinese officials for alleged human rights abuses in the region. Beijing retaliated with sanctions on European lawmakers and institutions, especially hurt by its involvement in the process. Relations with the EU have been somewhat amicable amid tensions with Washington over trade disputes, IP theft and regional positioning.

Past statements made by foreign companies about forced labor in Xinjiang have also been flagged on Chinese social media. As a result, more than 40 local celebrities signaled they would end contracts with brands like H&M (OTCPK:HNNMY), Burberry (OTCPK:BURBY), Adidas (OTCQX:ADDYY), Nike (NYSE:NKE), Tommy Hilfiger (NYSE:PVH), Calvin Klein, Zara (OTCPK:IDEXY), Uniqlo (OTCPK:FRCOY), Converse, Puma, New Balance and Lacoste. Honor of Kings, China's No. 1 online battle game, developed by Tencent (OTCPK:TCEHY), also ended a partnership with Burberry.

Thought bubble: For years, companies tiptoed around thorny subjects in China, worried about their foothold given its tremendous market size (think back to the NBA-Hong Kong controversy in 2019). Corporations are now worrying about backlash abroad, as concerns over human rights can spread on social media within hours. But a loss of sales in China, the only major economy where consumer spending has rebounded to above pre-pandemic levels, can especially be painful at a time when demand is still weaker across the U.S. and Europe.