Friday Morning Reads
Reads:
Futures:
Open Interest: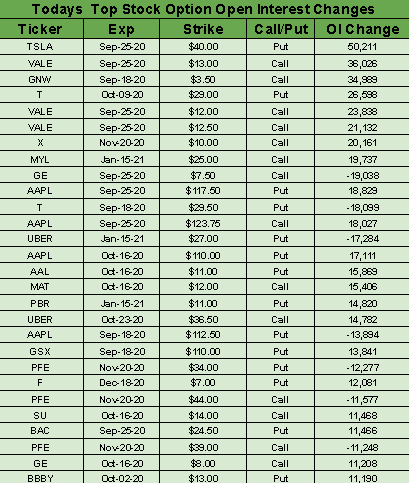 Premium:
Seekingalpha:
U.S. equity futures held up overnight following another selloff on Wall Street that was led by major tech names. Contracts tied to the Dow and S&P 500 are hugging the flatline, while Nasdaq futures pared recent losses by 
climbing 0.6%
. Mixed messaging around a potential coronavirus vaccine, as well as the passage of further fiscal stimulus, weighed on the market, while investors are gearing up for consumer sentiment data set for release at 10 a.m. ET. Don't forget that it's also quad witching day, which refers to the simultaneous expiration of market index futures, stock futures, market index options and stock options. "These days tend to get a lot of press for all of the volume they create, but historically they are nearly always a non-event," said Ryan Detrick, senior market strategist at LPL Financial.
Spending deal to avoid government shutdown
While there may be disagreement over another round of coronavirus relief, lawmakers are aiming to unveil a bipartisan spending bill today to avert a government shutdown on Oct. 1. The "clean" legislation, largely devoid of any controversial measures, should keep the government funded into mid-December. "I don't think anybody wants to be responsible for shutting down the government on the eve of an election in the middle of a pandemic, so it's a rare outbreak of common sense on both sides," said Rep. Tom Cole (R., Okla.), a senior member of the House Appropriations Committee.
"Starting next week my administration is committing an additional $13B in relief to help farmers recover from the China virus," President Trump announced a campaign rally in Mosinee, Wisconsin. The new aid is the second tranche of money issued as part of the Trump administration's Coronavirus Food Assistance Program. In April, the administration unveiled $19B in relief for the agriculture sector under the CARES Act, including $16B in direct payments to farmers and ranchers and $3B in mass purchases of dairy, meat and produce.
Fed mulls extension of bank dividend curbs
Due to heightened economic uncertainty, the Federal Reserve is considering extending its caps on banks' dividends and stock repurchases for the rest of the year. The U.S. central bank made the announcement along with its release of hypothetical scenarios for the second round of stress tests that it's requiring due to the COVID-19 pandemic. Unlike an earlier round of stress tests this year, the Fed will release the results of the tests for each of the 33 lenders, rather than providing aggregate results for the group.
The Bank of England held its benchmark policy rate at 0.1% on Thursday, but indicated it could cut interest rates below zero for the first time in its 326-year history. While recent domestic economic data has been a bit stronger than expected, it's "unclear how the economy will perform further out," according to the Monetary Policy Committee. Another major risk facing the U.K. economy relates to the post-Brexit trade discussions between the U.K. and the EU, which have recently soured.
The Trump administration spent Thursday reviewing proposals on the TikTok-Oracle (NYSE:ORCL) partnership, which currently has many moving parts. TikTok owner ByteDance (BDNCE) agreed to list the video-sharing app on a U.S. stock exchange, which could happen within a year, though there are still concerns over whether the Chinese parent would be allowed to retain a majority stake in the new company. Meanwhile, shares in China's Tencent (OTCPK:TCEHY) tumbled into the U.S. closing bell following reports that its investments are drawing new national security attention.
Seeing off competing bids from Deutsche Borse (OTCPK:DBORY) and Switzerland's SIX, the London Stock Exchange (OTCPK:LNSTY) is in exclusive talks to sell Borsa Italiana to France's Euronext (OTCPK:EUXTF). Offloading the Milan stock exchange would help LSE achieve regulatory remedies for its $27B purchase of data provider Refinitiv, which is owned by Blackstone (NYSE:BX) and Thomson Reuters (NYSE:TRI). The deal is politically sensitive in Rome because of concerns about who could take control of Borsa Italiana's bond platform, which handles trading of Italy's government debt.
New COVID-19 restrictions across Europe
Targeted lockdowns and local restrictions are returning to Europe as the region tries to avoid broad economic damage amid a surge in coronavirus cases. "Weekly cases have now exceeded those reported when the pandemic first peaked in Europe in March," the WHO's regional director for Europe Hans Kluge told an online news conference. "Although these numbers reflect more comprehensive testing, it also shows alarming rates of transmission across the region." Pubs and restaurants must shut early and household mixing has been limited in northeast England, while social gatherings of more than six people have been banned across the country. French authorities are meanwhile preparing tighter restrictions in several cities, while Spain's Madrid has moved to "reduce mobility and contacts" in areas with high infection rates.
Go Deeper: Israel becomes first developed country to enforce a second nationwide shutdown.
Pandemic closures see restaurants hit the hardest
About 60% of businesses that have closed their doors during the coronavirus pandemic will never reopen, and restaurants have suffered the most, according to new data from Yelp. The National Restaurant Association also said this week that 100,000 restaurants have closed either permanently or long term, adding that the sector is on track to lose $240B in sales this year. A number of factors have made it especially difficult for eateries, which tend to operate on thin margins even in the best of times.