What an incredible trading session yesterday!  At one point the VIX was up over 50%!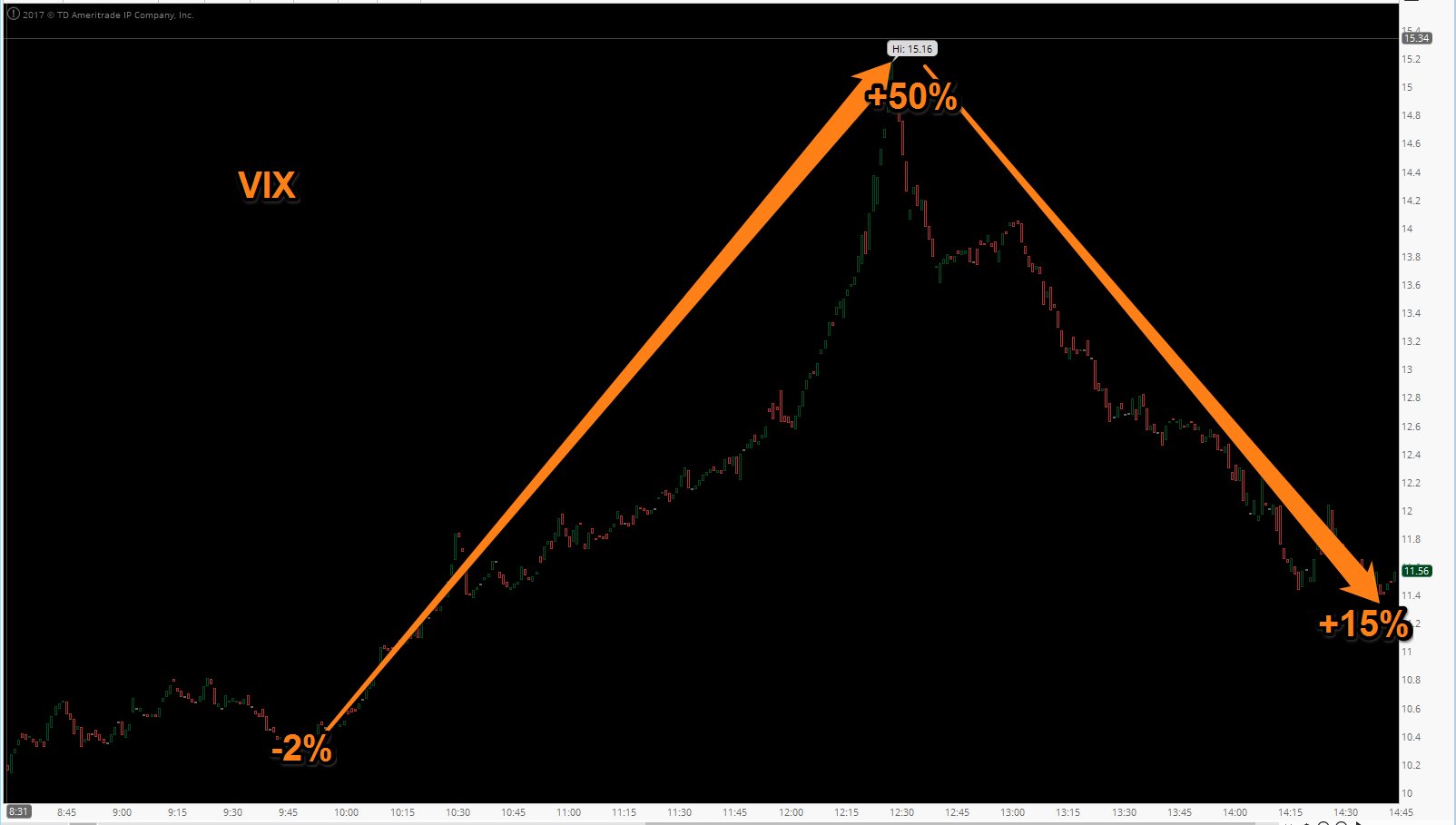 This morning its down 2% and down 4 from yesterdays highs.  In years past a VIX spike would last for at least a few sessions.  In 2017 an elevated VIX has a half life of just a few hours.
After soaring 50% the VIX ended the day up less than 15%.  The old rope a dope is still working.   The market continues to give the illusion of weakness before returning to its low volatility grind higher.
The bottom line is the dip buyers remain at the ready, which makes it tough to believe any sustained downside is on the horizon.
If anything, weakness has brought out even more buyers over the last 8+ years.    Ebola, Brexit, and even the election in 2016, have fit the pattern of tremendous short term weakness followed by an even more tremendous rally to new record highs.
Let's not forget the market was limit down election night.
For the 1,000th time it bears repeating.  Every single dip in this market since the dawn of man has been a great buying opportunity.
But that doesn't mean we won't see a correction again in our lifetime.  Janet Yellen thinks we won't  see another financial crisis in our lifetime, but that doesn't mean prices won't fall ever again.  Yesterday was a perfect example of that.
If anything a pull back like yesterday sobers up the bulls.  It also brings all those bears out of their caves.  And negativity has helped to fuel this market over the years.
As we close out this week and head into a holiday shortened week next week, I will be looking for key support levels to hold.  Also trading action, despite the wild swings, remains contained.   Up, down, up, down, up.....  makes it tough to hold any short term option for any type of continuation.
For more downside into July I will be watching $QQQ $137.  That is a level that has held previously over the last few weeks, and yesterday the market did not like being under it for very long.
Each of the recent tests of $137 has seen at least a $3 rally, meaning $QQQ could push back up to just under $140.
A break and close under $137 would set up a nice short, to medium term trade for downside.
For now the market is choc full of dip buyers.  We saw it yesteday.  With the 'Fear Index' soaring over 50%, the dip buyers, on the other hand,  displayed little concern about more potential downside.
The sharp reversals at $QQQ $137 indicate strong support there.  It did break briefly yesterday, but again support held into the afternoon and close.
A break and hold under $137 will indicate the buyers have dried up and that the tech pull back has more room to go.
Where will $QQQ head on a support break?
I'll be trading for a move to ~$132.50.
Have a great Friday.