Brexit Mattered for a few days, and then it went back to not mattering at all.  The Great Italian Banking crisis lasted all of two days.  Grexit?  Ebola? The Jobs Report trumps them all, and I am using that term in the card playing way not the presidential candidate one.
This morning S&P500 futures were shaping up for a sharp resolution.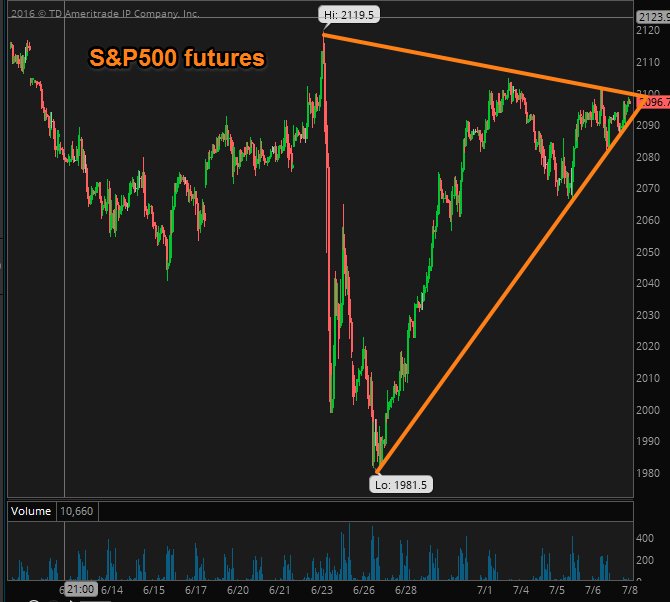 and we got that resolution sharply to the upside:
We are now almost back to the highs we saw after the market closed on the night of the Brexit vote.
The market has failed to break out from this level previously.  Could the fourth time be the charm?
It was a robust jobs report.
The U.S. Bureau of Labor Statistics released its June jobs report at 8:30 am ET, showing 287,000 jobs added, topping consensus of 180,000 and also exceeding the top end of the consensus range between 130,000 and 235,000. The unemployment rate came in at 4.9%, higher than consensus of 4.8%, according to data compiled by Econoday
Could this be the trigger for new record highs in the stock market?
S&P500 futures rest on the cusp of a siginifcant breakout.  Strong, thus far unbreakable resistance lies overhead.  Strong long term support lies at prices 12%+ lower.
Volatility continues to get crushed.  The VXX has traded to a new all time record low this morning.  The VIX looks poised to trade to the lows we saw last summer.
If the market does indeed breakout to new record highs this summer, we could look back, not to the next set of headwinds the market endured, but to this strong jobs report as the catalyst because Jobs Matter.
See you in the chat room