Greece was given its 3rd bailout, the market digested China currency devaluations, yet in reality nothing was resolved.  We continue to get mixed signals. It's a market with more than enough reasons to pull back, yet it remains aloft.
Here is today's:
To make matters worse, after a sharp decline mid-week, stocks again managed to close above support.  We head into another weekend in limbo.  I'd rather have a clear separation...  a breakout or a breakdown.  But we got neither.  If anything the market showed, some 6+ years into a historic bull market, that it has not lost its resiliency.
It was another round trip.  We had a boomerang mid-week, where stock futures collapsed and then reclaimed those very same losses 24 hours later.  We had a similar type week, where stocks started off strong, pulled back mid-week, yet managed to come back to end the week almost where it started it.
This has been the theme in 2015.  It's been almost 8 full months of consolidation.
I continue to watch $IWM $120 - $SPY $208 - and $QQQ $110 as key support levels.  Each was broken with vigor mid-week but reclaimed on Friday.
With every break of these key support levels comes the risk that prices won't get back over them.  We head into the weekend above support, yet its safe to say  one more break of $IWM $120 could spark a pull back under $118.
The market didn't seem too worried heading into the weekend.  The VIX again got crushed into the close, moving back into the 12's after seeing 16's mid week.  The long term picture, in my view, is setting up for a move under 10, which would imply record high stock prices.
$AAPL had a rather quiet ending to the week.  I don't think this market can head to record highs without $AAPL helping out.  The question now... is the selling over?  Has the worst past for the longs?  Or is $AAPL just setting up for another more to the downside.
I think its worth nothing the recent pull back has taken a pause and that we could very well be looking at a bear flag - which means lower prices are to come.  I think we'll find out over the next few trading sessions what $AAPL has in mind.  Heading into September we could be looking at a $130 stock or a $105 stock.  I'm not sure its going to be $116 in a few weeks.  $AAPL has offered some great short term trading opportunities.  If the pattern of the last few weeks plays out $AAPL will drop at the start of the week and rally into the end of the week.
Two stocks I was trading for upside this week ended up collapsing to fresh multi-year lows instead.  $GMCR and $WYNN both looked to be holding up on key support, I bought calls for a move higher and support quickly gave way.  $GMCR dropped some $5 getting sucked under the $50 level.  $WYNN fell quickly to $92 and change.  In each case had I bought PUTs instead of CALLs I would have finished the week with some tremendous profits.  I'm usually pretty good at finding stocks poised for a breakout or in this case a breakdown.  I'd like to say I'm right all the time, but I am not.  And while I think both of these stocks will trade higher in 2015 than they are right now, short term stock options can make a bad trade look incredibly terrible.  There is nothing bringing the bid back on those options I bought this week.
I also think its a good lesson that no matter how far a stock has fallen it can continue to fall.  It is very difficult to find a bottom for a stock.
The same goes with the overall market.  I am quick to point out how many have called the top for the stock market.  Even in 2010 there were so many skeptics out there (myself included) that never saw this historic rally coming.  After a few years of seeing the relentless bid,  continued central bank support, and a trend forming I took the side of the brainless bulls.  The safer trade is waiting for a bottom and/or waiting for the stock to break higher off that bottom first.  In this case neither stock has broken higher off recent lows.
With stocks sometimes it's as simple as a trend.  Is the stock  in a downtrend - trade it to go lower.  A stock is in an uptrend - trade it to go higher.   So yes.  In that respect I've been rather dumb the last few years.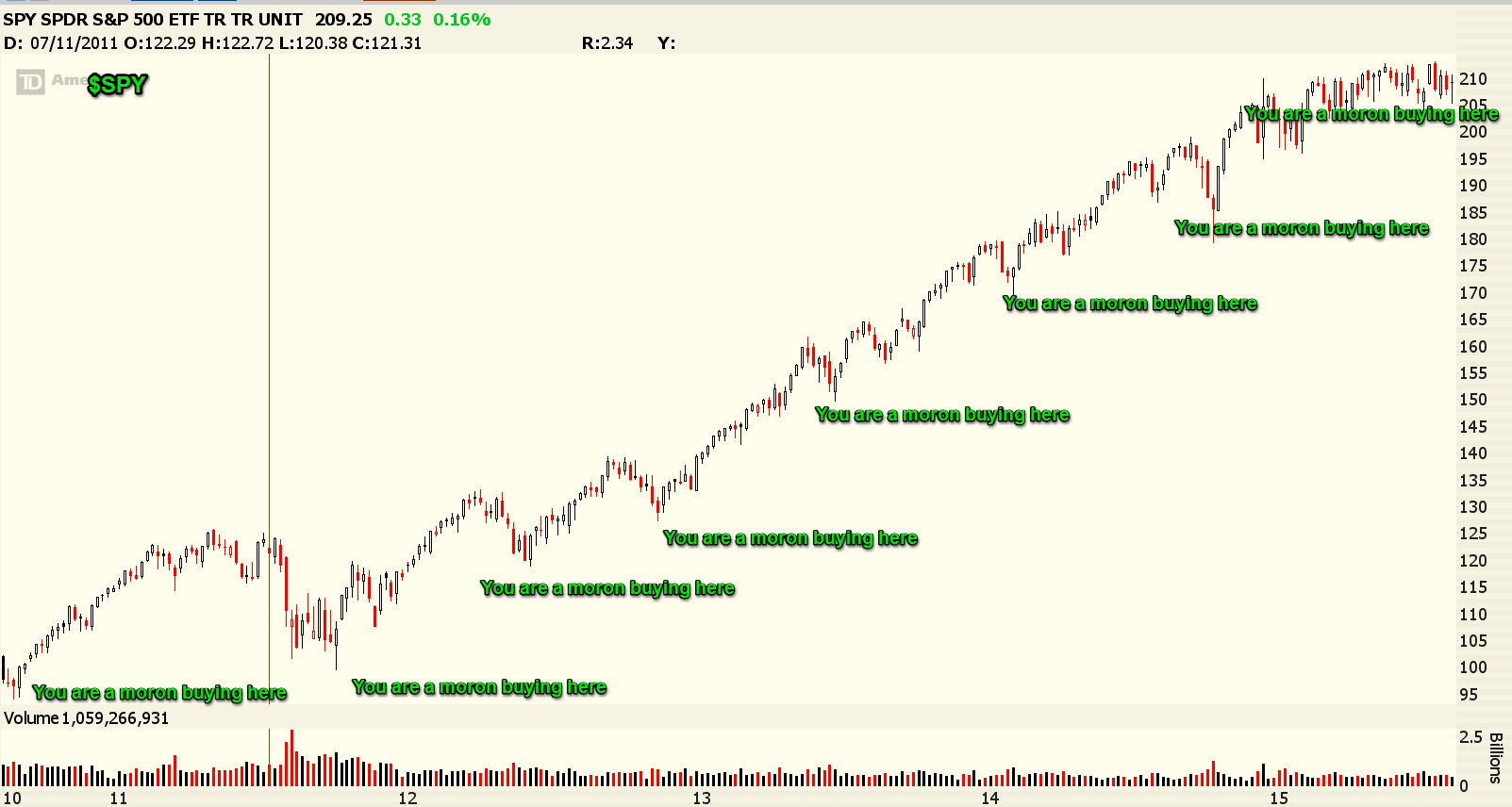 Heading into next week, earnings season is winding down.  That might be a good thing for this market.  We've seen a lot of the big names get crushed this earnings season.  We have Greece off the radar for now, and if China can get itself out of the headlines for a few sessions, we might just have a rally to contend with next week.  And all the waiting of the last few weeks will be worth it.