Wedensdays Market Prepper
---
News
Reads
The best books of 2017
Charts:
Premium:
Yesterdays Unusual Option Action
Earnings this week: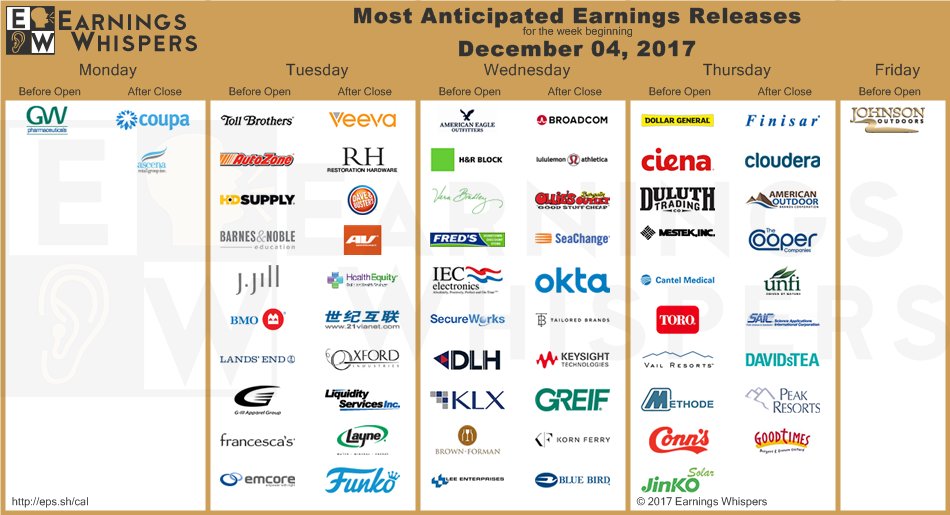 Seekingalpha:
A holy sell-off appears to be underway as President Trump is set to officially recognize Jerusalem as the capital of Israel and initiate the process of relocating the U.S. embassy to the city from Tel Aviv. Equities were hit hard overnight in Asia, while the losses are now extending to Europe and the U.S. Arab leaders have warned that the momentous shift in foreign policy could spark unrest and violence across the Middle East.
Economy
Lebanon's Prime Minister Saad Hariri has rescinded his resignation after governing partner Hezbollah agreed to remain neutral in regional conflicts in order to preserve the country's "economic and political relations." The militant group plays a key role in Lebanon's government but its armed wing is fighting in Syria to support fellow Iranian ally President Bashar al-Assad.
Seeking to bolster its military capabilities against its nuclear-armed neighbor, South Korea is aiming to create a weaponized drone unit to swarm North Korea in the event of a conflict, FT reports. It comes after Seoul said it would increase its annual military budget by 7% next year - its biggest jump since 2009 - as a result of the "grim security reality."
Australia's economy grew at the fastest annual pace in over a year last quarter, with GDP expanding at a 2.8% annualized rate due to a jump in private business investment. The result will be no surprise to the Reserve Bank of Australia, which yesterday kept interest rates steady at 1.5% in anticipation of faster growth and a gradual revival in inflation.
"I think we will join the [ECB's quantitative easing] program but it's not so crucial for us, as we believed before," Greek Prime Minister Alexis Tsipras told CNBC. The country is currently unable to enroll in the program because its debt doesn't have an investment grade rating, but that may change next year if the nation successfully concludes the end of its third bailout.
European Commission Vice President Valdis Dombrovskis is ready to assist new members wanting to join the eurozone. "We propose [new tools for structural reforms] to support those member states working toward euro accession," he told CNBC. The effort also involves a motion to "transform and strengthen" the ESM by turning it into a European Monetary Fund.
Stocks
Is bitcoin still "a fraud" as Jamie Dimon coined the cryptocurrency in September? Bitcoin has now climbed above the $12,000-level as money keeps pouring into the new asset class. In fact, cryptocurrencies' total market value edged up to another record high, totalling more than $370B and surpassing the market cap of JPMorgan (NYSE:JPM).
While it has put a lot of thought into the idea of cryptocurrency futures contracts, Intercontinental Exchange (NYSE:ICE) has yet to move forward due to the opaque nature of the underlying markets, according to CEO Jeff Sprecher. Rivals CBOE and CME will introduce bitcoin futures contracts on Dec. 10 and Dec. 18, respectively, while Nasdaq (NASDAQ:NDAQ) will launch bitcoin futures next year.
James Murdoch has been suggested as a potential successor to Disney (NYSE:DIS) CEO Bob Iger in deal discussions with the U.S. media company over the sale of 21st Century Fox (NASDAQ:FOXA) assets, FTreports. Rather than continue to jockey for power with his brother and famous father, Rupert Murdoch's younger son is likely eager to establish himself as a media mogul in his own right.
The U.S. government is urging a federal judge to reject the February court date sought by AT&T (NYSE:T) and Time Warner (NYSE:TWX) in a dispute over the firms' proposed merger, which the DOJ feels could raise prices and hamper the development of online video. It has requested that proceedings start on May 7, but AT&T will have to pay Time Warner $500M if the deal is not consummated by April 22.
Xiaomi has asked banks to pitch next Friday for an initial public offering in 2018, sources told Reuters. It's expected to choose either Hong Kong or the U.S. as its listing venue. According to research firm Canalys, Xiaomi (Private:XI) has overtaken Apple (NASDAQ:AAPL) to become China's fourth-largest smartphone vendor by sales, driven in part by a focus on offline stores.
Tech battles... Microsoft (NASDAQ:MSFT) has shown off new laptops with Qualcomm's (NASDAQ:QCOM) ARM-based Snapdragon 835, although Windows PCs have traditionally used Intel (NASDAQ:INTC) chips. The latter is watching if the inclusion violates its IP rights. In other news, a YouTube (GOOG, GOOGL) spokesperson said the service will no longer be supported on Amazon's (NASDAQ:AMZN) Echo Show and Fire TV due to a lack of reciprocity.
New strategy? Ford (NYSE:F) is expected to sign a deal tomorrow that may allow it to test selling cars in China through Alibaba's (NYSE:BABA) online retail arm Tmall, Reuters reports. The partnership would also include a new retail concept called the "Automotive Vending Machine" - a multi-story parking garage that partly resembles a giant vending machine - to sell directly to consumers.
Looking to take back market share from Domino's Pizza (NYSE:DPZ) and Papa John's (NASDAQ:PZZA), Pizza Hut (NYSE:YUM) is testing beer delivery in Phoenix as a first step in what could become a major push into alcohol. Pizza Hut plans to add wine delivery in January, with alcohol delivery due to be rolled out in other cities in 2018.
Holiday shopping fallout... An "unprecedented" surge in online orders is causing some delays in deliveries as UPS scrambles to keep up with holiday shopping demand. The company has already notified workers at more than 100 delivery centers that it may raise driver work hours to 70 hours over an eight-day period.
General Electric is cutting 4,500 jobs across Europe after reviewing assets it acquired from France's Alstom (OTCPK:ALSMY) in 2015, Les Echos reports. GE will "review its operations to ensure the business is best positioned to respond to our market realities," and has issued a proposal to the European body representing legacy Alstom employees.
Speculation is on the rise... Amazon (AMZN) appears to have canceled a pharmaceutical wholesaler application in Maine, raising further questions about the tech giant's plans to enter the pharmacy space. Pundits and analysts feel Amazon may now be shifting toward selling medical supplies instead, an activity that does not require a license in the state.
Australia's consumer watchdog is taking the subsidiaries of Novartis (NYSE:NVS) and GlaxoSmithKline (NYSE:GSK) located Down Under to court over alleged false marketing of their pain relief gels. The action is part of a crackdown on "misleading representations" across the pharmaceutical sector led by the Australian Competition and Consumer Commission.
Home Depot is set to hold an investor day at its headquarters in Atlanta, GA, where it is likely to announce next year's strategy to investors. In its most recent quarter, the company's same-store sales blew past Wall Street estimates, boosted by repairs after wildfires and Hurricanes Harvey and Irma. HD shares have risen 36% since the beginning of the year.
The U.S. Commerce Department has slapped huge import duties on steel products from Vietnam that originated in China after finding that they evaded U.S. anti-dumping and anti-subsidy orders. The decision marks a victory for U.S. steelmakers, who won steep duties against Chinese steel in 2015 and 2016 only to see shipments flood in from elsewhere. Related tickers: MT, NUE, AKS, X
Toys 'R' Us has won court approval to pay top executives up to $21M in bonuses by arguing that the money will incentivize them to boost sales during the year-end shopping season. The U.S. Trustee, a federal bankruptcy watchdog, blasted the proposal, saying five of the potential recipients just split $8.2M in retention bonuses a week before Toys 'R' Us's bankruptcy filing on Sept. 19.
Today's Markets 
In Asia
, Japan 
-2%
. Hong Kong 
-2.1%
. China 
-0.3%
. India 
-0.6%
.
In Europe
, at midday, London flat. Paris 
-0.5%
. Frankfurt 
-1%
.
Futures at 6:20
, Dow 
-0.2%
. S&P 
-0.2%
. Nasdaq 
-0.5%
. Crude 
-0.8%
 to $57.17. Gold 
+0.4%
 to $1270.10. Bitcoin 
+8.6%
 to $12700.
Ten-year Treasury Yield
 -1 bps to 2.34%
Today's Economic Calendar
7:00
MBA Mortgage Applications
8:15
ADP Jobs Report
8:30
Productivity and Costs
10:30
EIA Petroleum Inventories