Wednesdays Market Prepper
Reads:
News:
Premium:
Charts:
Earnings: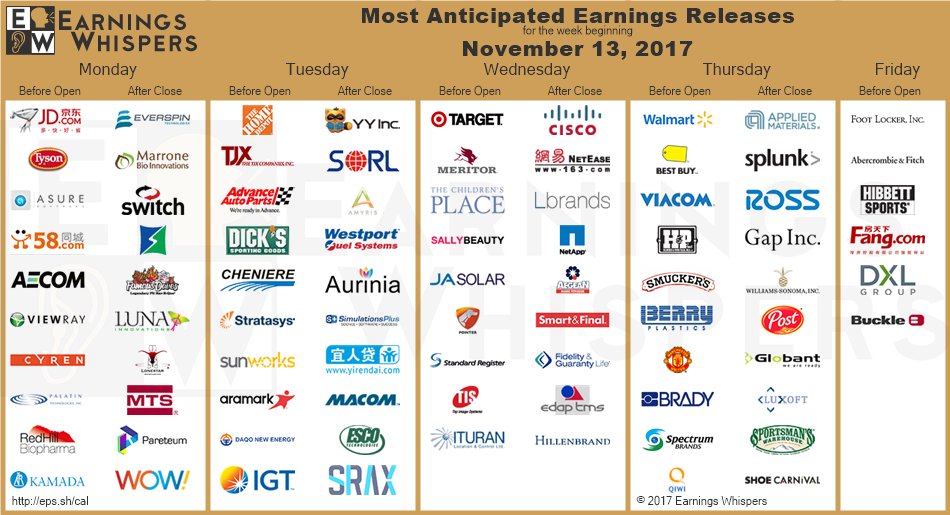 Option Data:
Seekingalpha
Airbus has scored the biggest deal in its history, negotiating to sell 430 A320neos - valued at nearly $50B - to investment fund Indigo Partners. The pact gives Airbus (OTCPK:EADSY) the upper hand at the Dubai Airshow, where it had been trailing Boeing (NYSE:BA) in terms of orders, and marks a crowning achievement for sales chief John Leahy, who is set to retire after a multi-decade career (...the battle continues below).
Economy
Markets will be watching CPI inflation data this morning to confirm whether the Fed is still on track to raise interest rates in December. The index is expected to rise 0.1%, translating to a 1.7% core rate of inflation on an annualized basis, after a hurricane-related jump in September. If the data is much stronger than forecast, it could also increase market expectations for next year.
Canada intends to escalate its legal fight against the U.S. Commerce Department's decision to impose a roughly 20% or more tariff on Canadian lumber imports. The country has filed a notice to set up a dispute resolution panel under the terms available through NAFTA, a settlement system the Trump administration wants to largely repeal during renegotiation talks.
Japan's economy expanded at an annualized pace of 1.4% in Q3, marking the seventh straight period of quarterly growth and longest of uninterrupted growth in more than a decade. It's welcome news for Prime Minister Shinzo Abe, who won a new mandate from voters in a national election on Oct. 22 to continue pushing the world's third-largest economy out of years of economic malaise.
A committee of derivatives industry group ISDA has again postponed a decision on whether Venezuelan state oil company PDVSA generated a credit event through a late payment of its 2017N bond. The group is set to reconvene tomorrow. A "failure to pay" declaration would trigger insurance-like contracts on PDVSA's bonds, known as credit-default swaps.
Soldiers took over Zimbabwe's state television early Wednesday, saying they were working to restore stability in the country, as gunshots were heard near President Robert Mugabe's residence and explosions sounded in the capital. "We wish to make it abundantly clear that this is not a military takeover," Maj. Gen. Moyo declared. The Zimbabwean economy has halved in size since 2000 and the nation has no currency of its own, using mainly the dollar as legal tender.
The Trump administration has unfrozen about $205M in Yemeni central bank funds, which were blocked under President Obama as part of an attempt to end the country's civil war. The move is being viewed as a sign of support to the country's Saudi-backed government, which has been fighting Iranian-allied Houthi rebels for the last two years.
Crude prices fell more than 1% overnight, continuing Tuesday's slide after the IEA cast doubts over the past few months' narrative of tightening fuel markets. An API survey showing a supply build also did not help prices. The fall means that oil is now down by around 5% since hitting 2015 highs last week, ending a 40% rally between June and early November.
Stocks
Fighting back against Airbus's (OTCPK:EADSY) lead at the Dubai Airshow, Boeing (BA) has snagged an order from flydubai for 175 of it 737 Max jets, as well as purchasing options for 50 more aircraft. The deal, whose total order is valued at $27B, represents the largest-ever single-aisle jet order - by number of airplanes and total value - from a Middle East carrier.
SpaceX's secret Zuma mission has been pushed off until tomorrow, with a launch window scheduled between 8 p.m. and 10 p.m. The Falcon 9 rocket, which will carry something provided by Northrop Grumman (NYSE:NOC), is also scheduled to return to earth for a signature SpaceX (Private:SPACE) landing. If all goes well, the booster touchdown will be the company's 20th overall success.
General Electric has lost its crown as the largest U.S. manufacturer by market cap, a title it held since 1980, following a 13% slide in its share price over the past two days. The new king? Boeing (BA), whose valuation totals about $156B. It's a major turn of events as GE was worth three times more than Boeing just a year ago.
Years of austerity have paid off... BP has officially begun a buyback program, making it the first European oil major to resume repurchases since the crude price slump, which began in 2014. The program had been authorized for between Nov. 15 and the date of its 2018 annual general meeting, with the maximum number of shares not exceeding 1.96B.
Several stocks were on the move during after-hours trading on Tuesday as investment managers and funds disclosed their quarterly 13F filings. IBMslipped over 1% after Warren Buffett cut back his position, while Hewlett Packard (NYSE:HPQ) rose 1% after David Einhorn upped his stake. Snap (NYSE:SNAP) also sunk into the red despite Fidelity and tech-focused Coatue Management boosting their holdings.
AstraZeneca has achieved another milestone in rebuilding its drug portfolio with U.S. approval of a drug for severe asthma called Fasenra (benralizumab). The medicine will compete with GlaxoSmithKline's (NYSE:GSK) Nucala and Teva's (NYSE:TEVA) Cinqair - two other injectable antibody drugs for severe asthma - but AstraZeneca (NYSE:AZN) believes its product's potency and convenient dosing could give it an edge.
U.S. Attorney General Jeff Sessions would not say if White House officials contacted his department about their review of AT&T's (NYSE:T) proposed purchase of Time Warner (NYSE:TWX), which one analyst said the DOJ may sue to block as soon as today. "I am not able to comment on conversations or communications," he told a House of Representatives Judiciary Committee hearing. President Trump had vowed to block the $85.4B merger during his presidential campaign.
Urging them to use another strategy, IBM has sent a letter to Congressional sponsors of bills seeking to tighten foreign investment rules due to concerns about China's military and potential IP theft. "As drafted, the bill could turn CFIUS into a supra-export control agency, unilaterally limiting the ability of American firms to do business abroad."
SenseTime has secured an investment from Qualcomm (NASDAQ:QCOM) in what could be the world's biggest ever fundraising by an AI startup. Located in Greater China, SenseTime is developing technology to quickly identify and analyze identities using cameras. It had planned to raise $500M in its latest round, valuing the startup at about $2B.
Betting on digital media and video after slashing its print publications, Time (NYSE:TIME) is launching Sports Illustrated TV, a subscription streaming service built around its iconic sports magazine. The service, priced at $4.99 a month, will initially be accessible only on Amazon Channels (NASDAQ:AMZN), which allows Prime members to subscribe to more than 130 subscription video channels.
Google has reclaimed its spot as the default search engine on Mozilla's Firefox Internet browser in the U.S. and other regions, stunning Verizon's (NYSE:VZ) Yahoo by canceling their deal. While revenue-sharing terms of the agreement weren't disclosed, recent reports suggest that Google (GOOG, GOOGL) paid Apple (NASDAQ:AAPL) a whopping $3B in 2017 for the right to remain the default search engine on iOS.