Wednesdays Market Prepper
News:
Premium:
Charts:
Earnings: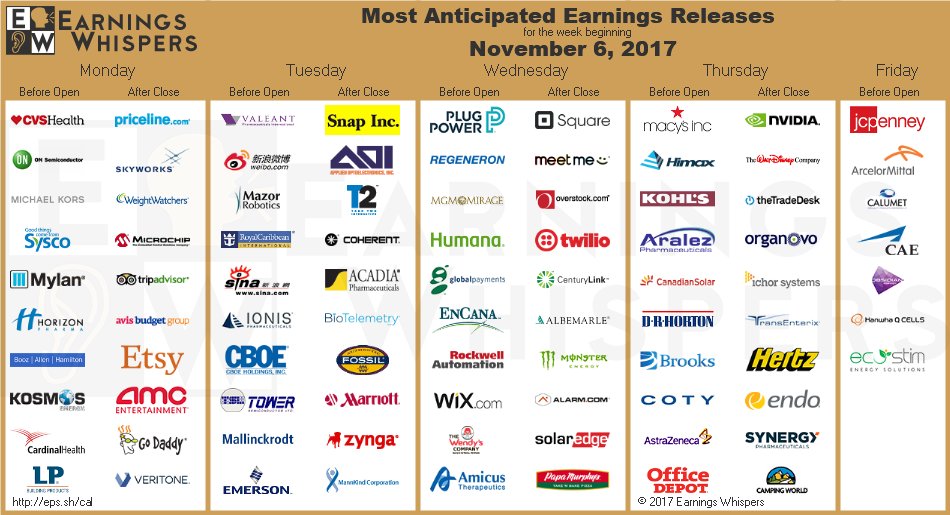 Option Data:
Seekingalpha
President Trump has landed in Beijing, the third leg of his five-nation Asia tour after stops in Tokyo and Seoul. Major issues that will likely be discussed include North Korea and China's massive trade surplus with the U.S., which reached $26.62B in October. Trump is also targeting big business during the visit. About $9B of corporate deals were announced today involving companies like General Electric (NYSE:GE), Caterpillar (NYSE:CAT) and Honeywell (NYSE:HON), and more are set to be announced tomorrow.
Economy
The IMF is urging Japan to maintain its massive monetary stimulus in support of struggling consumer prices amid criticism that it's distorting markets and local stocks. With inflation distant from its ambitious 2% target, the BOJ has said it is nowhere near dialing back its huge asset purchases even as its U.S. and European counterparts eye an exit from crisis-era policies.
"The longer we wait, the greater the danger grows, and the fewer the options become," President Trump told South Korea's National Assembly, saying Kim Jong-un has turned North Korea into "a hell that no person deserves." "And to those nations that choose to ignore this threat - or, worse still, to enable it - the weight of this crisis is on your conscience."
Flaring tension? Iranian President Hassan Rouhani has called the missile attacks on Riyadh by Yemen's Houthis a reaction to "Saudi aggression" and said the kingdom was making a "strategic mistake" by considering the U.S. a friend and Iran an enemy. The White House condemned the launch, saying Tehran "enabled" the attacks which threatened regional security and "undermined" UN efforts to end the conflict.
Democrats scored a number of closely watched elections on Tuesday, in what some called a referendum on President Trump. Republicans lost races for governorship in Virginia and New Jersey, as well as control of the Washington state Senate. Mayoral races, too, produced a string of Democratic victories, most notably in New York City, where Mayor Bill de Blasio cruised to a second term.
Paradise Papers fallout... U.S. Commerce Secretary Wilbur Ross has divested his interests in Diamond S Shipping (Pending:DSG) and is in the process of selling off his holdings in another shipping firm, Navigator Holdings (NYSE:NVGS). Meanwhile, National Economic Council Director Gary Cohn said the leaks don't worry him at all, and that his role as an officer of 22 business entities in Bermuda was the result of his role at Goldman Sachs.
Stocks
Snapchat parent company Snap Inc. was an IPO darling when it went public in March, but user growth is disappearing as the company reported a Q3 loss that more than tripled. It's now going back to the drawing board. On a conference call following earnings, CEO Evan Spiegel revealed that Snapchat (NYSE:SNAP) is working on a significant app overhaul even though it might be "disruptive to our business in the short term."
A vote of confidence? China internet giant Tencent (OTCPK:TCEHY) has taken a 10% stake in SNAP, according to a regulatory filing, purchasing 145.8M non-voting shares over the last quarter. Shares of Snap, which sank over 17% in AH trading following a major revenue miss in Q3, sharply pared losses overnight to trade up 1.2% premarket.
After experimenting with longer tweets in September, Twitter (NYSE:TWTR) is now doubling its longstanding 140-character count to all languages where "cramming" was an issue. "In addition to more Tweeting, people who had 280 characters received more engagement, got more followers, and spent more time on Twitter," the company said in a blog post. Users will see the change roll out over the next few days.
In one of the year's largest corporate bond sales, Oracle (NYSE:ORCL) has borrowed $10B in a transaction that spanned five maturities - from five to 30 years - sources told the FT. According to Dealogic, the deal ties as the eighth largest corporate bond sale of the year, alongside two $10B transactions from AT&T (NYSE:T) and Apple (NASDAQ:AAPL).
The Senate Commerce Committee subpoenaed former Yahoo CEO Marissa Mayer in October to testify in a corporate data breach hearing scheduled for today, sources told The Hill, after she initially declined lawmakers' invitation. Yahoo, now part of Verizon (NYSE:VZ), disclosed last month that the 2013 cyber attack on the company affected three billion of its users - three times its initial estimate.
The Trump administration has little to do with the impressive rally in technology stocks, according to Intel (NASDAQ:INTC) CEO Brian Krzanich. "I don't believe people look at government or politics as to how they value us," he told the Web Summit technology conference in Lisbon, Portugal, outlining that investors were more likely to focus on profit and revenue growth.
Reports surrounding Disney (NYSE:DIS)-Fox (FOX, FOXA) talks have raised possible antitrust concerns, but a former FCC Commissioner Robert McDowell said the potential deal would probably pass regulatory muster. "If you look through history in the first year of any new administration - especially when you have a change in parties at the White House - a lot of companies want to try to test the waters," he told CNBC's Squawk Alley.
Blockchain may be well on its way to becoming the future of shipping and logistics after UPS joined the Blockchain in Trucking Alliance. "The technology has the potential to increase transparency and efficiency among shippers, carriers, brokers, consumers, vendors and other supply chain stakeholders," said Linda Weakland, UPS director of enterprise architecture.
Target is closing a dozen stores across a handful of states, including Michigan, Florida, Illinois and Texas, but not until after the holidays. Meantime, the company is vastly expanding its portfolio of smaller-format stores, which CEO Brian Cornell called more profitable than big-box locations. This year, Target (NYSE:TGT) will have opened 32 pint-sized outlets, with 35 openings planned for 2018.
Lowe's has unveiled plans to launch so-called stores within its stores, in a partnership with software-powered retailer b8ta, to sell and educate shoppers on smart home products. In addition to the 70 Lowe's (NYSE:LOW) stores getting a complete "smart home" outfit, 1,000 locations will launch smart home displays ahead of Black Friday and the holiday shopping season.
Marking its first partnership with a U.S. federal government agency, UBERhas struck a deal with NASA to develop software for managing "flying taxi" routes in the air. Chief Product Officer Jeff Holden also said Uber Elevate would begin testing four-passenger, 200-mile-per hour flying taxi services across Los Angeles in 2020, its next test market after Dallas and Dubai.
The EU is poised to propose a 30% cut in carbon-dioxide emissions from vehicles in the decade through 2030, WSJ reports. The move, which would be part of the bloc's push to meet its commitments under the Paris climate accord, sets the stage for tough negotiations with automakers and environmentalists. A final decision is due today after the European Commission holds its weekly cabinet meeting. Related stocks: F, GM, FCAU, TSLA, TM, HMC, TTM
Tuesday's Key Earnings
Emerson Electric (NYSE:
EMR
) 
-2.3%
 after a disappointing outlook.
Energy Transfer Equity (NYSE:
ETE
) 
-3.1%
 AH missing estimates.
Energy Transfer Partners (NYSE:
ETP
) 
-2.4%
 AH on lower revenues.
LendingClub (NYSE:
LC
) 
-18.1%
 AH cutting its guidance.
Snap (
SNAP
) 
-17.1%
 AH as losses more than tripled.
Valeant Pharma (NYSE:
VRX
) 
+17.1%
 with Bausch & Lomb strength.
Today's Markets 
In Asia
, Japan 
+0.1%
. Hong Kong 
-0.3%
. China flat. India 
-0.5%
.
In Europe
, at midday, London 
-0.1%
. Paris 
-0.2%
. Frankfurt 
-0.2%
.
Futures at 6:20
, Dow 
-0.1%
. S&P 
-0.1%
. Nasdaq flat. Crude 
-0.4%
 to $56.95. Gold 
+0.5%
 to $1281.60. Bitcoin 
+4.9%
 to $7,470.
Ten-year Treasury Yield
 flat at 2.31%
Today's Economic Calendar
7:00 MBA Mortgage Applications
10:30 EIA Petroleum Inventories
1:00 PM Results of $20B, 10-Year Note Auction